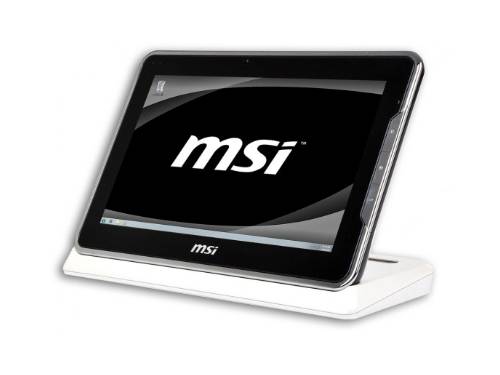 If you put a big enough display on a tablet PC and say that it's running Android, will people turn their heads for the price alone? You bet your biffy they will – that's exactly what's happening here with MSI this week at Computex where they're revealing two new Android tablets by the names WindPad Enjoy 10 and WindPad Enjoy 7. What sets these tablets aside from the WindPad 100A Android tablet announced on the 30th of May? The processor, of course!
While the WindPad 100A is going to be rolling out with an ARM Cortex-A9 dual core processor and "the latest Google Android operating system" – we hope for Android 3.1 Honeycomb but expect Android 2.3 Gingerbread or Android 3.0 Honeycomb. The 100A also has 1GB DDRII of memory, 802.11 b/g/n wireless, G-Sensor, ALS, and an SSD hard drive with up to 32GB of memory. SD card reader, USB port, and mini HDMI slot. Find out more about the 100A back in this May 30th post.
Now for the MSI WindPad Enjoy 10 and Enjoy 7, two more tablets from the same group. These tablets are different first in the fact that they've got price tags: USD $299 for the 10-inch and $199 for the 7-inch. Impressive! Then we've got to note that these tablets were running Android 2.3 Gingerbread whilst sitting at Computex and MSI has noted that they will likely still be running Android 2.3 when they're released later this year.
Both of the Enjoy tablets feature 1.2GHz ARM Cortex A8 processors, both have front and rear-facing cameras, and both have 4GB of built-in memory. They've both also got the following ports: mini USB, mini HDMI, and a microSD card slot for up to 32GB of additional storage.
For a look at the competition in review form, have a peek at the following:
Samsung Galaxy Tab 10.1 Google I/O Limited Edition
Motorola XOOM Review
T-Mobile G-Slate Review
HTC Flyer [Wifi] Review
ACER Iconia Tab A500 Review
Enough to fight against? Methinks so.
[via Android Guys]