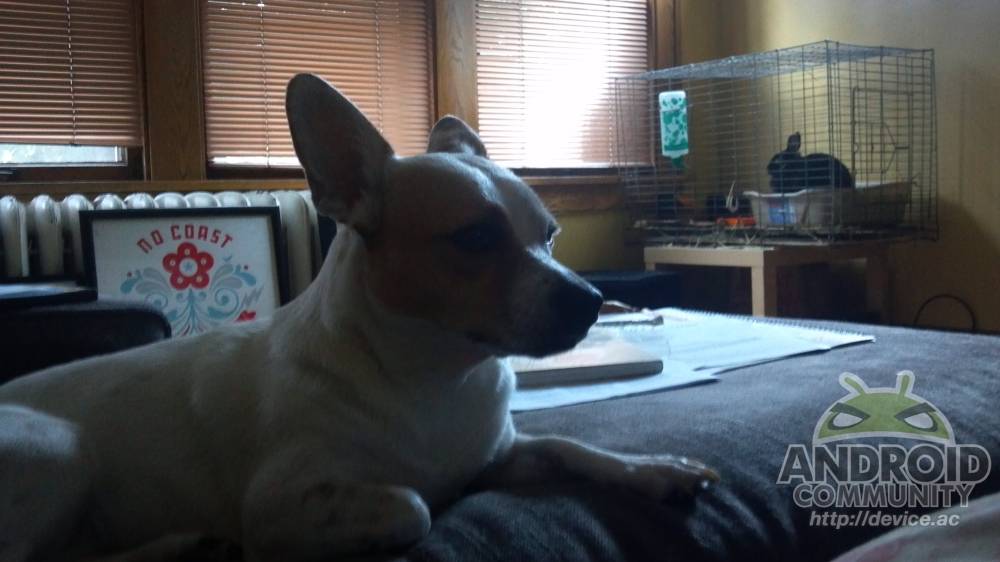 Let's go ahead and get hands-on with this above-average super powerful dual-core Android handset that'll make your robots explode with pleasure. This is the Motorola ELECTRIFY and it's being carried here in the USA by none other than U.S. Cellular. This is the first time we've gotten to see such an amazingly powerful device on this carrier, the ELECTRIFY running with the big dogs here with a dual-core NVIDIA Tegra 2 processor as well as what Motorola calls Webtop functionality for a fully immersive multi-purpose Android experience, complete with Motorola's newest user interface to guide you.
Before we get into the review, have a look at what we're looking at here with a lovely hands-on video featuring an unboxing of the device itself as you'll get it right from the store.
[vms 049195d7b26d043c478a]
Hardware
For both the hardware and to a slightly lesser degree the software here on the ELECTRIFY, I'd encourage you to check out our review of the Motorola PHOTON 4G, a device that was released a few weeks ago here in the USA with another carrier, it being basically the exact same hardware and software as what you're seeing here, now with a different box and a new name. The difference here is the carrier, while Motorola remains the manufacturer in both cases of course. The first and brightest feature you'll notice on this unit is its 4.3-inch qHD (quarter high definition) TFT LCD 960 x 540 pixel resolution display. Brightness and sharpness should be no concern of yours.
You've got a generous NVIDIA Tegra 2 dual-core 1GHz processor inside right beside 1GB or RAM, and 16GB of internal storage expandable with a microSD card slot that can take up to 32GB more. The ELECTRIFY totes a lovely 8-megapixel camera on the back with dual-LED flash and a VGA resolution camera on the front for video chat. Up the right-hand side of this device you'll find both a volume up/down and a dedicated camera button. On the top you'll find a headphone jack as well as a power/lock button. On the left there's a microUSB port as well as a microHDMI port, these spaced very similarly (but not certainly the same) as those on the PHOTON, this leading us to believe that all the standard docks would work, but if you don't want to use them, you sure don't NEED to do so.
On the back of the device there's a kickstand. This kickstand holds your device up in landscape mode and also upon kicking activates a special display mode (which you can exit out of in a single tap.) The odd thing about how this stand holds your device up, and I've mentioned this before with other kickstand-popping devices, is that when it's out and your device is sitting there looking nice, your microHDMI and microUSB ports will be facing down, basically flat against your sitting surface. That don't work to well for them, let me yell ya. Instead you'll be working with a device that's on its own with power and display should you be sitting it up with the kickstand.
As this is a Motorola device, you can expect a heavy-duty build. The back is made of soft plastic that'll never break on you, the rim around the display is made out of a reflective chrome-surfaced plastic, and the display is fronted by some hot curved-edges-having Corning Gorilla Glass with dual anti-reflective display. All the ports and all the buttons are strong and are not going to let you down, the buttons for volume and camera being particularly nice with some ridges so you can get a grip.
Software
Inside the guts of this device, once again, you'll find the NVIDIA Tegra 2 dual-core processor clocked at 1GHz. This core will allow you access to all the finest NVIDIA-optimized app with the NVIDIA Tegra Zone, a game guide for Super Chip device owners. Most of the apps available through the Tegra Zone are exclusive to those of you using an NVIDIA processor in your device – lucky you, ELECTRIFY owner, you're part of this neato club.
Profile choices – save and flip!
You're going to be running Android 2.3.4 out of the box which is, at the moment, the second-newest version of Android released at the moment, that only being true if you consider the leaked Android 2.3.5 out there right now for the Nexus S 4G that'll give it Google Wallet access.
Apps are sparse, just like we like em to be, hitting up all the regular Google-centric apps like Gmail, Places, Navigation, then drops a few oddities on you with Zappos, Motorola Phone Portal, Audible, the second-newest Asphalt racing game Asphalt 5 (strange they dont just drop 6 on this device, isn't it?), and Audible. Then there's a bit of a bomb: you get both the Android Market AND the Amazon Appstore installed right away out of the box. These two big guns must peacefully coexist somehow – is it possible?! Yes of course it is, silly, they sit really nice to one another and compliment eachother's hair style. Android Market still has a wider selection, but the Amazon Appstore has free apps every once in a while. Tough choice.
Motorola ELECTRIFY next to the LG Optimus U also on U.S. Cellular
Performance
We're clocking this device in on a few different tests like Quadrant, Quadrant Advanced, Vellamo, Linpack, AnTuTu, and CF-Bench. See how they all add up here, and take special note of how they compare to the Motorola PHOTON 4G, which should have essentially the exact same numbers going for it unless one carrier or the other did an extra awesome job of pimping their version of the hardware out best.
Battery and Camera
There's a just-right 1700 mAh battery in this device which, if you're not a max heavy user every day of your life, should be adequate to get you from waking up in the morning until your pre-bedtime cold pizza. If you're a heavy user, you might be in line for a charge at least once halfway through the day. The camera, on the other hand, is the best that Motorola has yet offered on a mobile device. Compared to the DROID BIONIC, this device has much better autofocus and what appears to be a quicker shutter speed. Check out the video and photos below to make your ultimate judgement.
Wrap-Up
At just $199 attached to a two-year deal on U.S. Cellular, this is a no-brainer for those that have some loyalty to the U.S. Cellular brand and want the nicest Android device they carry right this moment. If given the choice between this device and the PHOTON 4G, I'd take this one any day of the week. The WiMAX network the PHOTON is working with does not stand up well where I live (Minnesota) and the battery does tend to suffer more while the device searches for a 4G signal all day long. The ELECTRIFY, on the other hand, works only on U.S. Cellular's 3G network and has a good coasting day.
The ELECTRIFY is also the only phone on U.S. Cellular to be running the newest version of Android 2.3.x Gingerbread. That's something to consider as well if you're the sort of person that likes to have the best phone on the carrier. You've got the option to find yourself some docks to use this device with, docks like car docks, HD media docks, and even a laptop dock not unlike the original ATRIX 4G, but you don't need those things. This device does not need them and you do not need them – the computer is here, and it can grant you all your wishes. Also the color scheme is nice, and plugging this device in simply to your big-screen HD TV will result in nothing but good times and HD fun – for kicks, try Riptide GP, a game demoed in the video you see here:
[vms 0b36a9a347898d97a610]
Vector Unit's Matt Small Demos Riptide GP on the PHOTON 4G