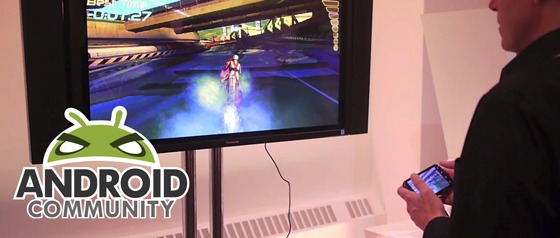 If there's one single game we've talked about more than any other in the past few months, it's GOT to be Riptide GP. Not necessarily because it's the greatest game of all time or anything, but because the developers just keep getting in there with jabs of awesome. Today what we've got is one of the developers of Riptide GP, our good friend Matt Small of Vector Unit, demoing the game in its current form with the Motorola PHOTON 4G playing on a big-screen television over HDMI. Take a watch!
This game has showed up more than twice before in our feed, first appearing in a video in a post by the name of LG G-Slate Demoes NVIDIA Tegra 2 Optimized Riptide GP. That was back in March at CTIA 2011 in Orlando Florida. Next we got word of an opportunity for us, the luckiest Android lovers in the world, to play a BETA of the game on our very own G-Slate. So we did of course! That post went by the name of Riptide GP [BETA] Review / Game Demo on LG G-Slate and contained a full video review. Finally we reviewed the full version of the game in a post called Riptide GP Upgraded Video Review – what a blast!
[vms 0b36a9a347898d97a610]
Vector Unit's Matt Small Demos Riptide GP on the PHOTON 4G
Now check out the brand new Motorola PHOTON 4G running the NIVIDA Tegra 2 optimized game through an HDMI cable to a gigantic television at the Motorola event we attended in New York City today. Look at how much fun that is! Look at how awesome it feels to use that tiny handset to play such a magnificently large game! Don't drown as you flip and blast through fireworks! Also [go download the app right now] if you've already got a dual-core device running NVIDIA's Tegra 2 chipset. Don't know if you do? You'll only be able to download the app if your device is stocked with the Tegra 2 dual-core processor, so no worries!
Also, BONUS POINTS if you can correctly guess the song being played, the artist, and the artist behind the original song from whens it came!