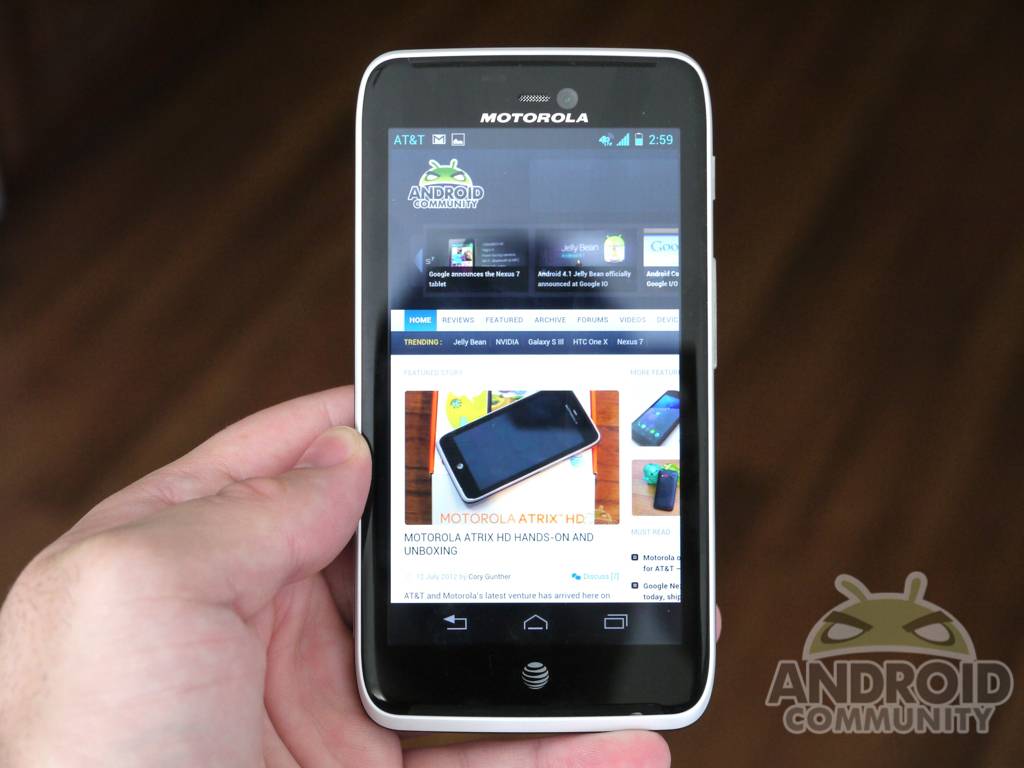 When the original Motorola Atrix made a scene at CES 2011 with it's dual-core processor and Android 2.2 FroYo it was a big deal — and a game changer for Motorola and AT&T. Today however things have clearly changed and we're now on the third iteration of the smartphone, with the new Motorola Atrix HD. With top of the line specs, a vivid and crisp screen, and Android 4.0 Ice Cream Sandwich can this win over the crowds? Read on to find out.
The evolution of the Atrix brand might have taken longer than some had hoped, but now that it's here and readily available (as of yesterday) lets take a look. If you've been craving the Motorola DROID RAZR over on Verizon but were locked into AT&T, this is very similar only better in multiple ways. It's been improved in all areas yet still offers the same awesome build quality and Razr-esque design.
Hardware


What you'll get with Motorola's new Atrix HD is a top end phone in terms of specs, and speed. First we'll talk hardware because that has always been one of Motorola's strong points. The Atrix HD comes with a 4.5-inch 1280 x 720p Colorboost HD display rocking over 320 PPI (pixels per inch.) That is more than the Galaxy S III, the Galaxy Nexus, and even the iPhone 4 "retina display" — and you can totally tell.
Under the hood is even more important and here it doesn't disappoint either. Motorola's outfitted this phone with the same 1.5 GHz dual-core Qualcomm S4 processor as the Galaxy S III, and the AT&T HTC One X. It rocks 1GB of RAM, 8GB of internal storage, an impressive 8 megapixel rear camera, 1.3 front shooter with 720p video, and a decent 1,780 mAh battery for all day use. Oh and did we mention this is the first Atrix to finally rock 4G LTE, not HSPA+. Motorola has always had great build quality with their phones and this is no exception. It feels premium in the hand — a feat considering it's only $99.
On the rear is that familiar Kevlar coating for durability and "splash guard" for accidental spills. Then the large f/2.4 8 megapixel rear facing camera, LED flash, and 3 slits for a rather loud and crisp speakerphone option. Then off to the right edge we have the power button (that is a little loose for my liking) as well as the volume up/down rocker and that's all. On the left side is the door for the micro-SD slot for extra storage, as well as the 4G LTE micro-SIM card. Sadly the door doesn't snap on too tight and is the only part of the build quality I'd dock points for (see image.) Then lastly up top is Motorola's new signature micro-USB for charging and micro-HDMI for mirror mode, as well as use with their universal lap-docks. I'm a big fan of the design and it's not as wide as the DROID RAZR, making it much easier to hold and use throughout the day.
Motorola wasn't too vocal about the 1.5 GHz dual-core processor under the hood but we can confirm it indeed is the same Qualcomm Snapdragon S4 as the SGSIII, HTC One X, and One S — which is a good thing. Regarding the screen we do have some bad news however. While it is 4.5-inches and has a huge resolution with 326 PPI it's only a TFT display. No SLCD or Super AMOLED and the colors are slightly over-saturated, but I'd still consider it quite gorgeous.
Software
Now software is where Motorola has made a change here, and one I'd consider for the better. I was never ever a fan of Blur, but this time around they've toned down the huge changes and made subtle yet wanted tweaks instead. Android 4.0.4 Ice Cream Sandwich is on board out of the box, so you won't be waiting for an update (don't ask about Jelly Bean yet), and Motorola's added a few small changes. This is the first Motorola device to also rock the on-screen software navigation buttons. They can be weird for some to get use to but I find them very easy to work with. Just like the Galaxy Nexus as Google intended, we have no capacitive touch buttons.
Motorola's slight changes to Ice Cream Sandwich are simple, easy to understand, and not overbearing. Don't get me wrong I'd rather have stock Android 4.0 ICS, but this will do. (That'll do pig, that'll do.) Their lockscreen has shortcuts to messages, camera and more just like all devices as of late, but I'm seeing no way to change these. Performance has been rather impressive but we can also chalk that up to the speedy dual-core processor. Right away you'll notice the neat new Motorola "circle clock" widget that shows time, weather, and battery stats all in one easy to find and read place. Something I'm a big fan of. Then when swiping to additional screens they don't actually exist until you create them. You can start with a blank page, or a set of custom options from Motorola. It's a little bit of a pain, but convenient for those that might be new to Android.
Out of the box you'll have the usual AT&T bloatware, which is slowly becoming worse than most carriers. Instead of listing them all the image below should give you an idea of what to expect. Other than a few games, apps, benchmark programs and speedtest — the rest was installed at the start.
Overall the Android 4.0 Ice Cream Sandwich OS and general UI is impressive, smooth, stable, and simple to use. This is one of the best versions of Android from Motorola I've seen yet — we just wish they'd unlock that darn bootloader.
Performance and 4G LTE
As usual we've ran a few benchmarks to see how this beast compares to the competition, and so far it hasn't disappointed. The Atrix HD actually beat many in the same class, all which cost more, and fared extremely well. The Galaxy S III is the only AT&T phone to beat the Atrix HD, although the HTC One X with the same processor was right behind it. In Quadrant Advanced we actually broke the 5,000 mark — something not many phones do out of the box. AnTuTu as usual favored the Galaxy S III and quad-core Tegra 3 devices.
These tests are only that — tests. In real world usage just like we mentioned above the Motorola Atrix HD was rather impressive. From benchmarks, browsing the web, watching YouTube videos in HD with AT&T's fast 4G LTE network and more, everything was speedy and enjoyable.
4G LTE Speedtest


AT&T is still lagging behind Verizon as far as their 4G LTE rollout nationwide is concerned, but that is only one part. Obviously Verizon's 4G LTE has more usage with many more phones available and using the network, but AT&T was mighty impressive across Las Vegas. From the mountains hiking (pictures below with the Atrix HD camera) to the Las Vegas strip I averaged speeds most would be jealous of. On average the Atrix HD and AT&T was hitting 20 Mbps downloads and often over 10 on upload speeds. Beating Verizon here at my house, and winning in a large portion of my city too.
Camera & Video
Now the camera has a few different angles you can take here. It is 8 megapixels just like the Galaxy S III or the HTC One X, although the shutter speeds are different. The One X has the fastest f stop at f/2.0, while the Galaxy S III is the slowest at f/2.6. The Atrix comes right in the middle with f/2.4. The Qualcomm S4 processor has some impressive image processing that helps out, even though this doesn't get the HTC Imagechip processor for added support. The images were bright and crisp and even while out of a moving car I was able to capture good photos of the mountains here in Vegas (yes we have those).
The above image was snapped on a rather rainy day here in Las Vegas, and I've added a few more in the full gallery below for those wanting to see camera samples with the 8 megapixel shooter. One awesome feature is Motorola's added the option in camera settings to use the volume buttons for zoom, or to capture the photo for those who don't like to use the on-screen button. The Atrix HD is capable of full 1080p HD video capture (and 720p on front camera) and here's a quick sample:
Atrix HD 8 megapixel camera 1080p video sample
https://www.youtube.com/watch?v=QXjbBUj-fP8
As you can see the video capture could use some stabilization to both general capture and lighting, but wasn't bad for indoors while on the move.
Battery Life
Motorola could have tossed a bigger battery in here. We were hoping for something more like the RAZR MAXX 3,300 mAh batter but the 1,780 mAh they actually gave the Atrix HD will have to do. Because just like the bootloader the battery is locked away and non-removable also. The Qualcomm processor is extremely efficient in daily tasks, and handling 4G LTE, so the biggest thing here is that 4.5-inch screen — which is smaller than most of the competition on AT&T. We averaged decent battery life but it could certainly be better. It wasn't enough to dock any points, but would of greatly appreciated a slighter larger capacity. Below shows both average daily use where it'll last plenty long, then pretty decent usage where you'll need a charger by the end of the evening.
Wrap-Up
Is this the best smartphone available from the folks at AT&T? It really is hard to say. To be honest we really enjoyed the Atrix HD and for the price it is a serious bargain and a force to be reckoned with. Yes the Galaxy S III comes with more RAM, more internal storage, and a larger and better 4.8-inch screen but it also costs $199. The same could be said about the HTC One X. Motorola's done a great job nearly matching both of those devices while offering the phone for half the price. Being just $99 with a new 2-year contract makes the Atrix HD a hard phone to say no to.
Locked bootloader aside — the all new Atrix HD is a top tier, high end smartphone that anyone would be happy with. It puts the Bionic to shame, and is essentially a RAZR for AT&T only better in almost every way. I'd still recommend the Samsung Galaxy S III over the Atrix HD, but this is Motorola's best device on AT&T and a great option for those on a budget. If you're interested in those others you'll want to see their reviews too. Get the AT&T 4G LTE Motorola Atrix HD today for $99 by clicking here.
AT&T Galaxy S III Review
AT&T HTC One X Review
AT&T LG Nitro HD Review (just to be nice)
[device id=2966]