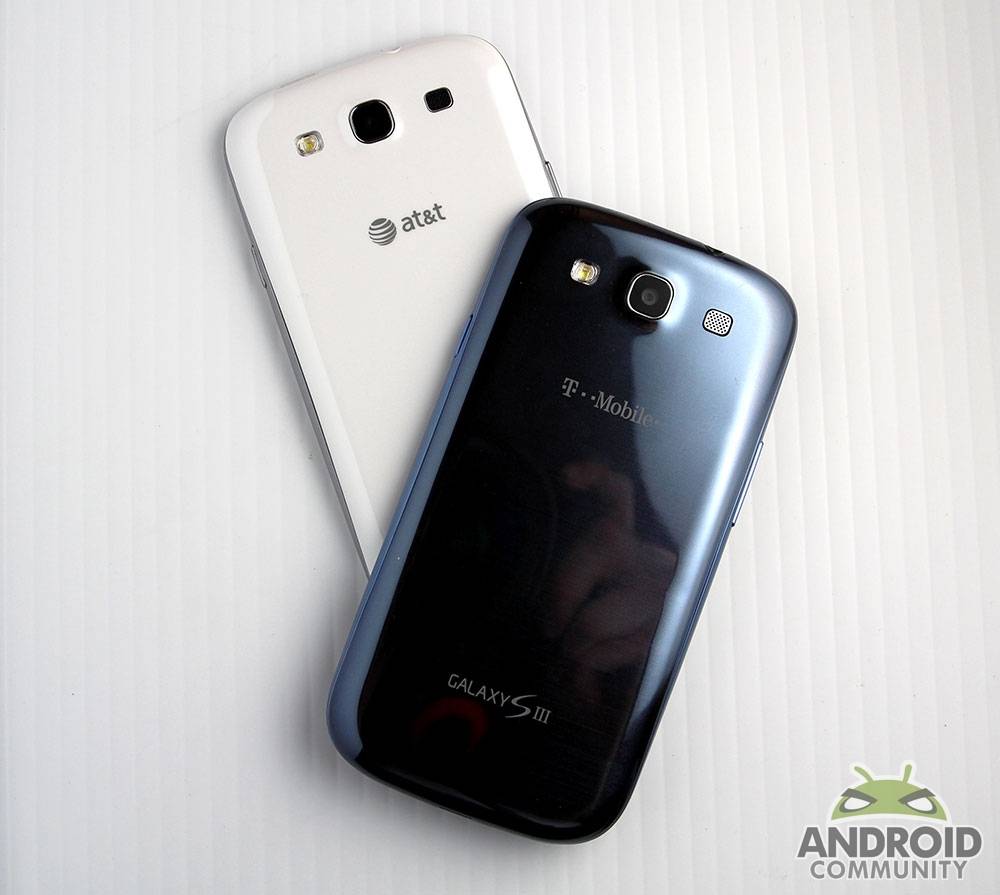 In the Samsung Galaxy S III we've got the best-selling smartphone line returning with a surprisingly reserved attack on our senses. That's not necessarily a bad thing. It appears as if Samsung has taken what they've sewn in the Galaxy S and the Galaxy S II (and every Galaxy in-between) and has created a device that's not taking a whole lot of risks, but instead is precision tuned beyond any of the manufacturer's past devices. What we'll be doing today in this review of the AT&T and T-Mobile versions of the Galaxy S III is looking at how the two different versions compare and at what it will mean to have two friends or associates using the devices together – in other words, we're going to see how well they share with one another.
Hardware
Just like our review of the Samsung Galaxy S III international edition, this device has a plastic back in either white or blue, with the blue version having a bit more of a pattern to it while the white is just that – flat and white. Both versions have what Samsung calls a HyperGlaze along the back as well, this essentially making the whole business seem a bit more shiny in the end. The back panel has a bit of bend to it when you pop it off to switch out your battery, your SIM card, or your microSD card, and isn't prone to breaking in the least.
Fitting on the back in a bit of a wave (or a blade of grass design, if Samsung can convince you of the device's nature inspiration), the back cover can be replaced by the flip case we've also been sent. This case gets annoying rather quickly, to tell the truth. It takes the place of your back cover and flips up along the side to cover the front of your phone – which is already protected from harm with the next-generation Corning Gorilla Glass 2. The case protects the phone against your keys, and that's about it. After that it's just something to get in the way of your camera while folded back, and there's nothing to hold it forward either.
The glass on the front of the GSIII is a beautiful slab which curves downward ever so slightly around the edges on all sides. Its interrupted only by the phone speaker – which is above the glass, as it should be, to avoid getting filled with dust. Also the home button interrupts the glass in the front, Samsung finally committing to the feature after several iterations of Galaxy devices with four capacitive buttons in the USA with the physical button abroad.
The button can be pressed once to go home, twice to access S-Voice, and held for a moment or two to get to your recent apps for switching between the lot of them. On the right and left of the home key are two capacitive LED light buttons which disappear when not in use – these are a bit confusing at first for someone who is used to being able to see the buttons at all times, but the feature does end up being fabulous after a few days and from there on forward – aesthetically, that is.
Next you'll find that the notification light is alive and well on the GSIII, while the volume up/down sits on the left and the power button sits on the right, all of them as high quality and perfectly tuned as they can be for a bit of smartphone hardware. Above and below the device you'll find mic holes identified by their tiny pin-prick appearance, and at the bottom of the device you'll find Samsung's new USB/MHL HDMI combo port.
This port works perfectly fine with whatever microUSB cord you want to use for power, but working with HDMI will require you to use the special new HDMI MHL converter we've also got our hands on. The good news about this new cord is that it holds in much tighter to the port than the Galaxy S II's solution did, and the quality here out to full-sized HDMI is impeccable. We checked out several movies using the Samsung Media Hub as well as some full-1080p HD quality videos transferred to the device from the PC and the results were excellent in all ways.
The Galaxy S III is the same model in all ways but software and data connections no matter what carrier you work with – as far as sound quality, picture quality, and call quality, you'll need to have no worries as they're all rather great on this device. This smartphone is light, it's relatively thin, and the screen will never fail to satisfy even your highest-level demands for brightness and sharpness. The only drawback here is for a person looking for a screen that's not exactly this size – personally a prefer a 4.3-inch display as it's perfect for my hand and thumb to work with: but that's up to you entirely.
There's also a headphone jack at the top of the device, exactly where it should be, as far away from the microUSB power port as it can be. For a person who routinely plugs his device into 3rd party headphone jack-having devices at the same time as charging this device up, I can say that this is the most ideal situation for the GSIII.
On that note, you should know that this device works with the Wolfson Micro WM1811 DAC onboard for fabulous audio output and is also able to work apt-X Bluetooth device – that's quality sound!
Software
Much like the software we saw on the international edition of the device, here the Galaxy S III on AT&T as well as T-Mobile brings on TouchWiz in a nature-themed iteration. You've got a new set of icons in all areas of the device, with changes making the device appear just a bit different from the Galaxy S II in its made-for-adults nature. Samsung has come a LONG way in a couple of years from what we saw on the original Galaxy S device for that version of TouchWiz, that being back when the icons were referred to as "candy coated."
The difference between the international edition and the USA versions of this device in the software world then is in the apps. Samsung has provided their entire suite of apps once again with only a couple of differences depending on which device you've got. Have a peek at the three screens of icons here first on the AT&T edition:
Then have a peek at the T-Mobile version of the device's collection of apps as well:
You'll notice a few differences first in the amount of T-Mobile or AT&T-branded apps that come along for the ride, with few surprises, but then you'll find some oddities as well. The AT&T version does not have Dropbox (nor does it have the free Dropbox space deal that several of the other units do), while it does have Amazon as well as Game Hub. The T-Mobile version does not have the Google "Local" app, the Samsung More Services app, the Samsung Music Hub app, the Google "Places" app, or the "Samsung Apps" app. The AT&T version DOES have a Yellow Pages app where the T-Mobile version does not.
Widgets are the same and your access to your notifications screen are the same as well. From here on out, the two devices are so similar that it's only the carrier name on the back of the device and the data speed that will have you telling them apart. And of course whatever network you're most likely to pick because of your family and friends dedication and/or your locked-in love for T-Mobile or AT&T.
S-Beam
The Galaxy S III has the ability to work with NFC in a way that's both simple and magical. You turn on S-Beam on your Galaxy S III, you turn on S-Beam on the other Galaxy S III, you open up an app like your gallery, and you put the two devices together, back to back. One device then pushes a photo (or a document, or a video) through to the other device, and the file is transferred. Have a peek at our hands-on with this feature here:
AllShare Play
One of the most awesome sharing and connectivity apps on the Samsung Galaxy S III is AllShare Play – and every version of the device has this app/ecosystem embedded in it right out of the box. When you connect to AllShare Play, you get 5GB of cloud space from SygarSync. There you can add whatever you want, be it photos, documents, movies, or files of odd types. This folder is separated into several categories and your device can access it via the web whenever you like – AllShare Play can also be set up to upload your photos and video the instant you capture these gems so that anyone who has access to your SugarSync account can see them quickly.
One of the abilities you'll certainly want to try out if you do happen to have two or more Galaxy S III devices in the same Wi-fi area is to connect them with Wi-fi Direct and AllShare Play's "Group Cast." This system allows you to have the same presentation showing up mirrored on each device that you've got connected – and more than that, each display has the same control that the other does over the content being shown. Have a peek at our hands-on with AllShare Play and Group Cast here:
Share Shot with Face Detection and Buddy Photo Share
The Galaxy S III has such fabulous face detection skills that it's almost creepy. When you take a photo of a friend, your GSIII will detect that they've got a face and will try to identify it. If it cannot be identified, you'll be asked if you'd like to tag it. You can either make up a name or you can connect this person's face with one of your contacts. If you do either, the information the GSIII has gathered about that face will be stored in its system for later detection of that same face.
The nice thing about this is that not only does it save time for you if you're the type of person that likes to go rapid-fire on every photo you own with the tagging, but you can use such abilities in your camera as Share Shot and Buddy Photo Share. With Buddy Photo Share you'll be prompted to share each photo after you take it with the buddies that have been identified in each shot.
Then with Share Shot you've got the ability once again to connect with everyone using a Galaxy S III inside the same Wi-fi network. This time you'll be sharing the photos you're taking as you take them, and you'll be doing it automatically. Each time you take a photo when you're in Share Shot mode, it's automatically copied to the other devices you're connected with, this creating one big party gallery at once!
Camera Quality
Samsung has not had a disappointing camera on a Galaxy smartphone for some time, and the Galaxy S III is certainly not one to break that record. The camera quality on both the T-Mobile and AT&T version of the device has turned out to be the same as the International Edition of the GSII, so without further ado, here are a few examples:
Software Benchmarks
The USA version of the Galaxy S III, be it the T-Mobile version, the AT&T version, or otherwise, is always going to have the same processor, that being the Qualcomm Snapdragon S4 dual-core. This processor has appeared in several smartphones this year already, and this Samsung device has certainly made good use of it.
First have a peek at some T-Mobile Galaxy S III benchmarks here:
Then have a look at the AT&T benchmarks for the Galaxy S III here:
Data Speed and Battery
Both the AT&T and T-Mobile Galaxy S III units have "4G" speeds, but you'll find that this branding of the speed at which these devices function is relative. The T-Mobile GSIII had some rather low spots while we were standing in a house in Saint Paul, Minnesota, but move a mile away and it started to speed up pretty quick:
The AT&T LTE device had fair coverage even in the Twin Cities here in Minnesota, while we have seen up to 13.8 Mbps in LTE areas in other states. Upload speeds have reached 6+Mpbs in LTE-laden areas as well.
The battery life on both devices has been extremely similar, regardless of radio, the following result showing a fairly average result, regardless of usage. We've not seen a day where we needed to charge either Galaxy S III model more than overnight, and a day and a half seems to be the maximum usage we've got out of one with emails, games, and evens streaming video being played regularly.
Wrap-Up
Like our review of the international edition of the Galaxy S III, we've got to say that these phones are rather top-notch. It's no small task to take what great success Samsung has had with the Galaxy line and continue to wow the public with a device that, at first glance, doesn't seem to be a giant blast forward in the specifications realm. Instead it is Samsung's great task here indeed to have created a solid device, top to bottom, and sell it not on just one carrier in the USA, but a whopping five at once, and all of them right out of the gate.
We're certainly onboard with this device, and with the sharing abilities Samsung has shown here between two Galaxy S III units, its going to be difficult not wanting to get one for each member of the family just to have photo sharing fun with them. It's time for Samsung to continue down the road of greatness with what this time should be seen as a humble winner.