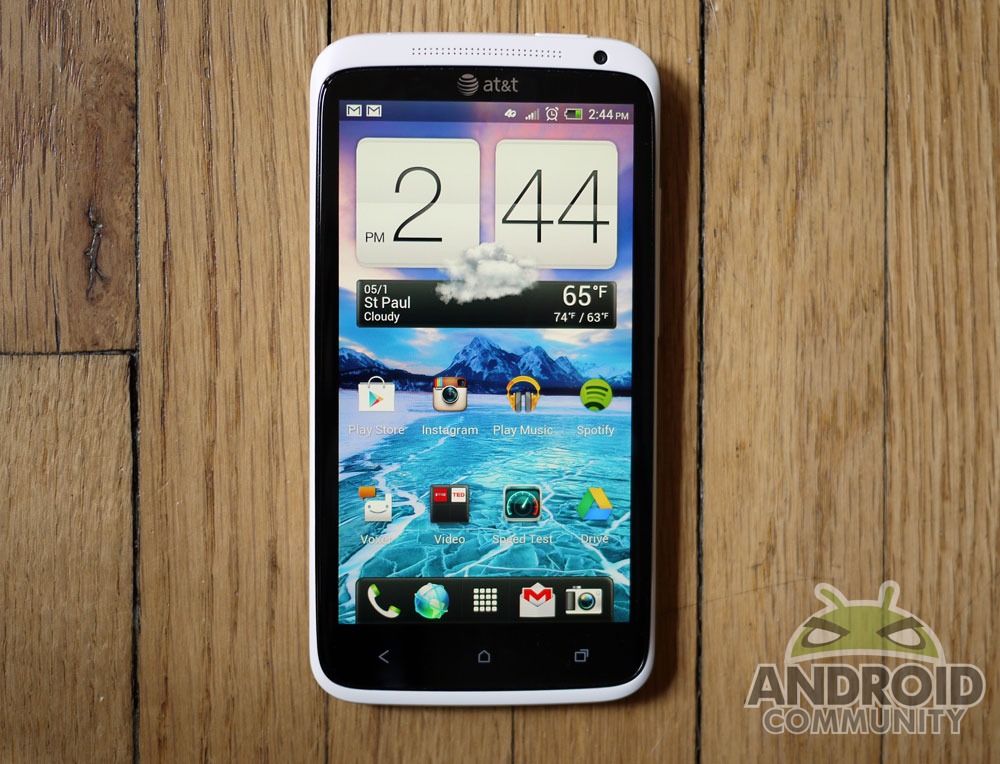 The HTC One X for AT&T is a different beast from the original (international) release in two rather important ways. First it's got a completely different processor, made by Qualcomm instead of NVIDIA, and second here it's carried by AT&T on a 2-year contract in the USA. Will this non-international release stir up the same positive reactions we had to the first release of this super hero phone, or are the two changes we're seeing here in software and hardware going to push this device in the wrong direction entirely?
Hardware
As it turns out, the Qualcomm Snapdragon S4 dual-core processor in this device has been turning up some fantastic results in both everyday performance and benchmark numbers, and the AT&T connection here isn't half bad. You'll find some changes to the software insomuch as there are a few more built-in apps, otherwise this is mostly the same phone as the original – its that processor that changes the performance. The casing is the same lovely hard plastic and the device is shaped exactly the same as it is in its international iteration.
Therein lies another dilemma for me. Any device larger than 4.3-inches simply seems to big for my normal human male sized hand to work with on a daily basis. Those used to using smartphones every day with a love for using both hands almost without fail will love the beast of a display and casing you get here – otherwise I suggest you check yourself before you wreck yourself. Head to the store and hold this monster in your hand – do it even if you have no need or plans to purchase a new smartphone, you simply need to handle this or the HTC One S in one of its couple of iterations thus far as well. The HTC One series devices released thus far certainly feel nice to hold.
The display glass combined with the curved glass-like plastic sides of the device here allow you a cool feel whilst handling the large-palm-sized smartphone. Likewise the camera lens sits above the back of the casing and allows your index finger to prop it up when it hits it. The back also contains your exterior speaker below the Beats by Dre logomark – sounding loud and clear as we'v ever heard a smartphone speaker sound.
The device is extremely light and thin, of course, and surprises anyone holding it for the first time after having used an HTC device of any variety inside the past few years. Though the camera lens does look nice and does provide a step for your finger to hook on to, it is nicer to have the lower-profile setup the HTC One S affords you, and the whole casing ends up being much more lovely there in a smaller form factor and with metal instead, too. That said, the HTC One X's build is nicer than the vast majority of low-level competitors we've seen over the past couple of years to be sure, and will not disappoint those looking for a high-quality experience all-around.
Software and Performance
You'll find that the device you've got in your hand or hands (depending on how big your hands are) is second to none when it comes to performance. Using the newest version of Google's Android 4.0.3 Ice Cream Sandwich and HTC's user interface Sense 4.0, you've got what HTC says is the best they've got to bring to the table. HTC is no stranger to providing a high-level software experience for Android, and what they've learned over the relatively short time Android has existed shines brightly here.
[vms b5c6c226e49b88973f46]
The software build here tied with the Qualcomm Snapdragon S4 dual-core processor is an optimized experience like no other. It's relatively difficult to tell the difference between the performance here and what we've seen on the international HTC One X with its NVIDIA Tegra 3 quad-core processor, but the numbers do point to some interesting changes between one and the other in the benchmark world.
What you'll find here is that the HTC One X for AT&T (with the Qualcomm processor) is defeated by the NVIDIA processor-toting international One X in CPU scoring by nearly 3000 points. In every other category however, believe it or not, the Snapdragon S4 won over the Tegra 3 by at least a couple points. In I/O there's a giant surprise with the S4 beating the Tegra 3 by 600 points, with the S4's Memory result showing at 4,000 more than the Tegra 3! This is due in a great part to the S4's dual memory channels which allow data to be read and written much faster than the competition.
Have a look at the rest of the benchmarks in the gallery below as well and note the power you're working with here. The HTC One X in both iterations is a powerhouse to be sure. There's really nothing like it at the moment on the market (save the HTC One S of course) and we're not likely to see it beaten for everyday speed soon. Samsung will really have to bring the heat if they want to compare to what Qualcomm and NVIDIA have brought to smartphones with the HTC One series.
Camera and Battery
The camera here is again part of the HTC One series and thus has a processor dedicated to the camera alone. This HTC ImageSense processor makes for an amazing experience in the camera department for both images and video, 8 megapixels strong for photos and 1080p for videos. Have a peek at a few examples here of each and note how extremely similar the results are to our original HTC One X review.
[vms 213ab187d31d4ee5da8e]
For battery there are certainly some interesting results to be seen. First if you'll have a peek at a couple of different results we've found here on average days, you'll find that the HTC One X's battery management is fabulous with the Qualcomm Snapdragon S4 behind the wheel – when it's asleep, it's basically off. When you're using it, it's still not really draining the battery like a beast.
Then have a peek over at SlashGear's review of this device and see a test comparing the HTC One X to its international version once again. There you'll find that side-by-side, both HTC One X versions perform extremely similarly. It's amazing!
AT&T 4G LTE
AT&T's 4G LTE network is surprisingly strong here in Saint Paul, Minnesota, where just a year ago we weren't seeing anything popping up – this is a testament to AT&T's ability to set up their network at relatively quick speeds while they perform rather well against the competition in several respects. These numbers can be compared to the HSPA+ connection of the HTC One X international edition with which we've seen about half the data speeds both up and down. Have a peek at these AT&T LTE results:
Wrap-Up
In that the HTC One series has not yet produced a device we've not loved, the HTC One X for AT&T is a real winner for the United States. It's certainly one of the nicest phones to have been released on AT&T and certainly one of two of the nicest smartphones to have ever been released by HTC. The other is, of course, the HTC One S. The decision between these two devices will likely be based on which carrier you like better here in the USA, but if you're not taking that into account, you've got a basic question of screen size on your hands. If you want to get massive, go HTC One X.
Be sure to take a look at our whole timeline of HTC One product reviews below to get the whole spectrum of options on your radar. I've been using one HTC One device or another as my primary device since we first got the opportunity to start reviewing them, and it's not looking like I'm going to be giving this one up any time soon!
[device id="2325″]