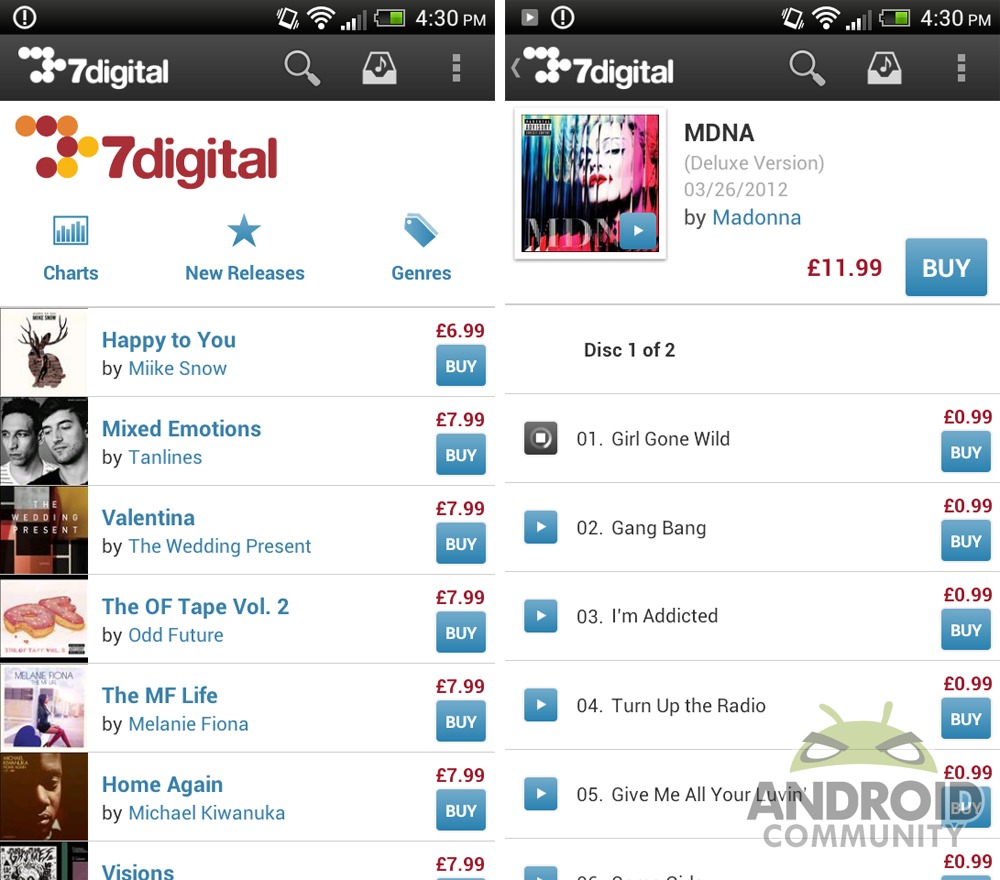 The 2012 hero phone strategy for HTC hits its thinnest point with the HTC One S, a device that brings the full power of the HTC One series made to compete with the best of the best. This device runs Android 4.0.3 right out of the box, has Sense 4.0 (made specifically for the Ice Cream Sandwich environment) and has hardware that backs up the promise of the user interface. This beast is backed up by no less than the Qualcomm Snapdragon S4 1.5GHz dual-core processor, otherwise known as Krait and MSM8260A in this case, and ushers in a new era for smartphone cameras as well with not only assistance from the Snapdragon but another chip by the name of HTC Image Chip. Will this member of the One family live up to the new HTC promise?
Hardware
This device has several elements right on the surface that make it live up to the HTC legacy that is high-quality delivery of Android starting with the manufacturer. Up front you'll find that the 4.3-inch AMOLED display sits at qHD resolution, 960 x 540 pixels strong, and has fabulous viewing angles all around. This is partially because HTC has opted for optical lamination to bond the AMOLED panel to the fascia glass, this allowing the actual lights to sit closer to the surface of the phone as they're able.
The glass along the front is Gorilla Glass and is mainly flat with some extremely smoothly integrated plastic sides making it seem like the front panel bends over and down the sides, making for a comforting experience across the full front, left and right of the device. The rest of the device is made up of three panels, the topmost being able to be removed to reveal a micro-SIM card. This device is the international edition of the device meaning that if you're using it in the USA, you'll be wanting to pick up micro-SIM from AT&T or T-Mobile to get data outside of Wi-fi.
The back panels, each of the, are made up of one of two kinds of finished metals: grey "Graded Anodization" or black "Ceramic Metal". We've got the latter of the two here, it being featured as part of a video series on how fantastic the HTC One series is. This is because the Ceramic Metal is made what it is with Micro Arc Oxidation, a process in which the metal is bathed in plasma and electrocuted. This terrifying process makes the metal temporarily "hotter than the sun", resulting in an oxidized surface that makes sure you need no 3rd party protective casing to protect it. It also feels fantastically high quality to hold and use on a daily basis.
The top of the device has a small space for you to be able to pop it off to access your micro-SIM, this sitting beside a mic hole, headphone jack, and power button. On the right of the phone is an extremely low-profile volume control (up/down) which is nearly too small to detect – but once you've used it a couple times, you'll realize how little you miss that extra space between the surface and the tops of the buttons. The bottom has another mic hole (this in combination with the first resulting in noise cancellation for better audio recording), and the left has a simple microUSB port.
The back of the device also features the HTC logo pushed down into the metal in the center as well as a tiny Beats Audio logo near the bottom panel, the bottom panel having the micro-perforated holes which allow the Beats-enhanced audio to exit the device into the palm of your hand and reverberate out unto the world. HTC also mentions that Beats is integrated into this system through the headphone jack as well – and indeed we are hearing the base-heavy overall decent audio quality we've come to expect from these brands working together.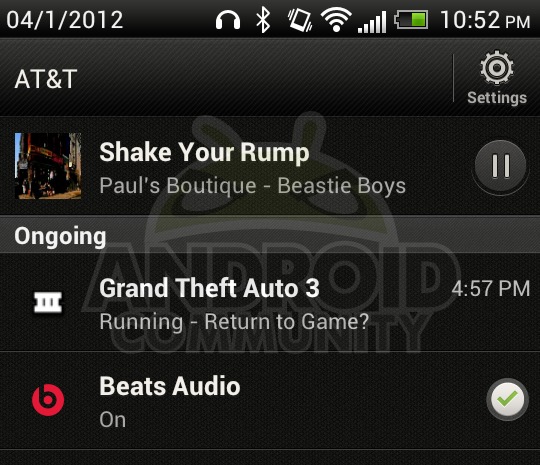 The top back of the device also features a red-ringed camera lens aside a single LED flash – this is the 8-megapixel camera which HTC notes has its own dedicated silicon inside to back it up, and indeed we are seeing some quality images and video the likes of which we're comparing only to the quality we've seen in the Galaxy S II series from Samsung and the iPhone 4S. More on that later in the review.
HTC Sense 4.0
The next level user interface being released by HTC here with the One series is the fourth full version "Sense 4.0." This version includes integration with the Android 4.0 Ice Cream Sandwich set of capabilities like facial recognition for your lock screen, live dictation (just so long as you're connected to the web or mobile web), and the full gamut of Google-made Android 4.0 Ice Cream Sandwich tuned apps.
Sense 4.0 on One S Hands-on Part 1/2
Have a peek here at the applications that come with the device right out of the box – and remember that this is the international version of the device so you won't see any carrier-added apps, only apps added by HTC on top of the standard Google set of apps. Noticeably missing is Google Music, which of course you can easily download from the Google Play App Store, but the selection of HTC-added music apps cannot be overlooked.
Sense 4.0 provides the same great set of modification abilities you've gotten with HTC devices for the past few generations, that being in a system app by the name of Personalize. Here you'll have the ability to create several different homescreen setups if you wish, one for home, one for work, one for play, each of them with different apps and widgets on your standard set of 7 homescreens. HTC provides here the best out-of-box customizability of any of the manufacturers on the market today.
Sense 4.0 on One S Hands-on Part 2/2
HTC's widgets are second to none, and HTC has chosen here to separate them out from the apps to their own area. Where the vanilla version of Android 4.0 Ice Cream Sandwich has a home screen shortcut to wallpapers, this same shortcut – holding your finger down on an empty spot on a home screen – will bring you to HTC's widgets. This screen also gives you shortcuts to certain apps and app icons to place on any homescreen as well. Access to this area also exists in Personalization.
Car Mode is updated to its simplest and most aesthetically pleasing form ever, Sense 4.0 providing you with a set of controls you'll be able use easily with a car dock. Connected apps work in car mode as well, each with modified capabilities like instant directions from where you are physically located in Navigation.
This Car Mode video as well as the two other hands-on videos above should give you a fairly decent idea of how quick the device handles everyday tasks. See the Benchmarks below to get another perspective on things, then see the Gaming video even later in the review to see the real fury – it's hot!
Software / Benchmarks
The software you get on this version of the HTC One S (international version) includes several music apps which each work together to bring the quality of the Beats Audio integrated throughout the device to the ear. Included here are HTC's basic music player for music files you have on your device, SoundHound, TuneIn Radio, and 7digital. SoundHound appears several times in the other music apps, it there to allow you connections to related music which you can then purchase.
TuneIn allows you to extremely easily listen to streaming radio stations from around the world, and 7digital is a music store which HTC trusts to bring you sweet music galore. Expect these apps to perhaps exist in the USA version for T-Mobile as well, with some changes inevitable via T-Mobile's requests – we'll see! For now, this is a healthy set of music apps that work with one another to bring you the beats one way or another constantly.
HTC also includes a set of multimedia viewers, they connecting with HTC Watch, an app we've seen before which has HTC selling and renting out full-length video at high quality resolution. Play your movies and flip through photos with Media Share, a wireless ability offered up by HTC to bring wireless connecting and live sharing from your device to your HDTV. This function works perfectly well, and for those of you without the necessary equipment but with an MHL converter cord, you can plug that into your microUSB (MHL) v2.0 and convert to HDMI, this providing you with high definition output to your HDTV again.
Watching videos also has a new set of controls including a built-in screenshot function (in addition to the two you've also got built-in with Sense and Android 4.0, imagine that!) Check this screenshot out from Escape from the Planet of the Apes – high definition!
After that it's all smooth sailing with, again, Sense modified Android 4.0 bringing HTC's greatest user experience yet. This is the first device released to the market with the Qualcomm Snapdragon S4 1.5GHz dual-core processor, aka Krait, this particular iteration numbered MSM8260A. Its performance utterly fabulous as you've seen in the hands-on videos above as well as the benchmarks here below.
And all this without heat – there's been an absolutely unbelievable lack of heat emanating from this device the entire time I've used it. Qualcomm and HTC have created an experience here that's bypassed the heat we've otherwise gotten used to in high-functioning smart devices.
This device makes every other smartphone I've used in the past seem sluggish. Ice Cream Sandwich allows you to switch between apps or knock apps out completely with your Recent Apps button – but you wont need to shut any apps down to work with app on top of app on top of app – there is slowdown (you can see it if you open many apps and run the benchmarks above) – but you won't notice it in everyday app activities.
Gaming
Have a peek at this hands-on video to see a few games being played with great success. The Qualcomm Snapdragon S4 is more than ready to bring dual-core goodness to the Android gaming world and take on any game that developers are able to throw at it so far.
This video also shows once again the power of the Qualcomm Snapdragon S4 processor in action in that for the entirety of the video we've got no less than 6 applications open at the same time. As the video progresses, more games are opened and performance remains superb.
Camera
The camera is one of the biggest selling points of the HTC One series, and here with the One S you'll find a camera experience that's more diverse than any you've used before. There are more built-in effects and adjustments here in the stock HTC photo app than in any other stock app that's come out thus far, and certainly trumps what the Samsung Galaxy Nexus has with vanilla Android 4.0, and the results are, it goes without saying, one whole heck of a lot better in the gallery. First have a look at the camera experience in this video:
Then have a peek at a compilation of videos filmed with the 1080p-capable video camera, some of them filmed during the video you've just watched! Here you'll see some general awesomeness in fair lighting conditions, some dark, and even some super slow-motion work – a new special effect right out of the box here on the One S!
Above: 1080p Auto Settings / Below: Slow-Motion Video
Then here come the photos. With the brand new HTC Image Chip integrated here in the One S, there's been a dramatic photo quality improvement that cannot be denied. HTC devices over the past year have done a generous job with photos, no doubt about it, but these images take the cake – then run a mile with it.
We'll be doing additional posts on the photo quality of the HTC One series, but for now all you need to know that you've not seen in the video above is this: this camera takes less than a second to start up, can take photos extremely fast (while taking them extremely well), and the camera interface is intuitive enough that anyone could operate it. That's important for your great aunt Bessie when she's asked to take the family photo with your smartphone – she'll be able to do it!
Also included here and in the gallery below are several examples of odd shots taken with the HTC One S including low-light situations and photos taken during video. Each image is identified with a tag telling how it was captured.
Low Light, one lamp across the room
Mixed Light, both natural and artificial
Distortion Effect – see more examples in gallery at end of post
Battery
Here with the HTC One S running with Qualcomm's Snapdragon S4 processor, we've got better power savings than we've seen in most phones on the market thus far. Expect epic battles to go on from this point forward between the S4 and NVIDIA's Tegra 3 quad-core 4-PLUS-1 processor for battery time, especially given that chipset's fifth core kicking in when the rest aren't needed. Have a peek here at an average day's work. Mobile data on all day, messages coming in, games played, wars won, and everything else that comes with relatively heavy use:
The closest we've seen to this battery time on a smartphone has been the AT&T Samsung Galaxy S II – that being the one closest to the original Galaxy S II which was, like this version of the HTC One S, an international version. As far as we can tell thus far, this device, thanks to the Snapdragon S4, will be running at least as long as any other device on the market on minimal charges. The screenshot you see above shows how I took this device off the charger in the morning and each time I put it in my pocked (aka when the screen is off), the battery drain essentially drops to zero.
Wrap-Up
Here in the HTC One S we find that HTC is certainly living up to the promise that they'll be coming in strong in 2012 with a hero series of phones. The HTC One S also reminds us that HTC was once the king of high-quality hardware for Android, and indeed here again they do regain that crown – bringing a device (and a series of devices) whose features fit together so well that they're more than ready to take on the rest of the top-tier devices in the industry. I'm honestly having a tough time attempting to find any faults in this device as it's quit honestly impressed me enough to say that HTC has completely redeemed themselves from last year.
Though last year didn't have HTC jamming out win after win, they did have some proving themselves to do here in 2012 – and they've done it. It's as simple as that. Have a peek at the gallery of images below for additional software and hardware shots, feel free to ask additional questions in the comments section below, then prepare for the USA version of the HTC One S coming soon! Also be sure to check out our review of the HTC One X today as well – just as hot!
[device id="2316″]