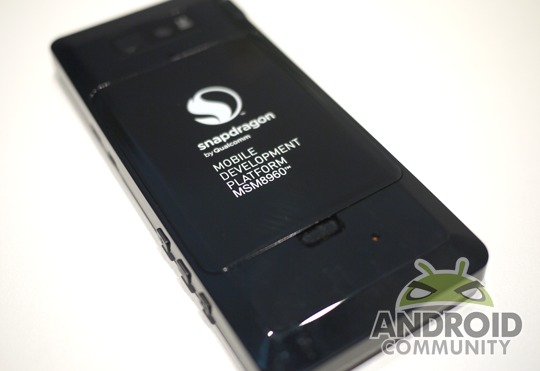 Here at Mobile World Congress there is tons of talk regarding Qualcomm's new Snapdragon S4 Krait SoC, and with good reason. Four cores aren't always better than two and many different elements come into play with performance in general, especially on a mobile device. Today we've been given a chance to break down the new Qualcomm (Mobile Development Platform) MDP MSM8960 dual-core 1.5 GHz SoC S4 and are starting with the usual benchmarks.
Obviously we have tons more coming soon, but for now we are starting with the basics you've come to expect from Android Community in our different reviews from past months and devices. The benchmarks that have become a standard in our mobile world such as Quadrant Advanced, AnTuTu, and Vellamo. We'll briefly compare with similar offerings and the competing quad-core Tegra 3, then break down everything in follow up posts.
Qualcomm's new super-phone processor that will be inside many upcoming devices with the new S4 is looking quite impressive to say the least. While we can break it down with more details later for now we'll compare with the Tegra 3. The NVIDIA Tegra 3 uses the older larger Cortex-A9 processor and has essentially smashed four of these together. With Qualcomm's Snapdragon S4 we have two newer, faster Cortex-A15 processors instead. Not only that but it also uses Qualcomm's new Adreno 225 GPU and put out surprisingly good results. From most benchmarks the graphics performance was steadily outpacing most of the competition, although the MDP device does have a much lower resolution than the Prime or Galaxy Nexus — so take that into consideration as it is doing less work than the others.
Testing
Now this isn't a real phone, so comparisons will always be a bit subjective. MDP devices have no real battery life or thermal constraints as a shipping device would. So comparing is a bit hard but the results are still impressive. We have an odd 4″ 1024 x 600 resolution display. However it does run Android 4.0.3 Ice Cream Sandwich, have a 13 megapixel camera, and all sorts of ports and sensors you usually wont find on a smartphone.
Most of you probably know a little about these benchmark tests, but if not I'll explain more about what they mean for the average user. For now lets see some of those impressive benchmarks. To start I have one word for this platform — WOW! Blazing fast in terms of performance on the device with browsing the web and such, and even more impressive on these general tests. Be prepared to be blown away with Quadrant scores passing 5,100 and Vellamo going beyond anything I've seen before.
Qualcomm S4 1.5 GHz dual-core / Tegra 3 quad-core
Quadrant
5531 / 3073
AnTuTu
6954 / 10,046
Vellamo
2164 / 1566
Linpack Pro
163 / unknown
Now as you can see from the benchmarks listed above (and pictured below) they are showing huge numbers for team Qualcomm. Overall performance in many key areas are just blistering fast and high. One hugely important area for smartphones and tablets is I/O results for retrieving data, accessing your photo gallery and more. Qualcomm was extremely impressive here with over 7000 in I/O. Quadrant tests CPU, Memory, I/O, 3D and 3D. AnTuTu wasn't as impressive but we've been told it focuses too much on cores on not on actual testing, so take it as you will — although the Prime blows up AnTuTu and has excellent scores. AnTuTu however tests memory, CPU Integer, CPU Floating point, 3D Graphics, SD card reading/writing speed, and Database I/O so is quite accurate.
Last I want to mention in terms of what it tests in Vellamo. It is built in-house by a third party for Qualcomm and we've been assured its extremely accurate on all levels, not just for Qualcomm, but that always will worry some. Initially it was highly favoring the NVIDIA Tegra 2 but with the latest from Qually things are starting to change. It tests a little of everything from rendering, JavaScript, HTML 5, browser load times, rendering, scrolling, 3D, and much more. It is highly comprehensive and is only just getting started. Read our initial hands-on here.
So what does all this mean to the end users? Even if you are an average smartphone user or a diehard gamer that wants the best, we can assure you the Qualcomm S4 will be one of the best option available. Once we get it on different devices, carrier or manufacturer overlays like HTC Sense UI and more things will obviously change, and these results could drastically change. From our initial first impressions Qualcomm and their new Snapdragon S4 processor is not only extremely fast and stable, but highly impressive and really taking things up a notch for the dual-core crowd. Although this device doesn't have any constraints and wont ever see the light of day — it's the processor inside that is important. Once it gets tuned to save more battery life for smartphones and comes in actual products we'll be sure to revisit this comparison.
The Qualcomm Snapdragon S4 promises console-quality gaming, high-end performance, faster web browsing, and an overall much better experience across Android. This developer unit doesn't have much for a battery (or need to worry about it) so that isn't something we can actually test, but we'll be sure to look at this on actual released devices in the next few months.
This is only one in a series of tests, benchmarks, and hands-on with the new Qualcomm Snapdragon S4 Krait SoC so stay tuned for more details.