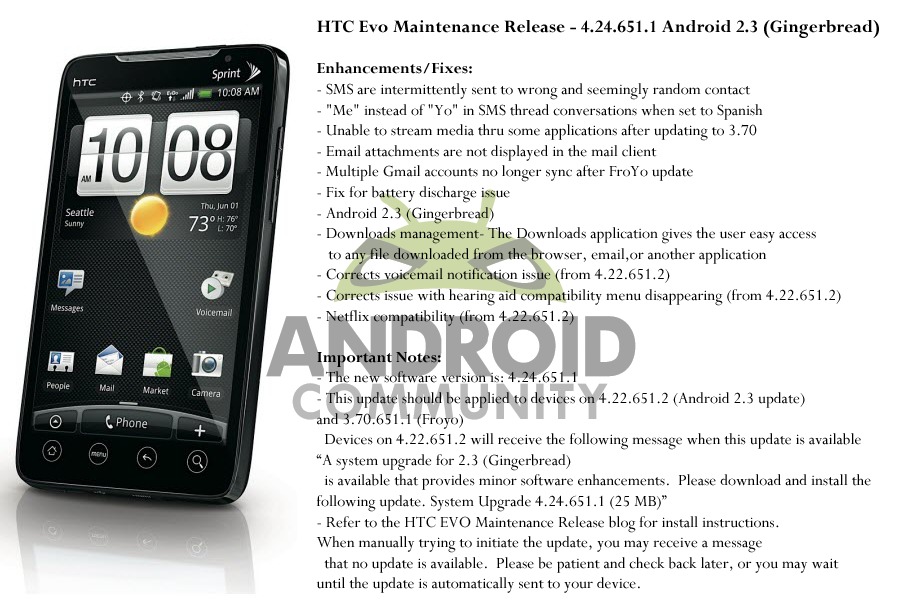 Remember this massively popular post which aimed to note every one of the vast collection of breaks that happened with the last EVO update? The folks responsible for said evil have been flogged, apparently, and a new update is floating across airwaves today. This update is marked 4.24.651.1 and should be coming across immediately if not soon. A full list of improvements and fixes can be found below, and you're sure as heck welcome to check out that original post to see if any of the problems you had in the past were amongst the common.
Fixes include a hopefully true repair of the problem with sending of text messages to random recipients, the changing of ME to YO in sms conversations in Spanish, a fixing of your ability to stream media through apps – this having been broken by the update classified 3.7, and the re-appearance of email attachments! These are only a few of the full list that can be see above and by clicking the image in the gallery below. These fixes are almost exclusively selected from problems caused by the update that came previously from Sprint, a carrier not looking good in the least after such a fabulously hole-ridden update.
You should be able to grab this update by heading to your menu, hitting Settings, going to System updates, and hitting HTC software update. If the update is available to you at that moment it should automatically begin to load. If you aren't amongst the lucky, you'll just have to wait longer. Updates, again, start today and should be rolling out to everyone across the USA soon. The last time an official update came through, it was version 4.22.651.2 and had many of the same fixes supposedly coming through.
Will this update be the one to bring the EVO 4G back to normalcy? We shall see. Meanwhile you're certainly encouraged to unload any gripes you've got with the update below, as this appears to be the best way to contact the carrier in question so that they'll make sure the update is functional.
Let us know how it goes!
Also note that this entire post and several posts before it have been pushed out to you using the mobile hotspot on the HTC EVO 3D, a device which we'll have a review of up for you later today!