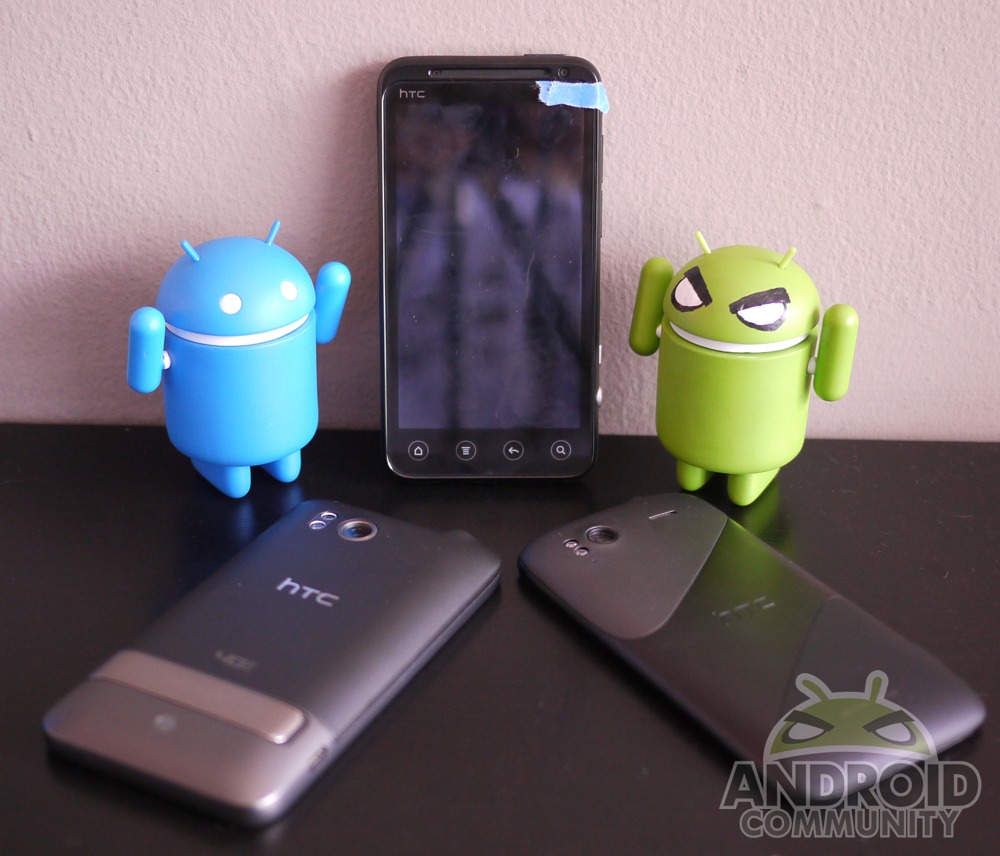 As providence would have it, we've now got the 3D version of everyone's favorite HTC phone of all time, that being the HTC EVO 3D. This is a device that's rolling out with a dual-core processor, a lovely dash of HTC Sense 3.0, and some incredible glasses-free 3D! This isn't the first time we've glanced upon a 3D device of similar nature, will this one take the trump card? We shall see! HTC in the place to be, dual core happenings from here to you from me!
This device has a 540 x 960 pixel resolution 4.3 inch 3D S-LCD display set in a 126 x 65 x 12.1 mm chassis with a weight of 170 g total. If you'll recall, we've had our hands on this device before, even going so far as to literally compare the size of it to the HTC ThunderBolt! Now we've got another HTC device in the house, that being the dual-core HTC Sensation 4G with it's ultra-fancy chassis and Sense 3.0 with excellent new widgets and lockscreen in tow. Turns out the HTC EVO 3D has all that and more! Let's dive in and see if it adds up.
First Impressions
What we're dealing with is a hot 1.2 GHz dual-core processor, Adreno 220 GPU, Qualcomm MSM8660 chipset. We'll see soon enough. This device also comes packed with what's basically the greatest 3D enabled game on the market today: Spider-Man! But wait, it's not the full version, you'll have to buy the full version via Gameloft – but you'll be able to pay on your phone bill! That's practically free! Look for a demo inside the hands-on below – it's fabulous! Go Gameloft!
[vms c4c78cafadb83d2888cb]
On the back of this device you're going to find the dual-camera magic. That's right, a 5-megapixel 2560х1920 pixel resolution, autofocus, dual-LED flash having camera that'll be able to take stereoscopic photos (2 MP only) & videos with geo-tagging. Can you believe it?! There's also a 1-megapixel camera on the front. Use it!
Now let's have a look at some benchmarks. As you can see, this device does indeed hold its own directly out of the box. Want to compare these marks to the HTC Sensation which also JUST came out? Have a look at our full review! I think you'll find the results to be tantalizing.
Smartbench 2011
Quadrant Advanced
Linpack Pro
AnTuTu
Now this device does have 1 GB storage and 1 GB RAM, but it also has a microSD port under the battery cover. While the HTC EVO 3D comes with a relatively small 8GB card out of the box, you'll be able to upgrade that to a 32GB card if you wish in the future, per the standard for high-end phones these days. There's a microSD port, a headphone jack, volume up and down, power button / lock, and that's it – oh wait! There's a couple additions that you RAREly see on HTC devices. First, a dedicated camera button. Not only does this button exist, it's gigantic compared to buttons of old. Nice and big and metal and round, this makes the device seem as though it was made to take photos and video. Fancy that! Then there's a 2D/3D switch which thus far appears to only function inside your camera mode. Games you'll be switching on your own the old fashioned way.
Also of note – that microUSB port is also MHL enabled, this meaning that all you'll need is an official converter and you'll be outputting to HDMI in no time. That combined with the fact that this device has basically everything that the Sensation has and, again, more, should have your mouth watering in all sorts of ways.
On the other hand, the casing on the Sensation is going to be a doozy to beat, it's ever so lovely.
Stay tuned with us here on Android Community as we continue to take a look at this device in more ways than one, crowning our looks off with a review or two VERY soon!