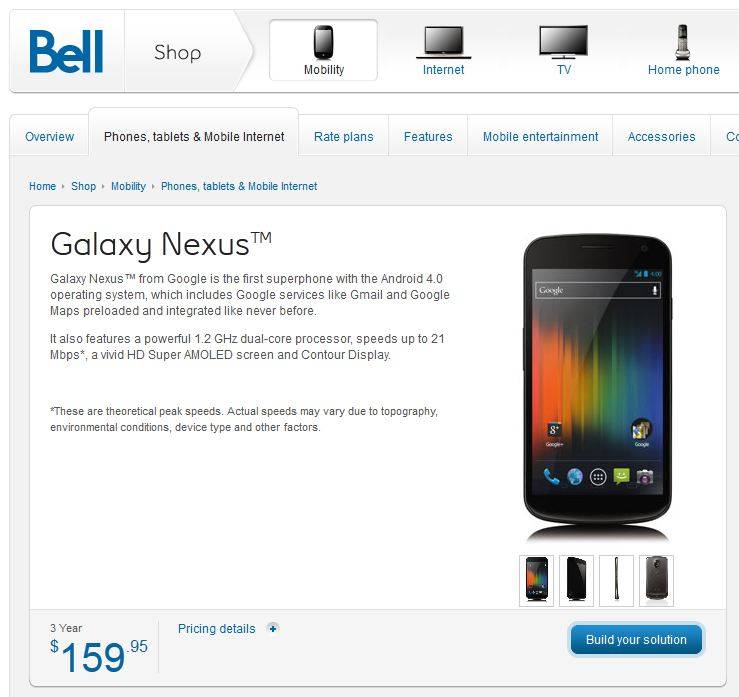 Oh Verizon, why do you vex us so? Just as planned, the Samsung Galaxy Nexus is now on sale at Canadian wireless carriers Virgin Mobile and Bell, giving the Great White North a taste of Android 4.0 Ice Cream Sandwich. Subscribers can get the Galaxy Nexus for $159.99 from either carrier, though naturally you'll have to sign up for a new two-year three-year contract or renew an existing one. Rogers is still planning a release for January.
The Canadian version is the same HSPA+ model that's been on sale in the UK and circulated for press reviews – Verizon is still the only carrier confirmed to eventually receive an LTE version. On both Canadian carriers the phone is unbranded, like previous Nexus phones. Notably the Canadian Nexii are more than $140 cheaper than the leaked $299 Verizon price, and the unlocked model comes in at $649, while Verizon is probably pricing their model at $799. To be fair, both Canadian carriers are selling the 16GB version. Unless Virgin or Bell requires an activation with an unlocked model, northern US citizens should be able to make a run across the border and buy one full-price for use on AT&T or T-Mobile.
With just one day until the previously rumored launch of December 9th, it looks like Verizon has left its customers out in the cold yet again. The latest rumors indicate that indeed the December 9th date has been scrapped, with no indication of when the phone might actually go on sale. Verizon subscribers and prospective customers are growing increasingly angry at the company's total lack of communication – aside from the signup page (which still has yet to send any sort of verification) and a short sentence in a PR message, there's no official word from the company at all.
[device id=1740]