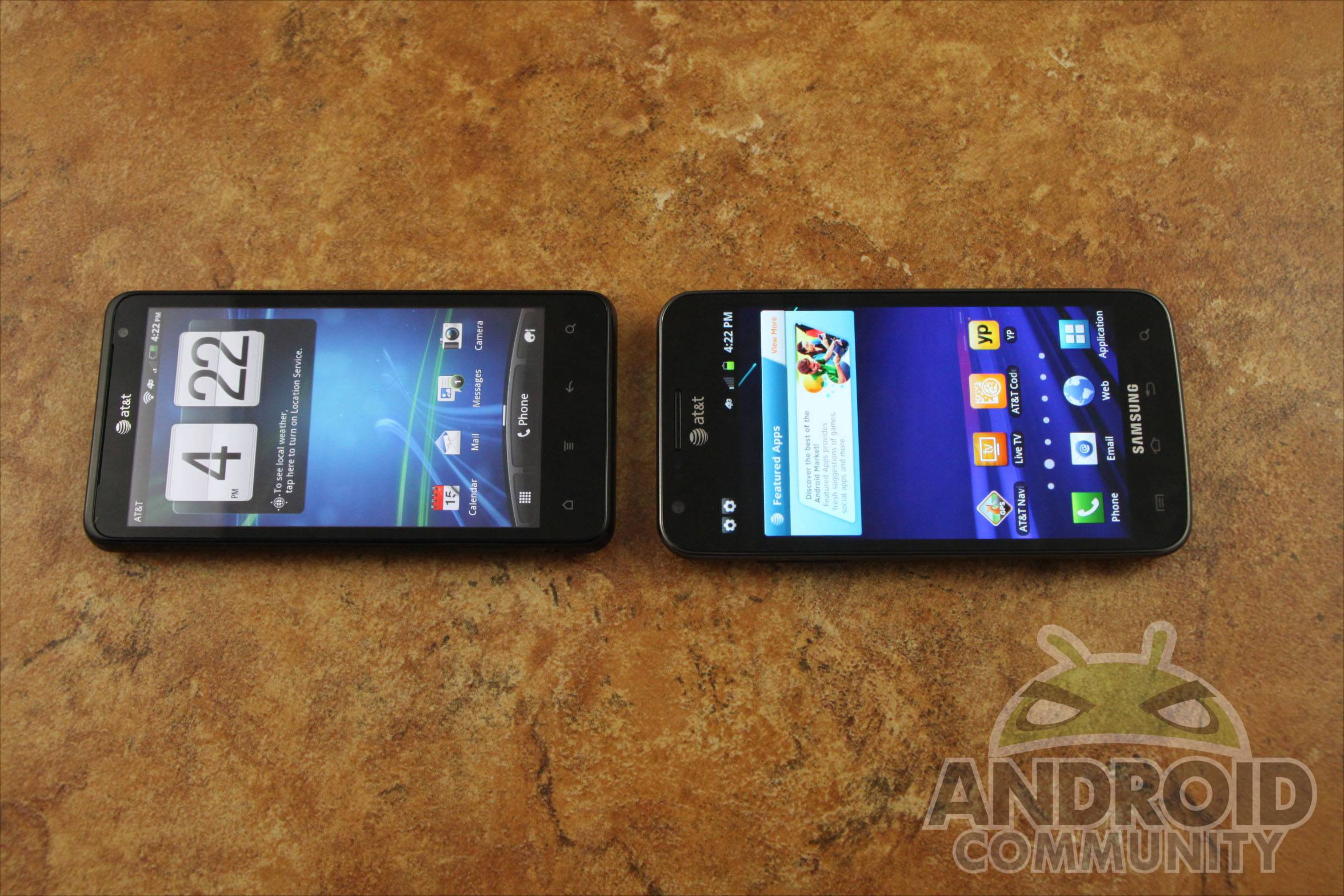 AT&T customers in one of their new LTE network coverage areas have a choice to make if they want a smartphone that takes advantage of the higher speeds. Only two phones have launched with AT&T LTE capability: the HTC Vivid and the Samsung Galaxy S II Skyrocket. Sure, you could read our extensive reviews on the Vivid or Skyrocket, but you're busy. We've tallied up the pros and cons of each one in one handy-dandy article.
Hardware
Both phones reach towards the high end of the Android spectrum, with 4.5-inch screens, dual core processors and a full gigabyte of RAM. The Skyrocket's processor wins out in a head to head bout: its 1.5Ghz speed rating is demonstrated in a benchmark score that's nearly 50% higher than the Vivid's. Both have an equal 16GB of memory and an empty MicroSD slot, though once again the Samsung phone has the advantage in that it's accessible without removing the battery and restarting the phone.
HTC is the clear winner in build quality. The Vivid feels a lot more solid than the Skyrocket, in just about every way. While the phones share almost exactly the same footprint, the Skyrocket is slightly thinner and just feels a lot more fragile. The Vivid pays for this solid feeling in weight: it's about 30% heavier than the Skyrocket, a fact that's very noticeable when I slipped both phones into opposite pockets. Both phones feature 8 megapixel cameras with front-facing secondary cameras as well, though the performance of the Samsung camera seems to be noticeably better.
Screen
When it comes to the phone's screen, you've got a real hum-dinger of a decision to make: go with the Skyrocket's rather pedestrian 800 x 480 resolution on a gorgeous Super AMOLED panel, or the Vivid's more appropriate 960 x 540 res on a dimmer and duller LCD screen. It's a tough decision, to be sure. I tend to prefer as much resolution as I can get, especially on newer super-sized screens. But the appeal of that AMOLED display is hard to deny, even then the pixels are considerably stretched. All I can say is that if you're used to an AMOLED display, you probably won't want to go back to LCD, but if you haven't been swayed so far, you'll appreciate the Vivid's extra resolution.
Software
Sense or TouchWiz: pick your poison. Both the custom UIs on these phones are functional and useful, at least to some degree, though I tend to prefer HTC's Sense. The Skyrocket's implementation of TouchWiz was also jittery and tended to lag – surprising, on the more powerful processor. However, this lag didn't extend into regular apps. The Skyrocket and Vivid both have an annoying amount of pre-installed bloatware, but on the former at least you can remove some of it. AT&T has confirmed plans to update both phones to Ice Cream Sandwich early next year.
Battery
The Skyrocket is the clear winner when it comes to battery. Between the larger 1850 mAh battery and the more efficient screen I was able to clock a full day of usage out of the Samsung phone with almost 30% battery left. The Vivid barely made it through the day. That said, if you're in the habit of charging your phone at your desk, in your car, et cetera, the Vivid will probably be fine – just don't forget where your charger cable is.
Phone and Data
When testing AT&T"s LTE speeds on both phones, they each averaged in the 16-17Mbps range. That's not outstanding considering what kind of performance we see from Verizon LTE on a regular basis, but it's an appreciable bump up from HSPA+. Calls on both phones were clear so long as I stayed in a high coverage area, but the Vivid seemed to fare better on one or two bars, giving a slightly better conversation with fewer complaints on the other end.
Extras and Price
The HTC phone came with just the charger and a data cable, while the Samsung phone also included a basic earbud headset – a nice touch. Neither have a MicroSD card included, but odds are that if you've got more media than the 16GB of on-board storage can accommodate you've already got a card lying around. It's worth noting that the Skyrocket has NFC, which could get a lot more important once Ice Cream Sandwich and Android Beam are available.
The Skyrocket is pretty expensive at $249, $50 more than the generic AT&T Galaxy S II. The Vivid isn't exactly a bargain either at $199. In some markets, AT&T is offering $100 off both phones, though that seems to be a here-or-there deal depending upon your ZIP code. If you're definitely planning buying either one, call AT&T up and see if you can get that discount with a little customer service support.
Wrap-up
The Skyrocket is clearly the superior phone, with a much faster processor, longer battery life, NFC and an easily accessible MicroSD card slot. The Vivid is no slouch either, and it's also $50 cheaper wherever you are. I'm going to recommend springing for the Galaxy S II Skyrocket, with three exceptions. If you're a fan of HTC's hardware or Sense software, if you must have a higher resolution (albeit on a poorer panel) or if you just want to save 50 greenbacks, go with the Vivid.
[device id=1991]
[device id=1987]