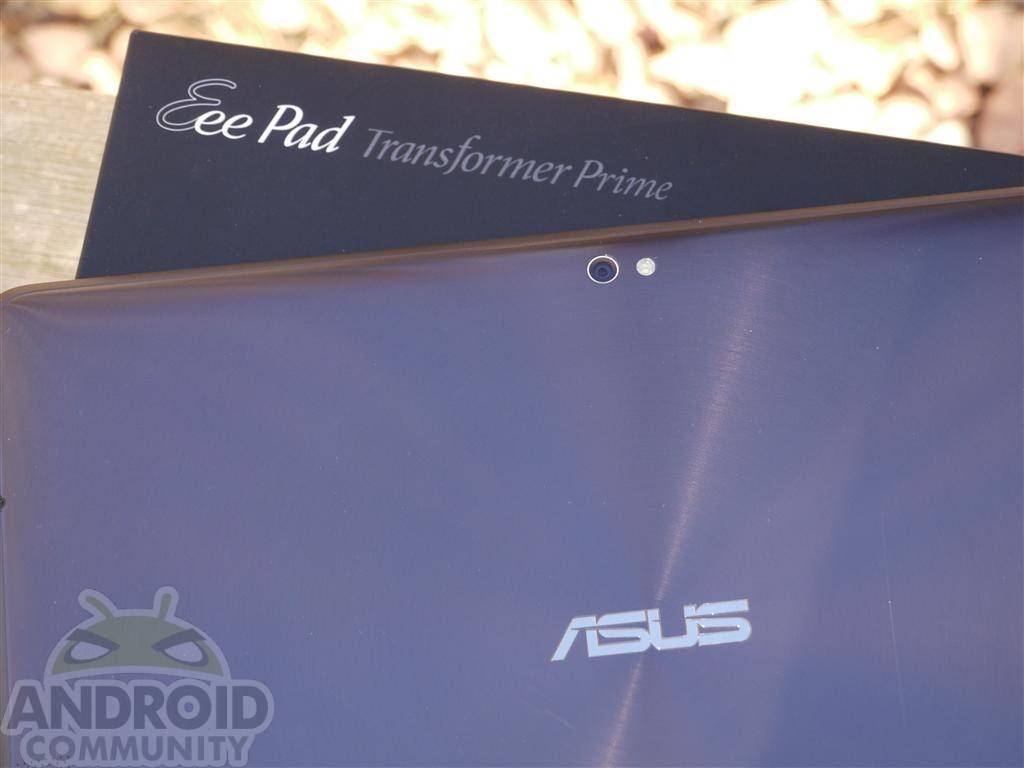 Say hello to the next generation of Android tablets — that would be quad-core NVIDIA Tegra 3 tablets to be exact. With 2011 dominated by the Tegra 2 we expect 2012 to be similar. Ahead of the pack comes ASUS with the worlds first quad-core slate, the Eee Pad Transformer Prime. Being similar to many other tablets around can the Prime boost ahead of the pack and make a name for itself, or will it just be another in the flood of Android tablets? With good looks, a fancy radial spun aluminum design and that ultra-powerful processor we think it will hold its own just fine. Read on below for all the details, video, and pictures you can handle.
Hardware
We already know plenty about this tablet so I figured we'd jump right into the hardware specs for a quick rundown before I unleash the slew of pictures and games on you. If you've been living under a rock and didn't know, the Prime features a 10.1″ Super IPS display with a 1280 x 800 resolution — nicely covered in Gorilla Glass. Under the hood is the good stuff we already should love and that is the NVIDIA Tegra 3 quad-core processor and its lovely 5th companion core (more on that below).
Now the magic here isn't just that ultra-powerful processor but also in the optional keyboard dock — making this a full out portable computing solution similar to a laptop. Just like the original Transformer this is not a necessity, but is an awesome addition that would be amazing for anyone — especially students.
The keyboard dock isn't included or needed to enjoy this slate, but it will give you a wide array of options not to mention extend the battery life from 10-12 all the way to 18 hours of continuous usage. We'll cover more on the keyboard below and right now will continue with the tablet hardware. We were lucky enough to get the purple model (Amethyst Grey), and the Prime also comes in a Champagne Gold for those not in touch with their feminine side.
Right now nothing is faster or hotter than the Prime (the Fire doesn't hold a candle to this), and we have been giving it a spin for a few days and have thoroughly enjoyed it. With a quad-core processor capable of speeds reaching 1.4 GHz, 1GB of RAM, 32GB of internal storage (64GB available) and a decent 8 megapixel camera around back this has everything you'd ever need from a tablet and more. Here is a quick gallery of a few pictures then you can see plenty more in the full gallery below.
The front is dominated by a flat surface of Gorilla glass and the bezel is a bit large but we can live with that. The back is a solid piece of brushed, radial spun aluminum that looks and feels great and is very sturdy. Sadly it does scratch easy, is a fingerprint magnet, and always feels a bit cold to touch but I'm not complaining because I'll take it over cheap plastic any day of the week. One important thing is we now only have one speaker rather than the two stereo outputs like most tablets. It is also located exactly where almost all users will place their palm while holding the device, especially while gaming. Sound was very muffled and I wish they could have found a better location, but it's not that bad.
I am happy however with the location of the volume rocker and the power button. Most tablets including the original Transformer they are next to each other. I've always hit the wrong one on accident and it gets a bit frustrating. The Prime's power/wake button is nicely placed on the top left of the device away from the rocker. It could be quite a bit bigger if you ask me — I missed it more often than not.
Keyboard Dock
The kicker here is not only that quad-core but also the optional keyboard dock. This accessory alone is the single best option for any tablet or device around. Giving extended features, extra battery power, charges the slate and even has USB and a standard SD slot for even more storage. Not to mention this little beauty makes it become a full on laptop — minus the Windows or OSX.
The keyboard is the same aluminum design and feels great and very sturdy. It will run you $149 but is definitely worth it, especially for students or anyone wanting to get some serious work done on this beast. The aluminum design comes from their ultrabook line and the keyboard makes it as close to one as you'll get. the chicklet style keyboard is extremely easy to type on — even if it's a bit small being only 10″. The touchpad is extremely useful, accurate and sensitive and I'd almost go as far as to say it could use an option to lower sensitivity. With dedicated home and search buttons for Android, music controls, screen capture, and more the keyboard gives you everything you'd need and more right at your fingertips.
Instead of explaining I'll just let you watch my quick hands-on video with the tablet and keyboard dock. As well as our good friend Chris Burns giving it a glance too.
ASUS Transformer Prime and keyboard hands-on

For those wondering the dock has a few little rubber bumpers to protect the aluminum finish as well as the tablets glass from injuring each other so that isn't a worry. The two together might not be the easiest to open but after spending a few days with it I've learned to quickly slide a fingernail in and turn it sideways to easily open the slate, but a little notch somewhere would have been nice. The trackpad is easy to disable for those wondering that also. While typing I accidentally slid it around and opened a few things and lost my place during typing but a quick toggle and you're good to go.
To sum things up with the tablet and keyboard in terms of hardware — they are everything you'd expect from a $499 premium tablet device. The additional $149 for the keyboard is an excellent option for those who need it and I'd highly recommend you pick both up.
Software
Running along with Android 3.2 Honeycomb nothing is actually all that new and if you've ever experienced an Android Honeycomb tablet you'll feel right at home. Only things are smoother, more fluid and overall just a better experience. ASUS has changed the standard notification pop-up in Honeycomb and added plenty of enhancements like battery meters for both the slate and the keyboard dock. I don't need to explain this as the video did a great job but we also have quick toggle widgets for all the power modes to take full advantage of all 4 processing cores, or set it to power safe mode to conserve battery life. Other then a few visual changes to Honeycomb nothing has changed. ASUS does have a few custom settings for the keyboard dock and built-in screen capture features but that is about it.
There is absolutely zero bloatware with the Transformer Prime other than a few ASUS apps such as their online backup service. Obviously this being the first NVIDIA Tegra 3 device NVIDIA was nice enough to load up a few awesome games you can expect to hit the market soon. Shadowgun and a few others are already available but we have exclusive Tegra 3 optimized versions and will be showing you them all on video over the next few days. Stay tuned because you'll want to see the absolutely stunning visuals from Bladeslinger later in this review.
Not everyone that buys this tablet will be getting the included keyboard dock, in fact most probably wont so I wont focus all of my attention on that. Using this as a tablet its everything you'd want and then some. The added power of the quad-core makes Honeycomb even faster, games look better and more immersive, and keeps this tablets future bright with Ice Cream Sandwich and whatever else lays ahead.
Performance and Benchmarks
We ran a slew of benchmarks and performance tests and while this is always something we focus on, obviously real world results are what's most important. Whether it be old apps like Quadrant Advanced that aren't taking advantage of all that the quad-core has to offer, or the tests just being not as accurate as we'd hope the results here weren't overly impressive. I will say that real world usage (where it really matters) and gaming this tablet is by far the best and fastest around. Until more Tegra 3 slates hit the market if you are a gamer this is a must buy tablet.
I wont break all the benchmarks down too much because we have plenty of them. We also did an in-depth comparison of the original Transformer vs Prime vs iPad 2. That link will break everything down completely and is a must read for those benchmark fans. Below is AnTuTu since it seems to be most accurate with showing the real world performance across all the processing power inside this aluminum device so I'll show that and the rest are available from the full gallery.
Performance for most games was already exceptionally great with NVIDIA Tegra 2 tablets and we've never experience so much as a slowdown or lag with most popular games so there wasn't an easy way to compare with the Prime. Although seeing the enhancements to Shadowgun and others thanks to the NVIDIA Tegra 3 should be plenty of proof for all you readers. I'll get into all those games soon but for now we have another video demo showing an incredible upcoming game called Bladeslinger. This is basically Shadowgun meets Infinity Blade meets Half-Life 2. You are a Bladeslinger that has a huge machete attached to a revolver and I wont explain much and instead let you see the video. The graphics are truly incredible and this was just a quick demo of a pre-production version of the game. I can't wait to see what they have in store for all of us Tegra 3 tablet owners.
Bladeslinger on the ASUS Prime and NVIDIA Tegra 3

Camera
Tablets may not be the ideal solution for any photography moment and holding something that large has never really interested me for even a quick photo. Many tablets have opted for weak and measly 3 megapixel cameras to keep the cost down but this is one more area where ASUS has really stepped it up. While the camera is nothing extremely amazing and enough to write home about, it is by far the best camera of any tablet — but that isn't saying much.
ASUS equipped the Prime with an extra special 8 megapixel camera around back with LED flash and f/2.4 shutter capability. While lugging around a 10″ camera never really appealed to me I was able to snap some great photos with the Prime. The auto focus was slow at times and would get a little confused and stutter for a moment but for the most part was very quick and took excellent shots. Below is a picture taken with the ASUS Transformer Prime of its new keyboard dock just for an idea of how good the image quality can actually be, especially in a medium lit room. More photo examples are also in the full gallery below
Battery Life
The first thing that comes to mind when you hear a quad-core mobile device other then the wow factor is probably battery life. I for one was extremely worried about how this would actually handle real world scenarios but I'm happy to report that between ASUS — and more importantly NVIDIA — the Prime lasts plenty long. All the details and power saving info on the quad-core is available from our official Tegra 3 announcement, plus a few hints on the companion core are right here.
The short version here being the cores only charge up and consume battery life as they are needed and shut down when they are not. Small tasks such as viewing photos or browsing the web and market are powered by the fifth companion core seen above. So technically this has five cores, not four. This is nothing new though. In our battery tests running the Prime non-stop it achieved a little over 10 hours of continuous use before running out of juice. Using the additional battery inside the keyboard dock the Transformer Prime played back movie continuous for almost 17 hours straight. That is mighty impressive and I was very pleased with my results.
Now most users wont play even 8 hours straight so while that is nice to know, it isn't an ideal test. Instead I used the device off and on for more than a few days with a single full charge. I played over 2 hours of Shadowgun, browsed the web, updated all my applications, ran a few benchmarks and went to bed. Then enjoyed the tablet plenty throughout the next morning. The image above is about what I've achieved using the slate off and on as a normal user would, and that is just the tablet with no keyboard dock. It's safe to say that most will be able to enjoy well over 30 hours and more off a single charge while using this tablet. That was set to "normal" mode which will use the most power and battery possible. Setting the Prime on power save mode I'm sure it would last far longer.
Wrap-Up
To wrap things up I'll start by saying this — I'll take two please! Hopefully if a tablet is what you've been wanting for this Christmas you'll make sure your parents, wife, or significant other knows the ASUS Transformer Prime is what you want, and it will be available starting December 19th at retail stores nationwide. Just enough time to buy it and wrap it up for Christmas.
Pick your poison

The Samsung Galaxy Tab 10.1 has by far been my absolute favorite tablet for a long time, and the 8.9″ brother has a special place in my gadget bag too — but the ASUS Transformer Prime has stole the top spot, that is for sure. Android tablets have been making a huge surge lately and the winning combination will be the Prime, NVIDIA Tegra 3, and Ice Cream Sandwich. This is the next step in Android's tablet future and I'm extremely excited to be able to enjoy it. We've already seen a glimpse of Android 4.0 Ice Cream Sandwich on the Prime and when that officially comes things will only get better.
You may or may not want the fancy keyboard dock and that really doesn't matter. Whether you choose to add that awesome accessory to the Prime or not you'll still have one of the absolute best, fastest, prettiest, thinnest, and most powerful tablets available on the market. So what are you waiting for?
This is not the end of our review either because I'll be showing you more hands-on with all the amazing Tegra 3 games over the coming days. In the meantime you'll have to enjoy the videos above and all the images below in the full sized gallery. If you haven't reserved your Prime yet, you probably should.
[device id=1934]