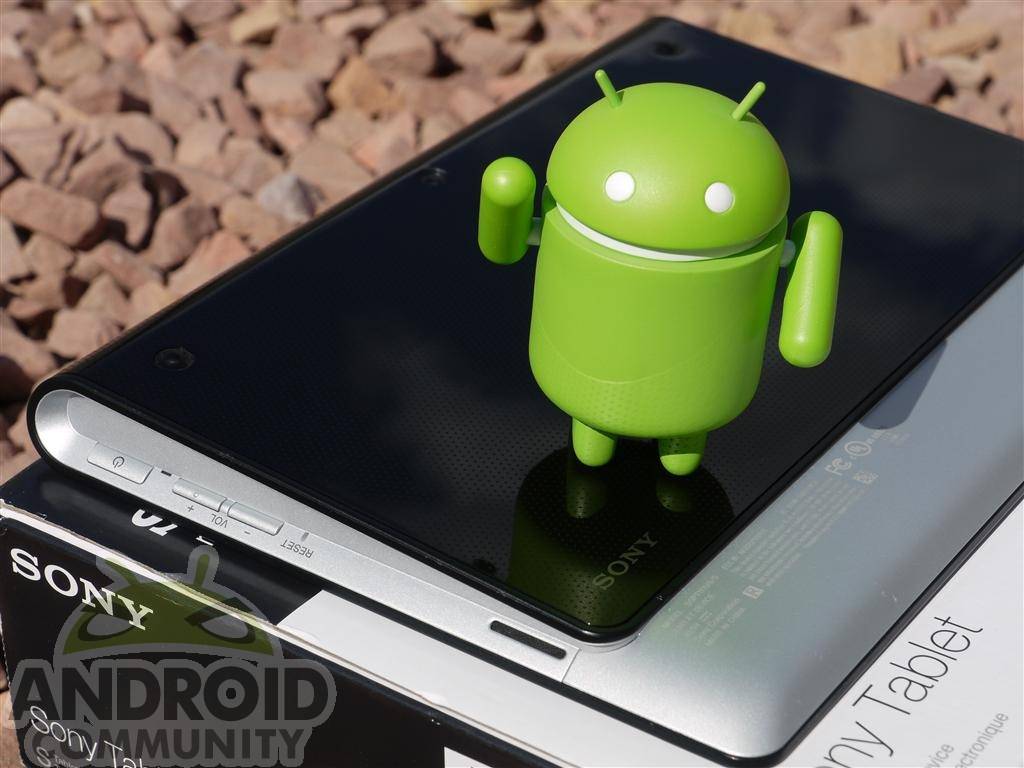 After plenty of awesome Sony commercials the time has finally come for Sony to release their much hyped Android Honeycomb tablets. After just recently been officially named the Sony Tablet S and Tablet P they are now ready to rock. Today Sony has announced both the Tablet S and P devices and luckily I've been enjoying the Tablet S for a few days and have a full rundown and review for your viewing pleasure.
We have plenty of pictures, details, and video for you all below to check out but first we'll start with this quick hands-on and walk-through video of the hardware and software.
Sony Tablet S Hands-on Unboxing and software walk-through
[vms 26faaa2c4e1f20db70a7]
We have seen mixed information and leaks as of late so I'll officially put some of those details to rest. What we have here is the Sony Tablet S and that is the official name. This tablet comes out of the box running Android 3.1 but immediately was updated to the latest version which is Android 3.2 Honeycomb after powering on. We have a 9.4″ 1280×800 resolution display with Sony "TruBlack" screen technology with better colors, true blacks, and less glare. You hardly notice the screen is smaller than most 10.1″ tablets unless you actually have them side by side.
Hardware
To go along with the 9.4″ IPS LED display and unique magazine fold-like design we have some dual-core power. Under the hood is an NVIDIA Tegra 2 dual-core 1.0 Ghz processor, 1GB RAM and 16GB internal storage. We have a micro USB and full size SD slot for additional storage as well. The full size SD slot makes adding storage not only cheaper as micro SDHC costs more, but you have more options and higher capacities available.
If you haven't seen in until now the photo above does plenty of justice. The Tablet S features a very unique design where it's almost like a magazine cover folded around back of the device. Not only does this make it easier to hold and grip, but they've done some weight balancing and management that actually makes it really nice and easy to hold. It may be thicker than the Galaxy Tab but it sure is easier to hold and doesn't get tiring.
Around the right side we have the power button (with led notification for charging) and the volume up/down rocker buttons, a reset pinhole, and the stereo speaker grills.

Then on bottom we have nothing but the dedicated charging and sync port that will also be used for docking accessories. The charging cable is proprietary and if you forget or lose it you wont be charging this tablet any time soon.
The left of the device features the 3.5mm headphone jack along with the micro USB and full-sized SD slot nicely covered by a removable door. Along the left is another speaker grill and a little spot to attach an included lanyard for easy and safe carrying.

The top and rear have a unique textured finish that not only helps with fingerprints but also gives users a great grip on the device so you don't always feel like you're about to drop the tablet. Sony also nicely provided some rubber feet around back to help while laying the tablet down to protect the surface.
Overall I'm pretty impressed with the hardware. Even though most of the device is made from a hard plastic it does not feel cheap or fragile, while staying extremely lightweight. The folded over design was well thought out and the weight management and distribution Sony incorporated really helps while using the device from day to day. The rounded top is almost like a backbone and holding the Tablet S in portrait mode was not only easy, but was not tiring and I didn't get nearly the fatigue I do from using other tablets. The design isn't thin, but it's extremely lightweight and great for reading and while it was daring, I approve of the design and like the different approach.
Software
The software on this beast isn't anything new, we have Android 3.2 Honeycomb (was updated upon arrival) running smooth and stable as ever. It did however have an over the air update that once accepted and installed kept returning and prompting me to update again and again, not sure what that is about. Everyone should be plenty familiar with Honeycomb so I'll move right into a few custom changes Sony has included. First off you'll notice on the top of the main screen they've added a few buttons. Almost like widgets but smaller we have easy access shortcuts to popular things such as browser, email, infrared (for remote TV control), and the E-reader client.
These are small and stay out of your way but have actually been really convenient for daily usage as I no longer have to icon hunt for launching the browser or email. Sony has also dramatically changed the application tray just as we saw in these leaked screenshots. The entire design, layout, background and color has all been changed from the standard Honeycomb interface. Sony does allow the user options to change this to their own liking and you see that in the video above as well as pictured below.
You'll notice in the image above things such as camera, browser, email, video player and more that are all stock for Android have generic blue icons instead of what we are used to for Honeycomb. Sony has confirmed this is pre-production software and they will all be ready at launch. The final software we will likely see custom icons much like how the Sense UI has changed many of these same items.
Sony also has customized the music and video players with their own unique layout and design. The music player has a great artwork concept where you can move around albums and stack them to your liking. Although once I upload a few thousand songs we may run out of room. Clicking an album cover instantly starts playing said music. My only concern is when I later return my stacks had been randomized again so getting everything how you'd like it seemed pointless, but neat either way.
The last major interface change is a "favorites" tab on the homescreen next to the app tray launcher. This will quickly show you all recently opened apps, games, music and more and you can even set your favorite items. This makes one simple place to see your favorite music, games, and even webpages all in the same place instead of each individually and it was a nice touch that I've really enjoyed.
Performance
As always here at Android Community we have plenty of benchmark results for everyone to take in and enjoy. We've ran CF Bench, Smartbench 2011, Quadrant as always, and even Vellamo for everyone to analyze and compare to their own devices.
I'll start with Quadrant and the Sony Tablet S with its 1.0 Ghz Tegra 2 CPU scored around 1900. While this is about average for most NVIDIA Tegra 2 tablets we've seen thus far, the Galaxy Tab 10.1 did score over 2500 on average during testing.
Smartbench scored about 2900, something that is lower than most smartphones as seen in the photo below. But then they aren't pushing a 1280×800 screen resolution either. For another comparison the Acer A100 7″ Tab scored 3600 in Smartbench.
We also have Vellamo and CF Bench below for you to check out.

Camera and Battery
Sony claims iPad 2 like battery performance from the Tablet S' 5,000 mAh pack. From my first initial few days of testing I've been getting great results with at least 10 hours of moderate to heavy usage. Last night I ran just about every benchmark you could imagine, browsed the web for a few hours and played way too much of the extremely popular Riptide GP racing game and I still had around 60% battery life. That was after almost 6 hours being unplugged. Using the device randomly throughout the day instead of continuously I can see a solid 24 hours or more of battery/stand-by time.
As for cameras, the Sony Tablet S features a 5MP camera on the rear (sadly no LED flash) and VGA camera up front for video chat and they performed about average compared to most tablets. The rear camera was a bit slow on image capture and the shutter speed was slow enough to make me retake more than a few photos.
Browser
While this will only take a short minute Sony did make it clear that they've put some effort into enhancing the browser experience for the Sony Tablet S and P devices. They've included some software changes and performance enhancements that really speed up overall browser usage. We decided to try a head-to-head comparison with the Samsung Galaxy Tab 10.1 and can officially say whatever Sony did worked great. The Sony Tablet S was first to load almost the entire page every single time. It instantly pulls the page up and you barely have to wait to start scrolling or browsing. Overall time wasn't a lot faster, but the initial boost was much appreciated.
Browser Test Video
[vms 0f5be4dd354bb3e295d3]
Accessories
Sony will also be introducing a few accessories at launch with the Sony Tablet S. Those consist of a bluetooth wireless keyboard that will have dedicated controls for DLNA and their infrared features as well as media controls. This will also work with a wide array of Honeycomb tablets that support bluetooth and it will start at $79. Next they will also be offering a Sony charging cradle dock, while this doesn't have any outputs such as HDMI out it is a great way to angle the tablet while using the wireless keyboard and it has two tilt settings for those that need more angle. The dock will also be competitively priced at $39 and should be available shortly. Check out the accessories at the end of our hands-on video.
Tablet S Hands-on and Accessories Video
[vms 48a2ba1077c449479130]
Wrap-Up
This tablet has a lot going for it. With the NVIDIA dual-core power in a neat package that is slightly smaller than most tablets on the market along with a very unique design this is a custom experience that is for sure. Being Playstation certified and bundled with apps such as Music Unlimited and Video Unlimited, and having DLNA and infrared remote control this is truly a multimedia consumption device. Whether you're streaming movies with QRIOCITY over DLNA or controlling your Sony 3D HDTV with the infrared remote app users truly have tons of options. These were not fully ready in our review unit and therefore were not tested. We did however test and thoroughly enjoyed Crash Bandicoot.
Pair all that with the latest Android 3.2 Honeycomb OS giving you a fluid, smooth, and easy user experience there isn't much not to like. Yes, some may be thrown off by the design and I had my doubts at first — but once you get this in your hands you'll quickly appreciate the design, weight, and comfortableness of this tablet. Pricing is set at $499 (16GB) and $599 (32GB) and should be available mid September.
[device id=779]