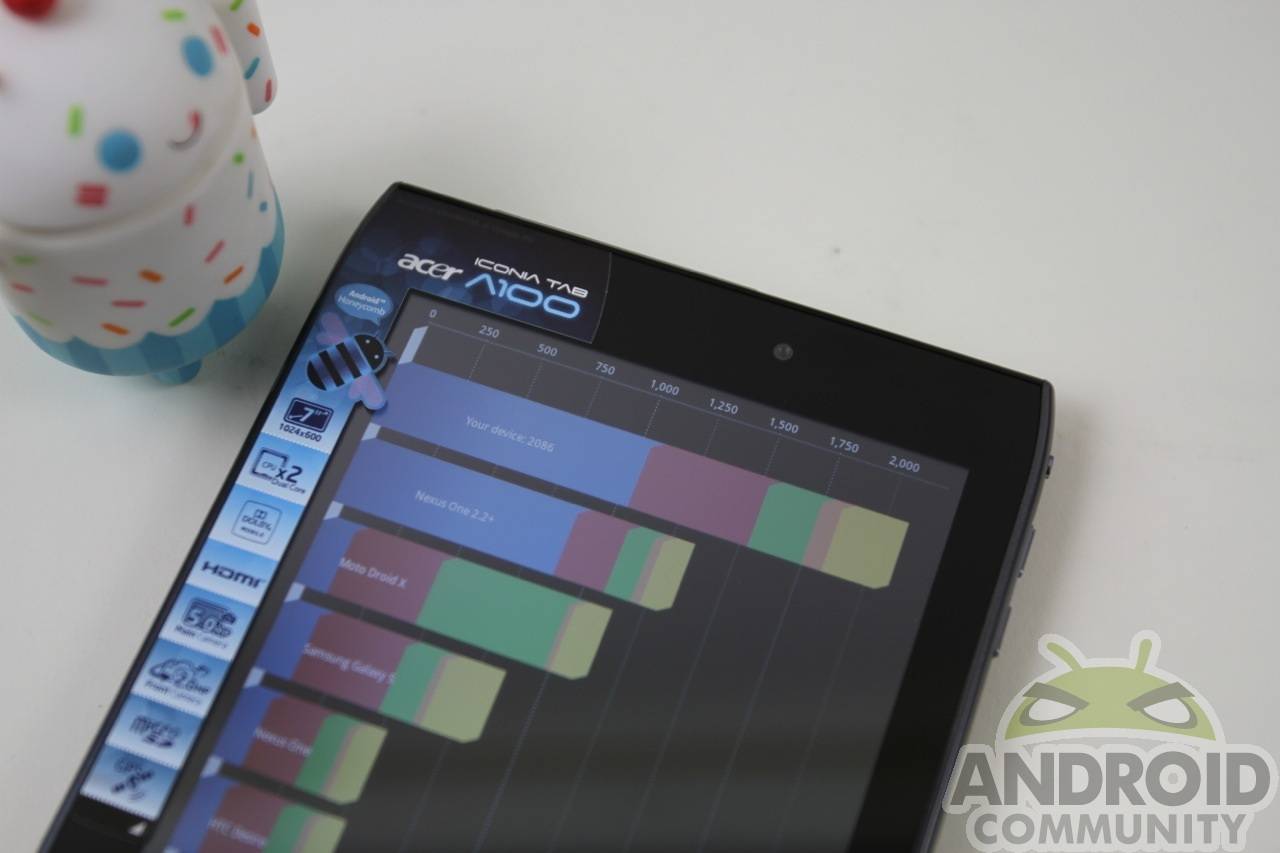 Today is the launch date for the Acer Iconia A100 tablet. For those unfamiliar this is the first Android 3.2 Honeycomb tablet to the market in the 7″ form factor. Want to see benchmarks? We told you originally it was coming in August and it has finally arrived. It was officially announced this morning and you can get all the details here. Lucky for you we already have one and decided to run a few performance benchmarks to help our readers make up their minds.
A quick summary this is a NVIDIA Tegra 2 dual-core Android 3.2 Honeycomb Tablet with a 7″ 1024×600 resolution, rocking 1GB of Ram and comes in a 8GB or 16GB flavor. It is small, lightweight, and portable and after running a few benchmarks we can clearly see it performs pretty nice too.
I'm going to say the good benchmarks are from not only running the latest and greatest Android 3.2 Honeycomb that has been optimized plenty by Google, especially for a 7″ device but it also has a slightly lower resolution. First off here is the quadrant benchmark photo shown above and while it didn't score amazingly high it was decent at almost 2100. For a comparison a similar spec tablet like the Xoom and Galaxy Tab with the same Tegra 2 score around 2500.
Next up we ran the increasingly popular Vellamo Web Browser Performance test. For full details on the new Vellamo Test read here. It tests overall performance from scrolling, web page rendering, network performance, V8, JavaScript and more. It is very thorough and it appears to love the Acer A100 — yup that is the little guy at the very top of the chart scoring well over 1000. Only my Xoom got that high once I overclocked it to like 1.4 Ghz.
Vellamo is supposed to be a pretty accurate test that rates overall device performance instead of particular areas. So far I've tested tons of dual-core devices like the Sensation 4G to the Galaxy Tab 10.1 and even the Xoom but nothing has scored as high as the Acer A100 when stock. Maybe its the lower resolution but that should take much effect as you see lower res phones like the myTouch 4G score plenty high. I'm going to go ahead and say Android 3.2 Honeycomb is highly optimized and performs quite great. The A100 beat the Tab by a pretty large margin.
For fun we also ran the slowly becoming less popular Linpack test for good measure but the score was pretty lack-luster at just 14 MFLOPS so we will move on quickly.
While some may just want to see the device others really love benchmarks so I'll keep posting a few more and you can expect to see some hands-on pictures and video shortly. I've also ran a quick Sunspider but Vellamo actually includes that in testing but I'll throw that picture up for good measure. It scored around 2300 in sunspider which is about even with recent devices.
From initial testing I'm seeing pretty great overall performance from this sleek 7″ Android 3.2 Honeycomb tablet. It is smooth, fast, and appears to be running extremely stable. I've only used Android 3.2 briefly but so far it feels much more stable than 3.0 and the optimizations can be felt during regular usage. Everything is really fluid and nice.
Again this was just a few pictures to get those interested in the Acr A100 7″ tablet excited as well as show some performance numbers. We'll be sure to post some device hands-on and pictures very shortly. For now check out all the photos below in full size via the gallery.
[device id=973]