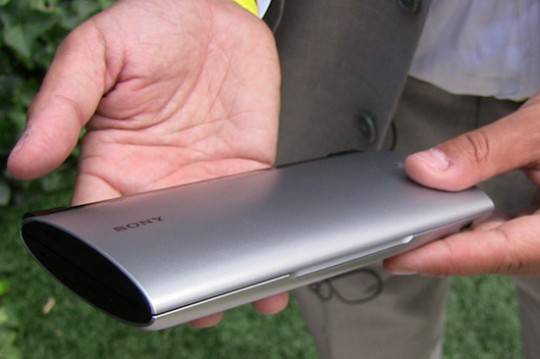 Today we have a few new details on the new line up of Android Honeycomb tablets from Sony. Previously known as the S1 and S2 tablets, we are now hearing they've decided on a few official names for these tablets. First the S1 is the 10.1″ standard tablet and will be called the Sony Tablet S, then we have that dual-screen clamshell tablet they've been calling the S2.
You can see more of the Sony S2 clamshell here, new details are now suggesting that Sony will call this the Sony Tablet P. My first guess is P is for "portable" or something of that sort since it does fold up and become a pretty small and portable device. We've seen plenty of both of these tablets and here you can see them in the wild on video. Or here is a review roundup.
Sources are now claiming the Tablet P (aka Sony S2) clamshell will be running Android 3.2 Honeycomb, those dual 5.5″ displays we've already seen, as well as the NVIDIA Tegra 2 dual-core 1 Ghz CPU but we all already knew that. They are saying however, that the Tablet P will only have 512MB of RAM rather than 1GB like almost every other tablet offers. It will feature 4GB of internal storage, be lighter than the iPad 2 and you'll be able to get it with AT&T 4G LTE. No word on official price or release dates yet but I have a feeling we'll be seeing plenty more on both of these tablets real soon.
[via Engadget]