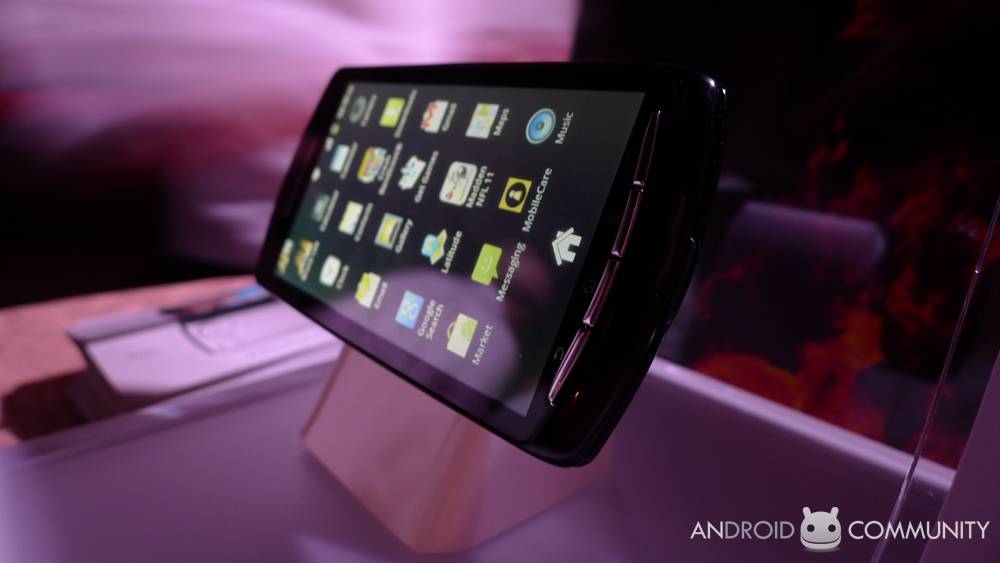 We got another opportunity to take a look at the Sony Ericsson Xperia PLAY Android gaming phone whilst at a Verizon event in Orlando during CTIA 2011. It was here that we finally got both an extended look at the device as well as an adequate amount of time to make judgements on its form and content. In the video below you're going to see a presentation made by a Verizon representative who shows us a top-down look at the device including a demo of several games that we're very much looking forward to trying out.
First Impressions
Instead of saying "first impressions" we really ought to say "recent impressions" as this device has been flying around in the wild for some time, this most recent build being what we've been told is going to be the closest we're going to get to a final setup as possible before launch. This device is both light and hearty, with an above-average brightness in display and form, easy to use in both closed portrait phone mode and open landscape gaming mode. It's the next best thing to holding an actual PlayStation controller and is crafted so nicely, we might even go so far as to say we like it BETTER than the original.
There's a magic number "50" games that will be released at the same time this game is sent out into the world – these 50 games will be available optimized for this platform but will also work with other Android handsets and tablets. This means there's going to be a GAMING WAVE if you will, of both new games AND games that've only otherwise been available for console gaming up until now. We can't wait!
This is also Sony Ericsson's first dip into the Android 2.3 system by the name of Gingerbread. We know, due to several accounts of inside minds saying so, that Xperia PLAY was Google's original "hero" phone for the Gingerbread system – thusly we're pretty pumped up for an unreal experience as crafted from the ground-up by both Sony Ericsson and Google.
[vms bcaef853ae32870a2b0f]
Games
Clearly this device is made for at least one purpose, that being an undeniably fabulous gaming combination of Google 2.3 Gingerbread, whose code includes API specifically targeted at the physical controls utilized here in this device, and Sony Ericsson's classic PlayStation set of controls – time tested and proven to be perfect for a plethora of magically fantastic games. In the video here you're going to see Star Battalion and Bruce Lee: Dragon Warrior, both of which are clearly ready to be played by both this device and similar Android devices (which, instead of using the physical controls here, will have to be using on-screen buttons.)
This device comes pre-loaded with several titles that'll show up in your Game Launcher. What this Game Launcher does is show you which games you've got that are optimized for Xperia PLAY – one example of a game that will not be showing up here is Angry Birds, which of course is optimized for a touchscreen-only environment. The games you'll be getting pre-loaded are thus: Asphalt 6: Adrenaline, Bruce Lee: Dragon Warrior, Crash Bandicoot (classic,) an unnamed sports title from EA (more than likely the most current Madden game depending on which one is out when the device launches,) Star Battalion, and Sims 3 – a couple of these titles are already on the Android Market already, but their optimized for Xperia PLAY versions will all come out the same time when the device launches.
Verizon Downloads
Right alongside your Game Launcher's list of games you've got that are optimized for Xperia PLAY, you've got a "More Games" tab that will lead you to a portal that includes 50 games (at launch) hosted for download by the Verizon Network. Instead of having to go through the Android Marketplace, you'll be able to download these with the charges going directly onto your Verizon bill. You'll then see the charges at the end of the month when you pay your Verizon bill.
This sort of payment system has been in the works for some time now, this particular move making it more than just a possibility for developers to attain funds from places other than Google's Android Market – this is in addition to Amazon's new app market, this making the number of major outlets for app downloads for Android increase far beyond that of the one host. This is a great opportunity for developers to get the best deal they can as far as revenue share.
Xperia PLAY as Gingerbread Hero Phone
As we already know having confirmed not once but twice, the Xperia PLAY was once in the running to be Google's Android 2.3 Gingerbread hero phone. This role was scooped up by the Nexus S as you all know, but Google's close involvement with this phone resonates even to today where the phone is indeed more than just a phone using Android, it's an Android phone where the OS and the hardware compliment one another in a perfectly effective way.
Take a peek at the post entitled Sony Ericsson Xperia PLAY Confirmed as Former Gingerbread Hero Phone for more clues as to the power of this handset.
Wrap-Up
We're pretty pumped up about getting this phone in our hands for an extended period of time. Of course being old Tony Hawk fans from way back, we're rooting for that game in particular to be released as soon as possible, but we'll settle for a bit of the ol' Mortal Kombat (also not confirmed, we're just looking forward to it eventually.) This phone is currently being displayed at special events as Android 2.3.2 Gingerbread, the most advanced built yet, more than likely to be upgraded beyond that for final launch. Will it have a different name by then? Perhaps a different tasty treat with more sugar? That'd be great!
Have a look at the gallery below for some detailed photographs and check out the video above for an extended ride through the system.