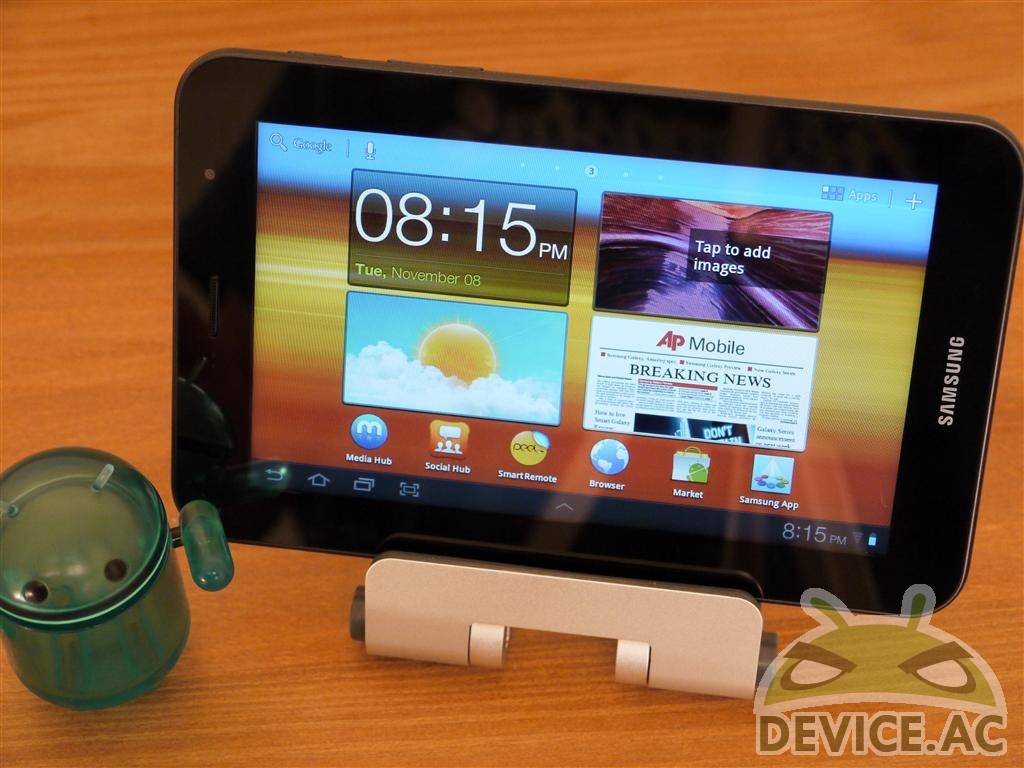 Today we have another surprise for everyone that loves tablets and Samsung. In our labs is the brand new Samsung Galaxy Tab 7.0 Plus with Android 3.2 Honeycomb. This is the first tablet from Sammy in this small form factor to come with Honeycomb, and we'll quickly be unboxing and checking it out in our hands-on video and pictures below.
For those that may not be paying full attention to the tablet market this 7″ slate was first spotted with a T-Mobile branding, then eventually made its way to Amazon's pre-order pages. Shortly after that, and late last month it was officially announced by Samsung but now it's finally available for those seeking a portable tablet solution.
All the details are available from the official announcement above but what we have is a 7″ 1024 x 600 resolution Android 3.2 Honeycomb tablet spiced up with Samsung's Touch Wiz UI. Powered by a 1.2 GHz dual-core processor, 1GB of RAM, and coming in 16GB and 32GB flavors. Samsung has outfitted this thin and lightweight slate with a 3 megapixel camera on the rear and 2 megapixel around front for video chat. They've added a micro-SD slot for expanded storage and will also be providing a 4G version in the T-Mobile Galaxy Tab 7.0 Plus coming later this month.
Initial impressions are quite favorable and I think I'm really going to enjoy this tablet, as will customers. I'm just concerned with the pricing as this tablet will run you $399 for the 16GB model, and $499 for the 32GB — available from Amazon right now by clicking here. It is lightweight, sleek, thin, and powerful with that dual-core processor, but it's not cheap that is for sure. Whether users will pay the premium or not remains to be seen, but this is a good alternative for those not wanting to carry around a larger tablet but don't want the Kindle Fire either. This is a true tablet experience in the smaller form factor while keeping top of the line specs. We'll be running it through its paces and checking overall performance this week. We'll also compare it to the T-Mobile Springboard 7″ tablet we reviewed yesterday because they are very similar.
Enjoy my quick hands-on video below and then check out all the photos in the full sized gallery and be sure to stay tuned as we'll have a full rundown and comparison review later this week.
Galaxy Tab 7.0 Plus hands-on

[device id=1941]