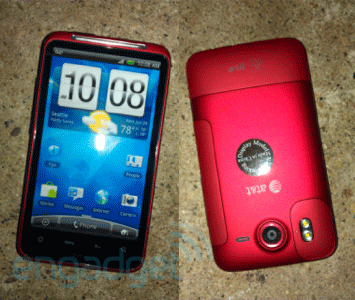 When we did our hands-on of the HTC Inspire 4G, we were impressed with the screen, and just the sheer size of the thing. This is "a fast phone for fast people". Well it looks like that Inspire 4G is going to get a little flashier, because Engadget was tipped that a red version is coming to Radio Shack. Check it out:
Not only that but we also hear that a purple Evo Shift is coming to Radio Shack as well. We reviewed the EVO Shift back in January, and were a bit doubtful if we were going to like it, but it is a very solid phone. And in purple! Awesome.
So both phones are from AT&T, and we don't have information yet on exactly when they are coming to Radio Shack, or what the prices will be. We'll be on the lookout for more information, and will be sure to keep you updated.
[via Engadget]