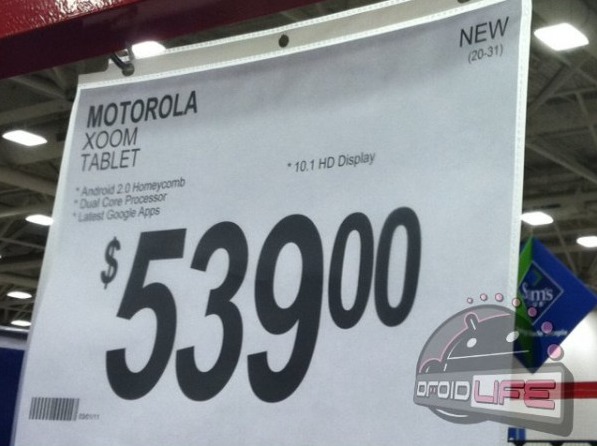 By now I'm sure you have all read tons and tons about the Xoom by now, and if you haven't you should at least check out our Motorola Xoom Unboxing. I have some great news for you. We have just got word from our friends over at Droid Life about the Wifi-Only Xoom and that it very well may launch at the low low price of $539 at Sam's Club. This would be great news, and just in time with Apple's recent iPad 2 announcement and pricing that I'm sure many of you saw.
Considering we recently heard that the Wifi model would be released at a $599 price point, hearing that it could very well be selling for lower is very exciting. I know I and many others will probably jump on that price. I expect others like Best Buy, and Costco to possibly have similar prices if this turns out true.
This news comes out after Sam's Club had their annual Year's Beginning Meeting, it was then followed with in-store pictures of boxes and prices tags. With them already setting up end isle displays, and price signs the release can't be far off. Maybe they know something we dont, either way I hope it comes sooner than later.
For all the Xoom info you can handle. Feel free to follow the links below for more information.
Motorola Xoom vs iPad 2
Xoom Rooted Already
And don't forget to read our In-Depth Xoom and Honeycomb Review
[via Droid Life]