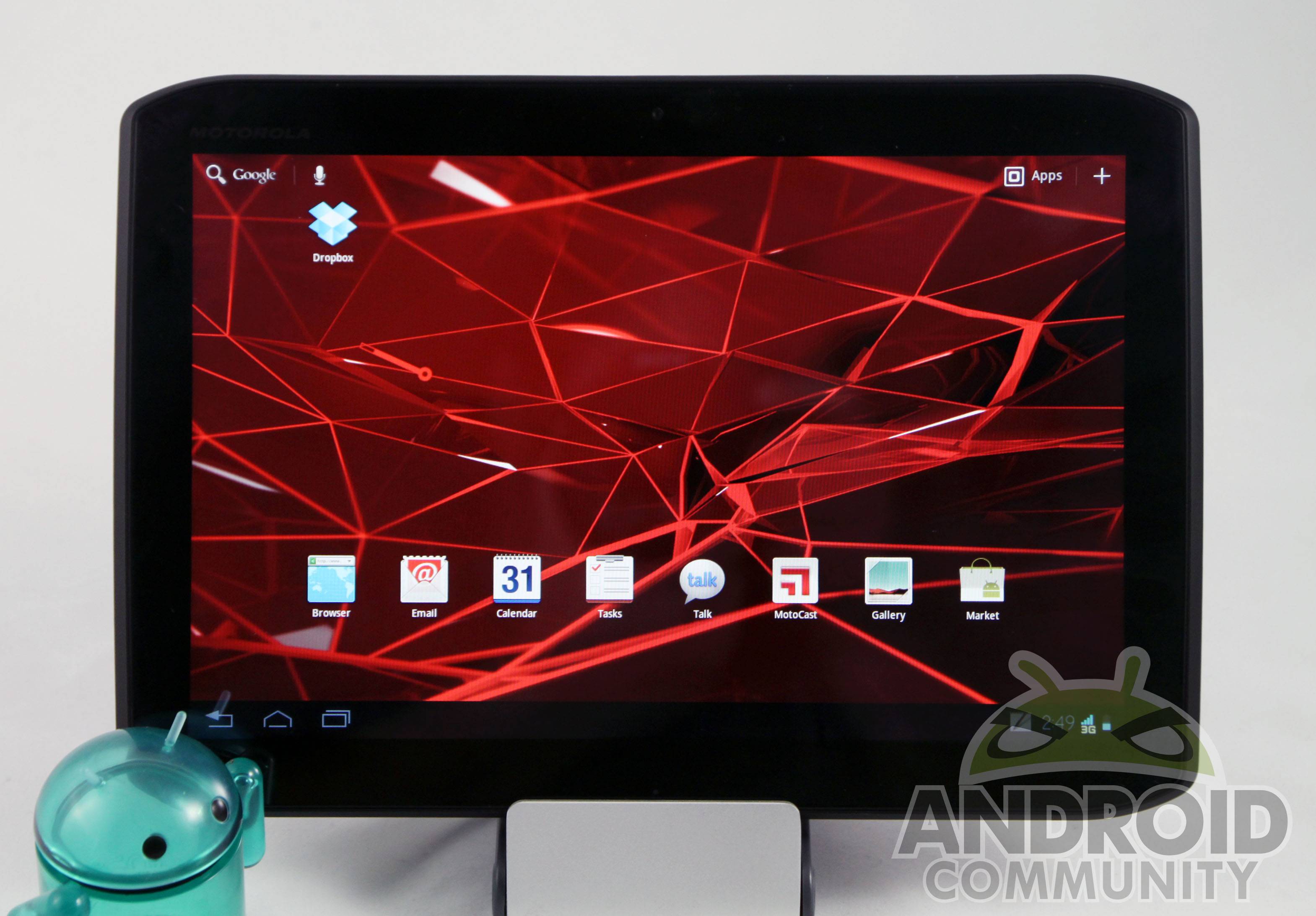 The Motorola DROID XYBOARD, known outside the world of baffling product marketing as the XOOM 2, has a lot riding on it. When the XOOM debuted on Verizon back in February, it was the only game in town as far as Honeycomb tablets were concerned. Now consumers have a choice of dozens of tablets, with or without wireless service, across a wide variety of form factors and prices. Can the updated Motorola tablet stand above the madding crows of 10-inch Android competitors?
Hardware
The original XOOM was no slouch when it came to hardware, but the Tegra 2 device has only seen a slight upgrade to its core components here. The processor gets a bump to a dual-core 1.2Ghz chip, using the same 1GB RAM. The same 1280 x 800 LCD is in place, though that's definitely not a put-down, and the rear camera is 5 megapixels. But the most striking difference between the two models is the updated design.
The DROID XYBOARD 10.1 shared the ubiquitous DROID label, but not without good reason. The new tablet feels like a Motorola DROID product, solid, heavy, and suprisingly slim for its functionality. A rubberized border isn't exactly a head-turner, but it makes the tablet much easier to hold on to, especially in a single hand. It's a comfy tablet, and while it's nowhere near as light as the Galaxy Tab 10.1, it feels like it could take a beating in a jacket or backpack without needing any kind of case. The power and volume buttons have been move to the back. They're right where your right index finger can easily reach them, but thanks to a slighly sloping part of the back panel, they're much less likely to get an accidental tap than the standard side-mounted buttons. It's a nice touch, though I understand that not everyone is a fan. Try one out at retail before making your judgement here.
There is one area that the XYBOARD falls short of its predecessor: the MicroSD card slot is absent, replaced by 16, 32 or 64GB of on-board storage. (The original XOOM was initially released with a non-functional slot, then upgraded later.) On the bottom of the tablet you'll find a standard MicroUSB port for charging and syncing – a big plus in my mind, as all too many Honeycomb tablets require proprietary cables for that function. A mini HDMI port is there as well. On top you've got an infrared port, a la the Vizio tablet and the Galaxy Tab 7.0 Plus, that the built-in Dijit app uses for controlling your home theater.
An active stylus is included in the package, powered by a tiny AAAA battery. While this is a nice addition, especially if you plan on using some of the included note-taking apps, it doesn't offer much more than a slightly smaller and more precise pointing function. It doesn't really hold up to the alternatives like the HTC Flyer, though that stylus costs exta. It's nice to have around, but odds are you'll be stashing it in a desk before long.
Software
With Verizon branding the new tablet as "the first 4G LTE tablet worthy of the name DROID", you would expect a lot of carrier apps and bloatware. And yes, they're present, just after the super-sized DROID eye finishes its maniacal stare. But in yet another pleasant surprise, nearly every single non-standard app can be uninsulated from the get go. This is a much appreciated choice, and you've got to hand it to Verizon for the decision. There's a few stragglers like MotoCast, but for the most part you can get to a nearly clean Honeycomb 3.2 experience, albeit with a lot of customized icons.
Honeycomb itself runs quickly on the XYBOARD with no complaints are far as slowdown or stuttering is concerned. The tablet scores between 2700 and 2900 on a Quadrant Advanced benchmark – very nice. Playing the included Madden NFL 2012 confirmed that the tablet's no slouch when it comes to gaming, but it likely won't look like much once quad-core Tegra 3 tablets start arriving en masse.
The addition of an IR port is one I'm quite fond of, though the Dijit app leaves a lot to be desired. It controlled my Vizio TV just fine, but balked on my rather standard DirecTV DVR, even with dozens of built-in profiles. And it couldn't learn the codes from my standard remote, a trick that programs on the old Palm Pilots were pulling ten years ago. On the plus side, the guide was easy to set up and navigate. If all your home theater equipment is supported it's a fun way to do some couch surfing. Otherwise, don't throw away your regular remote just yet.
Battery and media
The 5 megapixel camera is better than most tablet cameras. Granted, that's not saying a lot, but it's a considerable improvement over the original XOOM's shooter. Photos and videos are crisp and clear, so long as you have decent light. The XYBOARD doesn't outclass 8 megapixel tablets like the Transformer Prime or HTC Jetstream, but it's more than adequate for quick shots at a party or on a road trip. But bring along a charger, because I managed just under six hours while using 3G data exclusively. I don't live in a Verizon LTE area, but you can expect the battery life to be significantly less if you enable the greater speed. The flame that burns twice as bright burns half as long.
Value
And here we come to the one real sour note of the XOOM 2 DROID XYBOARD 10.1: the price. With a starting price tag of $529 for the 16GB version, all the way up to $729 for the 64GB version, it's no cheap piece of tech. That would be just about bearable, if it weren't for the fact that you're also saddled with a 2-year Verizon contract. There's no other way to put it: that's way too expensive, and way too much of a commitment, for something that's essentially a media consumption device. It's not as bad as AT&T's baffling price on the HTC Jetstream, but it's still a lot more than I'd ever shell out. The smaller 8.2-inch version is $100 cheaper at each storage level, but still a hard price to pay when WiFi tablets are cheaper and free of continuing expense.
Wrap Up
I was surprised at just how solid the hardware and software of the DROID XYBOARD 10.1 turned out to be. But for the lackluster battery life, it's a worthy successor to the first Honeycomb device. But the simple fact is that it's too expensive to recommend over its competitors. Those wanting high-end power should wait for the Transformer Prime, those wanting always-on data should check out the cheaper options at T-Mobile. The only device that the XYBOARD really beats on all fronts is the 9-month old Galaxy Tab 10.1 at the same price. Verizon, AT&T et all: my kingdom for an Android tablet that follows the iPad's lead (for wireless pricing, anyway) and doesn't force me to sign another contract!
[device id=1979]