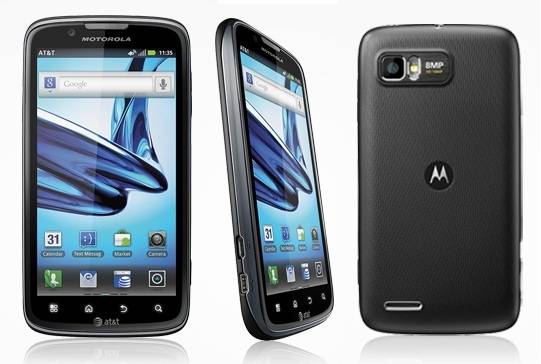 The Motorola Atrix 2 might be one of the faster follow ups we've seen in a while, but its still a great smartphone and is available now from AT&T. Press shots gave us our first solid look back in September and the Atrix 2 was officially announced at CTIA. The original was released less than a year ago, and now the new Atrix 2 is available from AT&T and for only $99. Any Atrix owners feeling a little down?
The Atrix 2 features a 4.3″ qHD 960 x 540 resolution display. a Tegra 2 dual-core 1.0 GHz processor, 1GB RAM, 8GB internal storage and that 8 MP camera on the rear (no fingerprint scanner this time around). While Motorola did take out the scanner and lower the internal storage from 16GB to 8GB the $99 price tag is hard to beat. They are also positioning this as an enterprise device and it's said to have some additional software, features, and security for just that.
We recently spied some hands-on with the Atrix 2 and it looks to be another great successor from Motorola just as the DROID line has been doing thus far, although we would have loved to see 4G LTE. Just like we mentioned above the Atrix 2 is available this week from AT&T and you can get it now by clicking here. The good news, however, is Amazon went a step further and have already lowered the Atrix 2 to an amazingly low price of just $49 with a new 2-year contract. It may not be the best phone hands-down, and the Galaxy Nexus getting announced tomorrow might make you a bit more excited, but for $49 you can't really go wrong.
[via Amazon Wireless]