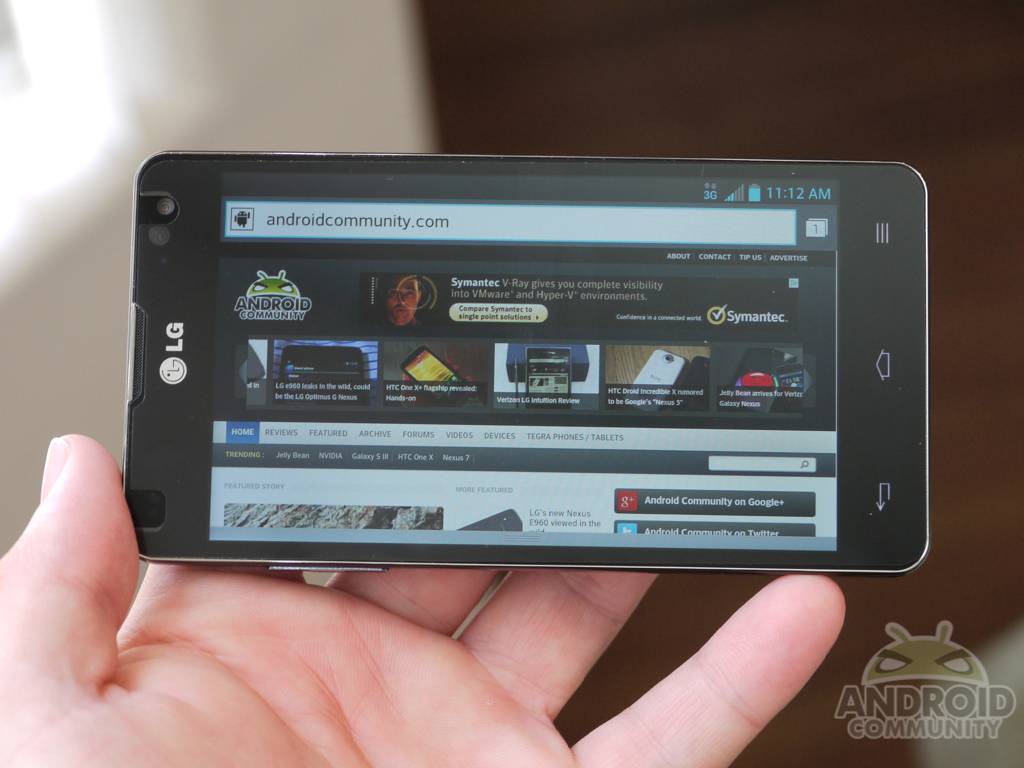 Today we have the pleasure to give you all another look at LG's new flagship smartphone. Of course that is the LG Optimus G quad-core 4G LTE powerhouse. We have it here to quickly unbox and get our hands all over once again. LG announced this device last month in Korea, and it will be arriving soon for multiple carriers here in the US. Lets take a look at the Now Network version below.
Sadly this smartphone won't be headed to Verizon, but the folks at AT&T and the Now Network will both be offering the Optimus G with 4G LTE either late this month, or early November. It was announced by both carriers but we still don't have pricing or an official release date — but both are surely coming soon from the respective carriers. So what's all the hype about? On paper this is bar none the best Android smartphone to date so lets dive in.
We got a detailed hands-on back in Korea, so this will be more of a second round for those here in the US, especially if you have the Now Network — which was just purchased by SoftBank in Japan. The specs need no introduction but just for kicks we'll list em again. The LG Optimus G powerhouse rocks LG's new ZeroGap technology 4.7-inch TrueHD IPS+ display with a beautiful 1280×768 HD resolution. The ZeroGap enables the display to be closer to the front glass for a crisper image, brighter colors, vivid text, and a better more accurate and responsive experience.
Under that beautiful display is Qualcomm's (also brand new) Snapdragon S4 Pro quad-core processor running at 1.5 GHz. You'll get 2GB of RAM, 32GB of internal storage — which is not removable and swappable like the AT&T model — 4G LTE speeds, a 2,100 mAh battery and a massive 13 megapixel rear camera. Yup, unlike AT&T the Now Network will still use the 13 megapixel BSI sensor for awesome images. Then you'll get a 1.3 front shooter as well. Here's the skinny in our hands-on and unboxing video.
As you can see LG's enhanced their lockscreen and animations, and that quad-core really makes everything blistering fast. We're really liking the few subtle changes LG's made this time around to what is Android 4.0.4 Ice Cream Sandwich. This morning LG announced the Optimus G will see Android 4.1 Jelly Bean in December, so that's good news. So far thanks to Android 4.0 and that quad-core processor things are amazingly fast, fluid, stable, and overly exciting. This phone is the best on paper — and so far we're liking what we're seeing and feeling in hand too.
Obviously we'll be giving this a detailed review in the coming days, but we just wanted to share a few pictures, video, and of course benchmarks before we dive in for the full review. Running on the latest Cortex A15 based quad-core Snapdragon S4 Pro from Qualcomm this thing surely gets good benchmark results right? Of course! We've never seen a stock device hit the numbers this phone is seeing. With Quadrant we were able to jump to over 7400 overall. The important bit, being CPU and I/O was the best with CPU getting 18,704 — while I/O saw a little over 5,600. AnTuTu wasn't as impressive overall, but in general the Quadrant results are mirroring our hands-on experience — which is absolutely excellent so far to say the least.
The brand new flagship LG Optimus G hasn't received an official release date from the Now Network, but the folks from AT&T have announced theirs will be available on November 2nd — so we have a feeling others will be right around the same time. I'm already imagining this smartphone with rounded edges and Android 4.2 in what we're hearing will be the LG Nexus 4. If you'd like to see or hear anything specific regarding the new LG Optimus G with 4G LTE from the Now Network drop us a comment below and we'll surely check it out for the full review which is coming soon.
[device id=3353]