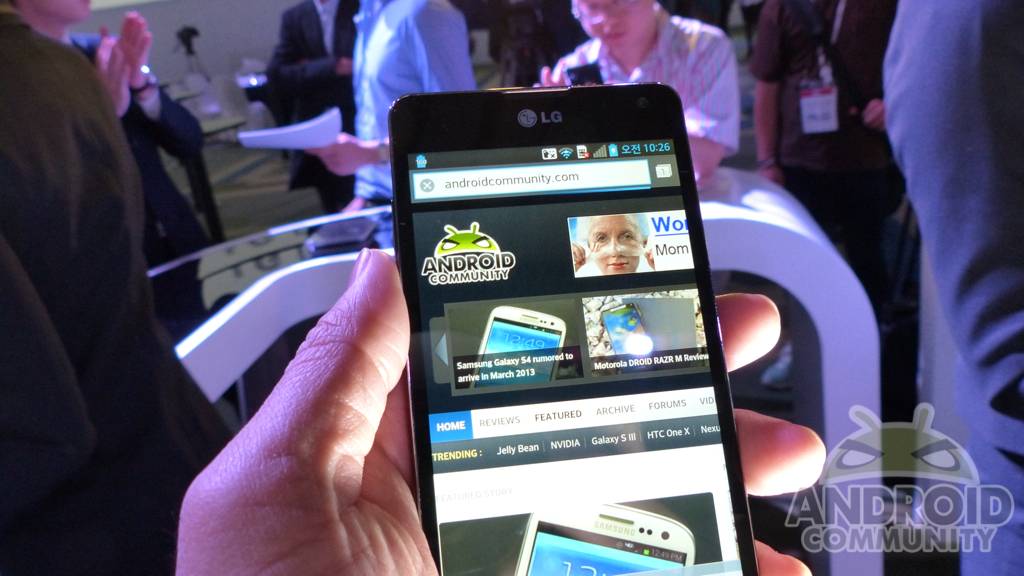 LG's newest smartphone, the Optimus G is finally official and we've got our hands all over it. LG's been teasing us with videos and talking up this new "next-gen" superphone so we're happy to check it out. They've been in the shadow of their South Korean friends at Samsung as of late but have pulled out all the stops with this latest smartphone so lets take a peek.
LG's odd hardware and bizarre UI changes have been a bit of a hit or miss lately with Android, but with the Optimus G they look to change all that. The hardware certainly is at the top of their game — and the Android world as a whole — but the software sadly is still just Android 4.0 Ice Cream Sandwich. While we would love to see Jelly Bean out of the gate here everything else is simply awesome. Here's the rundown on the specs.
With the LG Optimus G, just as we stated in their announcement post, you get a combination of the absolute latest and greatest from LG and Qualcomm packaged neatly into one uber-powerful yet sleek smartphone. We're working with a 4.7-inch TrueHD IPS+ display and it is beautiful and extremely crisp to say the least. The in-cell touchscreen technology leaves graphics floating right beneath your fingertip with less glass between you and the display.
Brightness and colors are spot on — and being IPS the viewing angles are exceptional. This is certainly giving Samsung's AMOLEDs a run for their money. The display is running with a 1280 x 768 resolution, and comes in a 15:9 aspect ratio. This makes it slightly narrower than similarly sized devices. The same can be said about the thickness, coming in at 8.45mm versus the Samsung's Galaxy S III being 8.6mm.
Surprisingly the star of the show here isn't the awesome 4.7-inch IPS+ display, the 2GB of RAM, or the 32GB of internal storage. The stars here are the 13 megapixel camera around back, and the quad-core processor under the hood. Qualcomm and LG teamed up to release this as the first Qualcomm Snapdragon S4 quad-core powered smartphone. Double the power from the Galaxy S III's S4 processor and that is what you get — and it truly flies. Sadly we don't have Android 4.1 Jelly Bean here, and instead are working with Ice Cream Sandwich. We won't get Google's project butter UI speed improvements, or Google Now voice search but ICS is extremely fast here. The Qualcomm 1.5 GHz quad-core certainly doesn't have any issues chugging along with ease. It's safe to say the processor will be able to handle anything and everything tossed its way here.
As far as in the hands, the Optimus G doesn't disappoint. It looks great, feels nice, and is very durable and flex-free. Being quite narrow given the size it feels surprisingly compact and easy to pocket. LG's new Crystal Reflection process covering the rear of the device gives it almost a glassy 3D illusion look that is quite odd and shifts when light hits it. It's unique and might not be everyone's favorite. At least we don't have the same usual black or white cheap plastic with the Optimus G. Then quickly the video below is a demonstration of "QSlide" which is true picture-in-picture mode simultaneously. This isn't a second window or a hovering app, this is two apps both slightly translucent running concurrently on one display. Neat right?
QSlide hands-on
[vms aa5c06772297520da205]
Overall we're far more impressed with this phone than we initially thought we'd be. LG's looking to step up their game in all areas and has a lot to prove. It'll take more than just a powerhouse smartphone to compete with the best though. We'll need timely updates and consistently awesome hardware. So far LG's certainly delivered on this phone in terms of specs — we'll have to wait for a full review to decide the rest so stay tuned!
[device id=3353]