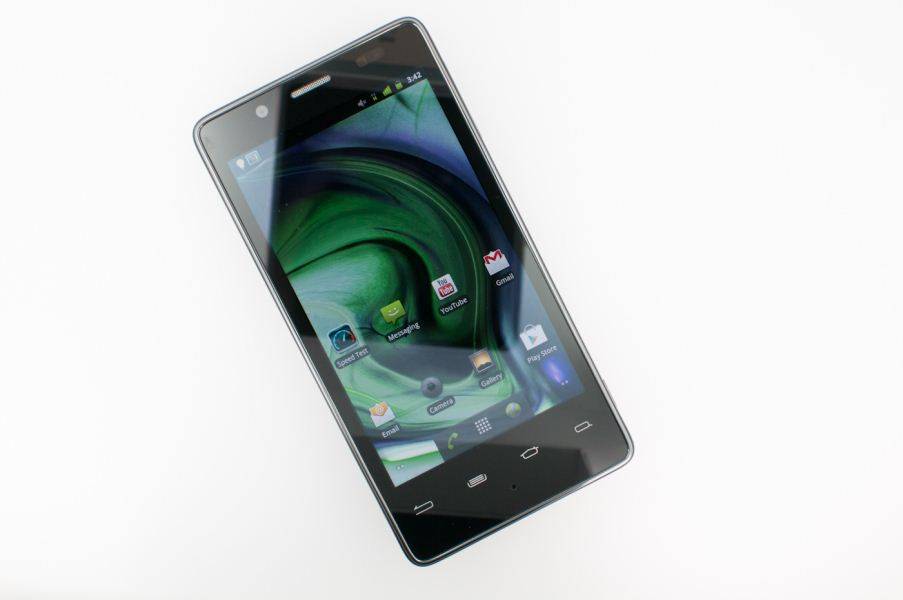 If you've been waiting for an alternative to ARM-powered Android phones, then you're in luck  – so long as you live in India. The Intel Medfield-powered Xolo X900 from manufacturer Lava went on sale earlier this week on the subcontinent, and the tech heads at Anandtech managed to grab one for a detailed review. If you want to take a look at an established company that's soon to become a major power on the supply side of Android hardware, then it's definitely worth a look.
The 22000 rupee ($419) Xolo X900 has some surprising specs for what's essentially a test run of Intel's Medfield x86 architecture. The centerpiece is a 1.6Ghz Atom Z2460 processor backed up by a gig of RAM, but the 4-inch screen has an admirably dense 1024×600 resolution that's more common on 7-inch tablets. Storage is 16GB, and you'll need it if you take a lot of snapshots with the 8-megapixel rear camera. On the downside, the battery isn't removable and the phone is running Gingerbread – but at least it looks like it's stock.
Enough about the details: what do the benchmarks say? When pitted against a range of other phones in single-task CPU tests, the Xolo X900 was second only to the HTC One X and One S (which are some of the fastest Android phones available right now) on BrowserMark, LinPack, BaseMark and Vellamo. It also held its own for Flash rendering, but lost by a small margin to dual-core phones like the Galaxy S II and the DROID RAZR. The Atom processor in the SoC is a single-core model.
GPU tests on the Xolo X900's PowerVR SGX 540 were a little less kind. The HTC One X and One S still reign supreme on Android, but the Optimus 3D also beat out the Intel smartphone in a few tests, and offscreen rendering using the GLBenchmark showed the Xolo X900 near the bottom of the pack of recent high-end phones. Battery tests were lukewarm, with the Xolo X900 beating about half of the Android field (the DROID RAZR MAXX still beats all comers for total longevity).
All in all it's a solid showing for Intel's first high-end mobile chip in years. While Medfield isn't exactly smoking the competition, it can certainly run with the big boys. We can't wait to see what some more widespread manufacturers do with the platform.
[via SlashGear]