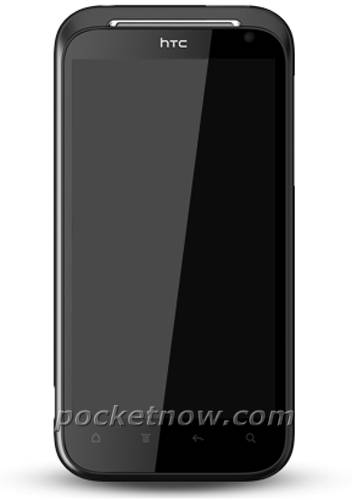 The much rumored HTC Vigor has finally popped its head out again for everyone to get a quick look. With no surprise here it looks a bit similar to most of the recent HTC offerings, although that isn't a bad thing as they have stellar build quality. This isn't the first time we've seen this 1.5 Ghz dual-core powered LTE rocking phone either. More details after the break.
A few weeks back the first HTC Vigor images leaked showing us a glimpse of the backside of the phone. I feel it looks just like the DROID Incredible, and now the front has the same shape and design too with this new press photo. Latest rumors and this leaked roadmap claims the Vigor will be the Thunderbolt 2, or will at least replace the Thunderbolt. I have a feeling those rumors will be untrue and instead this will be a DROID Incredible HD or Incredible LTE.
As for specs, we have what is rumored to be a Qualcomm Snapdragon 1.5 GHz dual-core processor, 1GB of RAM, a huge 4.5″ HD 1280×720 resolution display. Pair that with an 8MP camera on the rear, 2MP front for video and some Beats Audio integration things are sounding quite nice. We don't see the Beats Audio logo but that doesn't rule it out either.
Hopefully more details on this phone drop soon, it recently cleared the FCC and we might even see it at the upcoming HTC Media Event on September 20th.
[via Pocket Now]