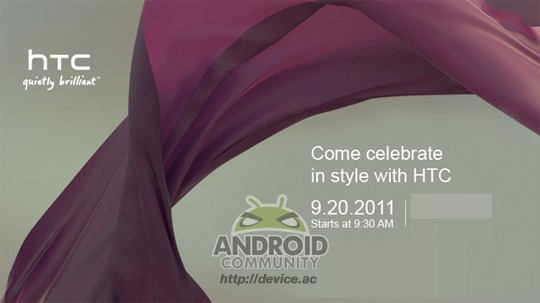 HTC is passing around some special invitations to their next big media event, and it's all set to begin on September 20th where we are invited to celebrate with them in style. This is just hitting the wires and we are already starting to wonder what they might be showcasing coming up on the 20th. The HTC Jetstream was just released, and they have a few Windows Phone devices coming but I have a feeling this will be all Android.
Who has a guess of what we might be seeing? First thing that comes to mind is the HTC Vigor as we've seen bits and pieces of it lately and it just cleared the FCC today. Last we heard the Vigor could launch sometime in October but with the Bionic just landed and the Galaxy S II hitting many carriers soon it would make sense to try and get the word out soon for the next big HTC phone.
We did see some pictures recently claiming to be the Vigor, so it's out and in the wild and ready to be released. What do you guys think? Another possibility is the HTC Sensation 2 with Beats Audio or something along those lines now that HTC officially has acquired Beats Audio. September 20th NYC also has fashion week going on so we might see that HTC Bliss phone designed for women, just a thought.
We will be there live either way so make sure to stay tuned right here at Android Community.