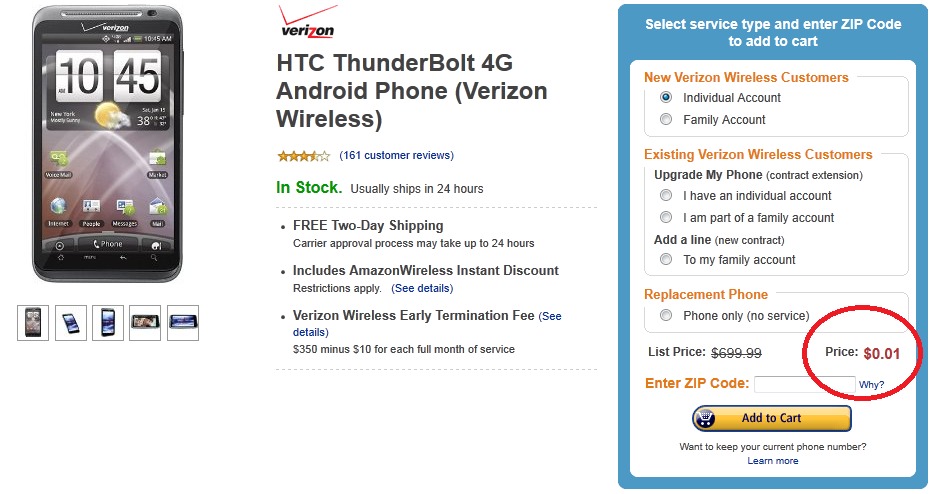 Just like the old days when I went down to the penny store and bought candy today the Thunderbolt can be yours for the low low price of 1 penny. Although you do have to sign away your contractual rights for 2 years but that is to be expected. Basically sign a new 2-year contract over a Amazon.com and you can have the amazingly fast Thunderbolt with Verizon 4G LTE for only $0.01 cent.
So what are you waiting for, the Bionic? That will be like $299 and we still don't even have an official release date. Head over to Amazon and snag up this deal while they still have the 4G Thunderbolt in stock. While the Thunderbolt is no HTC Sensation with a dual-core CPU it does have an awesome 4.3″ display, a kickstand (that rocks) and the all important 4G LTE speeds on board.
The Thunderbolt still doesn't have an official update for Gingerbread, but a 2.3 build has been leaked a few times already. You all should know plenty of the Thunderbolt by now but if not here is our hands-on and unbox video, and a follow up review after 3 months of use. Head on down to the source link at the via below to buy your very own HTC Thunderbolt.
[device id=65]
[via Amazon Wireless]