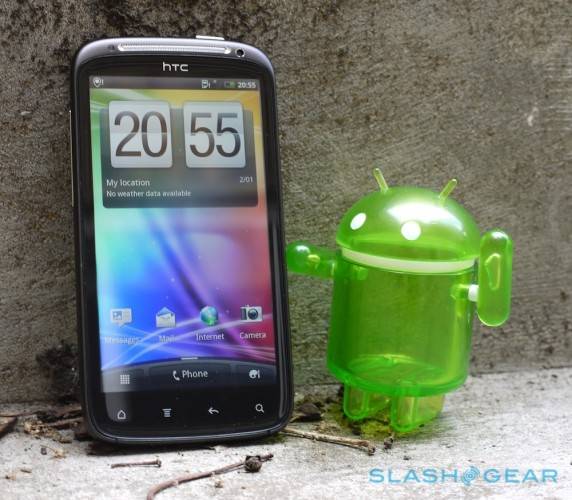 Our good man in England mister Chris Davies has HTC's new kingly phone in hand and he's put it through ALL the punches for you and I. For Davies, and for us, this sort of marks the point at which it's no longer a battle between Android and Apple, but a civil war between the Androids. Truly the HTC Sensation's biggest opponent is the Galaxy S II, a phone which we know to be groundbreaking as well in many ways. Have a look below to see how SlashGear sees the situation, how the Sensation adds up, and how it'll look when it comes on over to us in Pyramid form.
Hardware
The HTC Sensation measures in at 4.96 x 2.57 x 0.44 inches and 5.22oz is what it weighs. You'll find that the unibody metal chassis combined with the soft-touch plastic inserts make for a rather comfortable phone to hold, and nice to rub up against your beard if you've got one. So smooth! The back is creak-free, the entirety of the battery cover coming off at once, the battery, SIM card, and microSD card popping in and out without an issue like they truly should.
Flaws in this whole situation include the fact that while the Galaxy S II pairs its 1.2GHz dual-core with 1GB of RAM, the HTC Sensation uses just 768MB. Samsung's device has 16GB of memory packed in, while HTC makes due with just 1GB. There's an 8GB microSD card in there, but you can add a bunch more memory to the GSII the same way if you want. Davies notes the truth: "here's just no way that even a fast microSDHC card can be as quick as NANDFlash connected directly to the logic board, and that leaves the Sensation at a speed disadvantage."
Another rather important note to make here is that by relying on external storage the HTC Sensation has bypassed the EXT4 filesystem, one of the primary reasons the Galaxy S II has fantastic speed performance. EXT4 support arrived with Android 2.3 Gingerbread but HTC's microSD still uses FAT and there's no way a journaled filesystem can work on 1GB of internal memory.
[vms 50e280d8e2b535462ec1]
HTC Sensation Hands-On
You'll be rolling out on 900/AWS/2100 HSPA/WCDMA support – the Sensation 4G for T-Mobile USA will have HSPA+ – along with quadband GSM/EDGE, WiFi b/g/n and Bluetooth 3.0. The microUSB port sits on the lower left edge under the gigantic volume rocker – and this is one of those fancy microUSBs that with the correct MHL adapter is able to output to HDMI. You'll find this same situation going on in the Samsung Infuse 4G – unfortunately, unlike the Infuse, the Sensation neither comes bundled with an adapter nor has one for sale officially quite yet.
Finally your partridge in a pear tree list includes a GPS, gyroscope, G-sensor, digital compass, proximity and ambient light, SRS virtual surround-sound, and a couple of cameras including an 8-megapixel camera with autofocus and dual-LED flash on the back and a VGA fixed-focus camera on the front for video calls. Then so we can call it odd, this device comes with FM radio able to use a bundled wired hands-free kit as an antenna.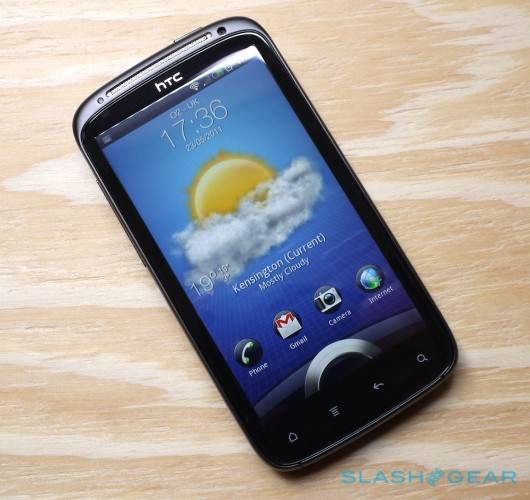 Software and Performance
This device has both Android 2.3.3 Gingerbread and the latest version of HTC Sense, version 3.0. You'll remember the helpful lock screen from our very very recent review of the HTC Flyer tablet. The homescreen here is viewable in portrait mode only unlike the Flyer that allows both portrait and landscape, and the 3D animations surrounding such things as the Weather widget are fun and impressive.
App selections are again similar to what you're going to be finding on the HTC Flyer, with right around 50 apps in the pure HTC mode – this version being the Vodafone version you'll be finding a total of 55 (Vodafone apps for reals!) You're able to use Watch to purchase or rent TV shows or videos, work with HTC's Dock Mode, play Teeter with that fancy metal ball, chat with Qik, and all the rest! For a better look at a couple of these apps definitely check out our look at the HTC Flyer WiFi version review we did earlier today.
Next have an awesome look at a video of the HTC Sensation vs the Samsung Galaxy S II courtesy again of Davies and his dueling English hands:
[vms fc240dd2674a7d063b04]
HTC Sensation vs Samsung Galaxy S II
Then it's benchmark time! Have a peek:
Smartbench 2011: Sensation scored 2340 against the GSII's 3878
Linpack Pro: 47.257 MFLOPS versus the Samsung's 46.939 MFLOPS
SunSpider Javascript: 6481.8m/s (not so great)
Quadrant Advanced: Sensation scored 2245 overall versus the Samsung's 3504 — "Memory and I/O sub-scores were also telling, with the HTC managing 1794 and 2408 respectively, while the GSII came in at 3823 and 4472 respectively; that suggests that the Samsung will handle heavier loads and more frequent data reads/writes better than the Sensation can."
Camera
Without a doubt, Davies has taken this review of the camera to a whole new level. The text from this review is included here:
The Sensation's 8-megapixel camera arguably has two key challenges: not only changing a run of lackluster optics on previous HTC-made phones, but taking on the extremely proficient imaging abilities of the Galaxy S II. Happily HTC's shooter marks a significant step up in quality in both stills and video.

No more drab colors or middling detail; no more murky indoor shots. Colors are on the cool side on-screen when the Sensation is side-by-side with the GSII, but viewed off the phone and they look far more accurate. Close-ups are clear and crisp. The Sensation prefers bright lighting – as do most cellphone cameras, to be fair – with the overcast weather in some of our sample shots prompting a little more processing than we'd prefer to see.

The Sensation lacks a physical camera button but with the shortcut a lockscreen default it loads quickly all the same. HTC claims to have shaved away at the startup time and reduced the lag in-between tapping the on-screen button and the frame being captured, though in our (admittedly reasonably unscientific) head-to-head tests against the GSII it was neck-and-neck going from the homescreen to a shot being taken. Fast, but not the revolution in cameraphone photography that HTC seemed to imply.
Video, meanwhile, is recorded at up to 1080p Full HD resolution. Panning can lead to some tearing or jerkiness of the footage, though when steady there's plenty of detail and the stereo microphone array is – as the wind noise in the sample clip below attests – perhaps a little too ambitious. Still, it's a marked improvement over previous HTC devices. There's integrated video trimming support in the gallery, and DLNA streaming to your TV.

As for the front-facing camera, finally, at VGA resolution it's hardly promising much, and the end results are as pixelated as you'd expect. Over the same WiFi network, video calls using Qik Video Connect looked significantly better using the GSII's 2-megapixel front camera than the Sensation's camera.
HTC Sensation 8-Megapixel Photo Sample
HTC Sensation 1080p HD Video Sample
Phone and Battery
No issues have been found by us thus far with sound quality whilst calling, while on the other hand speakerphone performance gets a bit distorted at top volume. As far as the battery goes, HTC quotes up to 495 minutes talktime or up to 400 hours standby from the 1,520 mAh battery – thus far we've only seen the Galaxy S II perform better, with medium to high usage only taking a quarter charge after a full days use. Well played thus far, HTC.
Wrap-Up
Even though it sort of always seems this way, it really appears that this is the advent of the superphone – phones running Android are definitely coming into their own, "stepping out from underneath the shadow of the iPhone" as Davies says, HTC's Sensation proving that the company also isn't going to take any guff from Samsung deciding it's the true king with the Galaxy S II. Gingerbread sits on this device like they're family, Ice Cream coming soon makes for a real force to be reckoned with in the smartphone world. If you weren't looking over your back yet, Apple, now's the time.
Davies notes that while it's been difficult to choose between Android phones before, never has there been a battle like the one going on now between the HTC Sensation and the Samsung Galaxy S II. The choice is yours, but I and we warn you, it's going to be rough! The Sensation's qHD display works best for web browsing and ebook reading while the Galaxy S II takes the cake for multimedia with it's Super AMOLED Plus. Then there's insides such as more RAM for Samsung, but the HTC device "never felt a loss aside from the benchmarking apps themselves." Final word on the user interface war is that HTC Sense feels much more complete and polished than Samsung's TouchWiz interface as they stand today. Have a look at extra battle points here.
The HTC Sensation is a consumer's dream phone. It feels fabulous in the hand, looks lovely sitting on the desk, and has an all-round solid construction outside and in. This device is "free" if you're purchasing it in its first form in Europe via Vodafone with £30 ($48) tariffs with a two-year agreement. The device doesn't yet come in a SIM-free version yet, this version coming out it seems at the end of June from what we've heard, the device then costing £498 ($800) including VAT. How much it'll cost when it gets to T-Mobile is still unknown but we expect it to follow the $199.99 with two-year contract trend we've been seeing of late.
Is it worth it? Do you have any other questions? Ask away!
[via SlashGear]