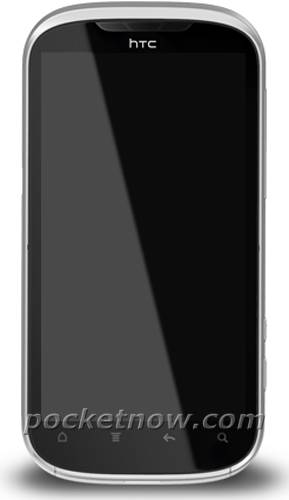 This isn't the first time we've seen the 1.5 Ghz dual-core powered HTC Ruby (aka Amaze 4G) before, but today sources have revealed an actual press release image rather than just a blurrycam leaked photo like back in August. While we don't learn anything new here seeing it out and around again is a good sign of things to come.
We recently learned the Ruby will be called the HTC Amaze 4G and is headed for T-Mobile. Earlier this month it was spotted in the wild and gave us a clearer idea of what to expect as well as full hardware details. The Amaze 4G looks like a sibling to the myTouch 4G and the HTC Sensation and has some nice specs to go with it.
We have a boosted up 1.5 Ghz dual-core Qualcomm processor with 1GB of RAM, 16GB internal storage, micro-SD card, 8MP HD camera on the rear with dual LED flash and a front VGA shooter. Also powered by Android 2.3 Gingerbread and the latest Sense UI 3.5 although we speculate it wont come with stock Sense UI. T-Mobile has been known for having their own spin off of Sense with what they call Espresso, most likely that is what will be included on the Amaze 4G. Packing a 4.3″ 960×540 qHD display as well as NFC capabilities this basically has it all. We still aren't seeing anything regarding HTC's Beats Audio here so this might be coming soon minus those goodies.
Rumors have the Amaze 4G slated for a late October release but I have a feeling we'll be seeing this phone sooner than that so be sure and stay tuned for more details.
[via SlashGear]