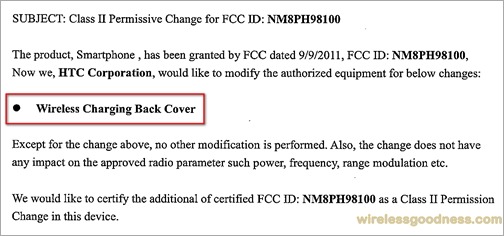 The new HTC Rezound is making its way through the FCC again with a few additional goodies. We first saw it clear the FCC back in September as the HTC Vigor (codename), but today it made a surprise stop for round 2 and it seems to be sporting some wireless charging capabilities.
HTC and Verizon are expected to unveil their next flagship 4G LTE phone, the HTC Rezound (aka Vigor) at the HTC Media event set for November 3rd. The Rezound has been spotted a few times in Verizon's system rocking a $299 price tag. With the HTC announcement pending and the new sighting at the FCC we have a pretty good feeling we'll be seeing the Rezound come November 3rd.
For those that might have missed it, the HTC Rezound should sport a 4.3″ 1280 x 720p display and a beefy 1.5 GHz dual-core processor — not to mention Verizon 4G LTE. While we don't get Android 4.0 Ice Cream Sandwich at launch, we expect it to receive an update hopefully fairly quick. Most likely we'll know all the details after the media event linked to above, set for November 3rd. Latest leaks suggest November 10th is when the HTC Rezound and its Beats Audio will start bumpin the streets so stay tuned for more details.
[via Wireless Goodness]