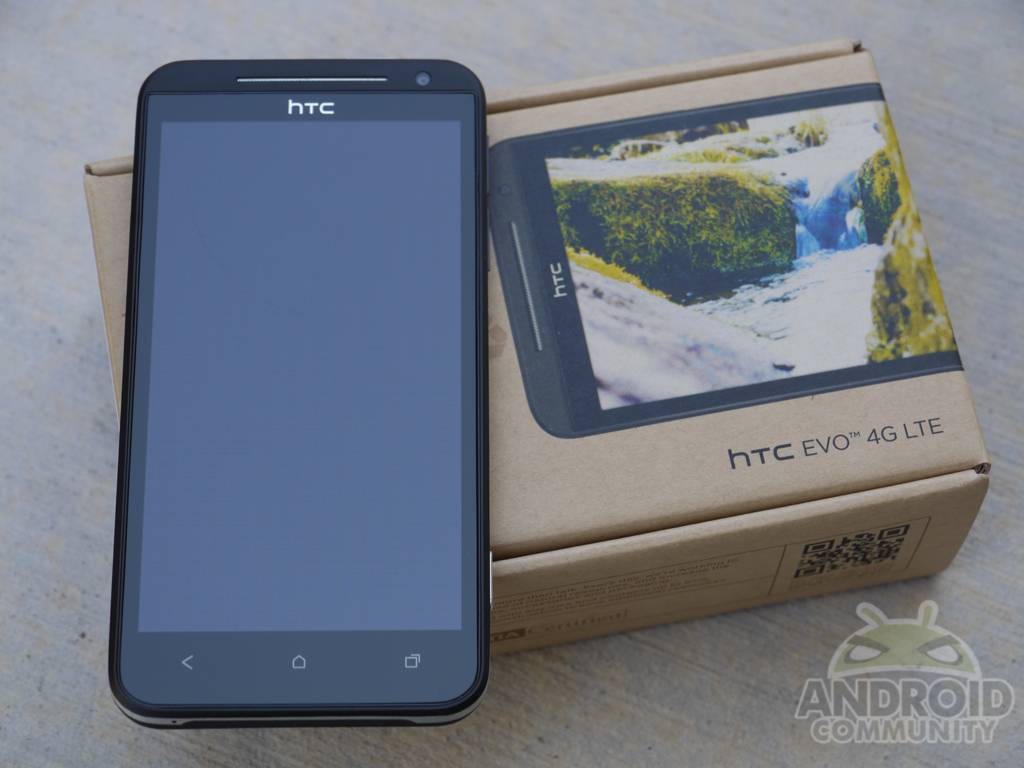 As HTC continues its onslaught of new and impressive phones for the US today we are looking at the all new HTC EVO 4G LTE. What we have with the latest generation to the EVO family is essentially an HTC One device extremely similar to the HTC One X for AT&T, right down to the screen, software, and camera. If you've seen any of our recent HTC One reviews you'll know exactly what to expect here, and if you're an EVO fan you'll definetaly want this phone. Read on for full details, pictures and more.
Simply put, this phone is great. Everything about it screams of excellence from the hardware, software, camera, speed, user interface and more. The one area that it lacks though, is an important one, and that is the carrier. The Now Network 4G LTE is currently non-existent, but once it arrives this phone will be epic. Sadly this great all around devices is severely hampered by the network at the moment, but for everything else this is basically as good as it gets.
Hardware
The HTC EVO 4G LTE is basically a perfect blend of the HTC One X and the One S. It has the same micro-arc oxidation and ceramic feeling finish on back, with the kickstand dividing it from the camera and a glossy plastic back that gives access to the micro-SD slot. The phone rocks a 4.7-inch 1280 x 720 HD display of excellent quality. Under the hood we have the lightning fast Qualcomm Snapdragon 1.5 GHz dual-core S4 processor, with 1GB of RAM, 16GB of internal storage, micro-SD card (unlike the X), the top notch 8 megapixel camera on the rear and a front shooter for self portraits.
The kickstand is a famous addition to the EVO line, and users will be happy to know that is it very sturdy here. You can lay the phone on both sides and it holds it up completely stable. The phone screams of perfection and I'm a fan of the hardware and design. I didn't like the look at first, but have quickly grown to like it. For more on the hardware and software enjoy this video tour:
[vms f620a1b85450d2ae374b]
One factor that I really like about the EVO 4G LTE over the X is the thinness of the phone. Everything is flat and smooth compared to the curved edges and large camera hump on the X. HTC did a great job making the EVO 4G LTE actually slightly thinner and a breeze to hold in your hand.
Software
Here we have Android 4.0.3 Ice Cream Sandwich along with HTC's Sense UI 4.0 running buttery smooth. If you've seen our previous HTC coverage it explains it all and more on the software can be seen from our HTC One S Review. HTC has completely trimmed down the Sense UI experience into a much simpler, prettier, and faster interface. The bloated and overdone effects on something like the EVO 3D have been toned down — but completely in a good way. The video above showed some of the interface, and the screenshots below do too.
Other than a few carrier specific apps we have HTC Hub, Google Wallet, and a few other apps like Facebook and Dropbox and that is all in regards to pre-installed apps. Everything is light and fast just the way we like it.
Benchmarks
Just like we've seen with the others from HTC, the Qualcomm Snapdragon dual-core processor is nothing to laugh at. It might not be a quad-core processor but you'd guess that from the impressive benchmarks, game results, and daily usage speeds. Check out our Tegra 3 vs Qualcomm S4 benchmark battle. The LTE-equipped dual-core S4 processor is extremely fast — scoring over 5000 in Quadrant and tearing up the competition. Results from the popular AnTuTu can be seen in the gallery below.
Camera
One of the bigger selling points for HTC's new line is the camera. Megapixel count doesn't mean anything, it's all about the quality of the lens, sensor, and software to do all the work. HTC has a dedicated Imagechip processor along with the dual-core under the hood to ensure optimal camera performance. You can take up to 99 photos in burst mode, and the entire HTC Imagesense software suite makes this easily one of the best smartphone cameras around. To see it work its magic check out all the photos from my New Orleans photo tour through the HTC EVO 4G LTE. Here is one of my favorite photos that I took with the EVO 4G LTE's impressive camera while in a moving vehicle.
The camera is amazing and all the settings make use a breeze. The dedicated two-stage camera button is a nice addition for snapping a quick photo — or hold it down for as many burst mode shots as your heart desires. The flower photo from the gallery below is an HDR shot, and we also have a panoramic sample, as well as a 1080p video recording sample too.
Speedtest and network
A phone no matter how great the software or impressive the camera is only as good as the network. Why snap excellent photos or video if you can't upload them to Facebook or YouTube? Here with the HTC EVO 4G LTE we have zero LTE. For now you're stuck on a painfully slow 3G connection that really honestly should be better. Once the Now Network gets their 4G LTE up and running this phone should hopefully be better. For now it pains me to say this phone is severely hampered by the network.
Per our Editor-in-Chief Vincent Nguyen, Sprint's data speed is so slow, they ought to pay subscribers for being on their network instead of the other way around.
Battery life and Call quality
The HTC EVO 4G LTE so far has exceeded my expectations as far as battery life. Just like our finding from the One S review the Qualcomm Snapdragon S4 processor is extremely extremely efficient and battery life is excellent. Anyone that is used to the 5 hours or so limit of the original EVO will LOVE the EVO 4G LTE. Obviously this is only 3G and things might change once we are able to test LTE and its battery drain. Call quality on the Now Network was just as expected. Calls were loud and clear and quality was great, sadly we don't have service in nearly as many places as Verizon obviously — but that was as to be expected.
Wrap-Up
From our perspective the HTC EVO 4G LTE easily beats all phones on its respective carriers list. Nothing compares to this phone and anyone rocking the EVO, EVO 3D, or even the Epic 4G Touch this phone will be an impressive upgrade and completely satisfying. The phone is thin, light, beautiful, powerful, smooth, rugged, durable and more. I'd love to have this on Verizon. The weakest link of this phone is and probably always will be Sprint. While they are making improvements to the network until 4G LTE arrives this phone will be limited. For those on the carrier however, just as we said above this is easily the best phone being offered and would be my number one pick if I had to choose. That or the Galaxy Nexus. The all-new HTC EVO 4G LTE will be available starting May 18th for $199 with a new 2-year contract.
[device id=2480]