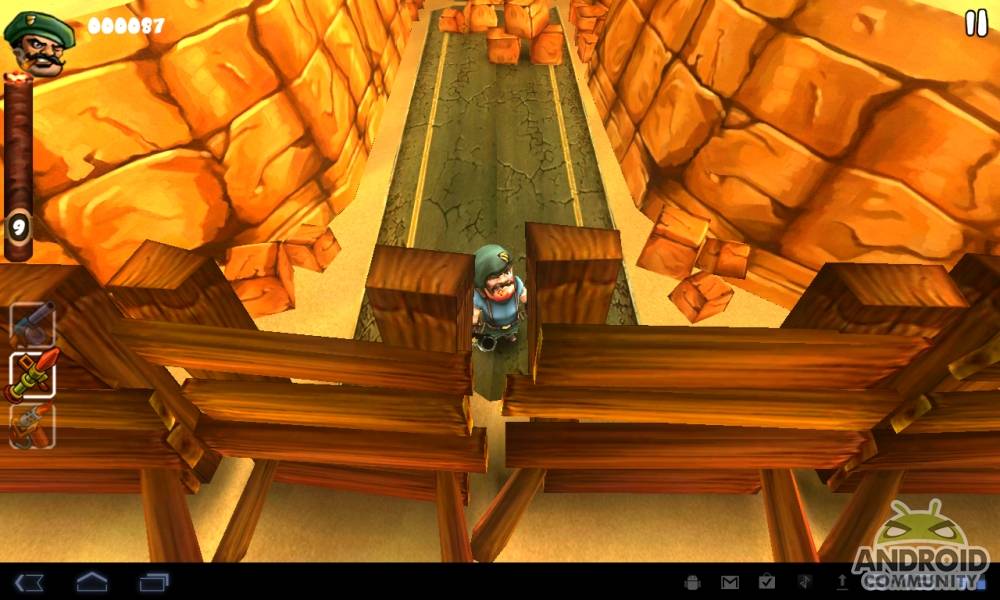 Holy goodness gracious, just when you thought this game couldn't possibly get any better without a full-fledged sequel, NVIDIA teams up with the developers to jam out a high-def version of the first bigtime hit. This is Guerrilla Bob, a game we've taken a look at in the past, so I wont bore you with too many details on the inner workings of the game. Instead lemme focus on what you're going to get that's brand new in this birds-eye-view shooter that's so cute, you'll forget that you're murdering the heck out of your enemies with machine guns, flame throwers, rocket launchers, and sticky bomb arrows!
Before we go on, let me let you in on the fact that this game comes out today, and also in on the fact that I think you really really ought to take a peek at it. You're a little monster massacre agent that blows away everything he sees, and you've got the option to be Guerrilla Bob himself, a scottish murderist, or a sadistic Santa Clause. Of course there's a super secret extra character you can access by beating story mode, but I'll leave that up to you, the inquisitive gamer who loves additional murderists.
[vms ae52fcebb14295743063]
Game Demo and Hands-On
Above you'll find the game being demoed on the also-new T-Mobile G-Slate, an NVIDIA Tegra 2 dual-core processor powered tablet from LG that we've also fully reviewed just a few days ago.
And what makes this version different from the original, you'd like to know – first, there's some rather evident environmental additions that've been made like "bloom" and "glow" which make your walking through the desert that much more "realistic." You'll appreciate this addition much more if you've already been playing the game, but if you haven't, trust me, it's awesome. Next there's "repainted" higher res textures taken from the PC version of the game. This game is now on multiple platforms, the highest performance version of which is straight up running on a PC. This THD version is now essentially the next best thing.
Guerrilla Bob (original)
After that, there's some new real-time lighting effects and new shaders with rim lighting on the characters as well as the props. What the heck does that mean? It means that essentially everything is ever so slightly nicer to look at – all around the rims and in the faces. Along with this set of enhancements comes optimized controls and an optimized interface for the future of higher-resolution Android tablet devices. Kinda like future-proofing, if you know what I mean.
Guerrilla Bob THD (two player)
Then the sweetness – two player mode on the same device. Where you were able to play more than one player before over wifi (this option still definitely a viable one), you can now have two characters on the same screen CONTROLLED by the same screen. Both players must use two fingers (as a single player would,) with the first finger down controlling the movement while the second controls the loosing of the bullets, arrows, and rockets (and etc..) It's fabulous fun! It also works better for larger-screened tablets (like the 10.1-inch Acer A500 or the 10.1-inch Motorola XOOM, both of which also feature NVIDIA's Tegra 2 dual-core processor.) Multiple players on the same screen is an option not yet utilized by many games on any tablet device thus far – but they SHOULD! Big fat screens forever!
So have a peek! Get into it! This is a game that anyone with a love for earning big weapons by mowing down enemies with the guns one's already earned can enjoy! It's all about having a fantastic time running up and down your environment, blowing all your little men up. Fun!