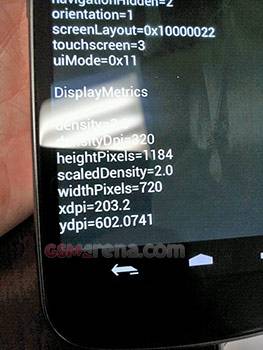 If rumors are to be believed, the Nexus Prime is only days away from its debut at the Samsung Mobile Unpacked Event. If you just can't wait until then (and who can?) an anonymous tipster has posted what is purported to be the very first photo of Samsung's new Google hero device. Details are pretty spare, but the small photo shows a 720p display and Ice Cream Sandwich software buttons.
Rumors have been flying back and forth on the Nexus Prime/DROID Prime/Galaxy Nexus, but this is the first time we've gotten any look at all at the actual hardware. Though only part of the phone is shown, it's guessed that the 4.3-inch, 1280 x 720 screen (which will presumably use Samsung's Super AMOLED technology) is pushing more than 340 pixels per inch – in other words, beating the iPhone 4's "retina" display. GSM Arena claims that the Honeycomb-style Android control buttons are on the screen itself, and not standard capacitive buttons. Note yet another new icon style for the buttons themselves.
Take this news with a grain of salt. While we haven't heard anything that disagrees with the purported specs or design, it's curious that only a small part of the Nexus Prime is shown. The comparatively tiny photo doesn't help, and could have easily been mocked up from a similar Samsung Galaxy S II. In any case, we won't have long to find out – Google and Samsung will probably be unveiling the new device on October 11th.
UPDATE: GSM Arena has posted a larger photo of the device, in which you can definitely tell that the Android function icons are on the screen, and not separate buttons. Click the image for a full-sized view.