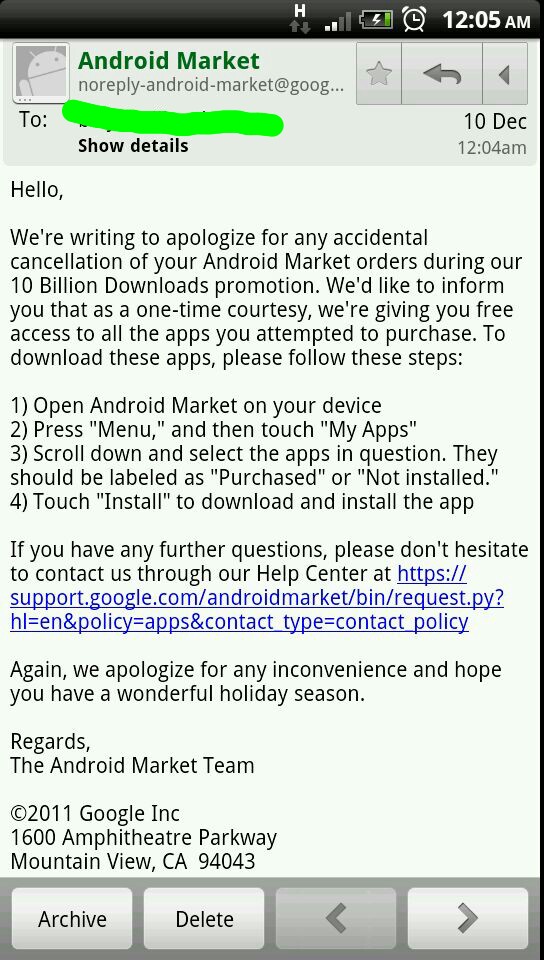 You may not have experienced it, but the Android Market (and even Google Wallet) had been down intermittently just yesterday and part of today. Apparently, Google's answer to solving many of the accidental cancellations was to simply offer "free access to all the apps you attempted to purchase" during their 10 Billion Downloads promotion. The Android Market has been celebrating with 10 cent app sales, and the titles were so hot that they had caused issues during checkout.
Fortunately, a fellow over at Reddit posted a screenshot of a no-reply email from Google with instructions on how to obtain your "lost" app. it turns out that the application is located in your "My Apps" section of the Android Market and labeled as either "Purchased" or "Not Installed".
If you would like to avoid your chances at an Android Market problem, Google suggests that the most popular time people download applications is 9PM on Sunday – so I'd try to avoid this timeframe. Also, keep your eyes peeled for the $0.10 promotional deals if you haven't already! Day 1 had titles like Asphalt 6 and Sketchbook Mobile. Day 2 consisted of Fruit Ninja, Beautiful Widgets and a few others. Day 3 saw ADW, Tetris and Homerun Battle – and today you can nab Need For Speed, Jelly Defense, and Farm Frenzy! Of course we'll keep you up to date daily – so you can always check back with us if you can't find them on your own!
[via Reddit]