As we did last year with Jelly Bean, we are going to put a spotlight on the big Android update for 2013. This year, as we suspect every Android Community reader will know, brought Kit Kat. This update arrived as Android 4.4 and was fairly quickly pushed to Android 4.4.2. As of the last distribution report from Google, Android 4.4 was being used on 1.1 percent of devices.
Simply put, while Kit Kat was one of the highlights in terms of Android news in 2013, the vast majority of users remain waiting. On a positive side, that 1.1 percent figure should be larger once the updated numbers arrive. Google tends to release the distribution numbers towards the beginning of the month, so the next update should arrive in early January 2014.
In the past it was always the Nexus devices that had first access to those major Android updates. While that lineup received Kit Kat rather quickly, another manufacturer surprised many users. The other was Motorola who rolled out Kit Kat for the Moto X and Moto G without wasting any time. Even more surprising, Motorola had the Verizon Moto X right up front in terms of the rollout.
We suspect not every Moto X or Moto G user is on Kit Kat at the moment, but it also seems safe to think that aside from Nexus devices — the Moto X and Moto G likely makes up the majority percentage of Kit Kat users at the moment. Anyway, without seeing those updated numbers it is hard to say just how widespread the Kit Kat adoption will be, so for now, how about we take a look at the features and changes that came with the update.
Kit Kat brought several key improvements, but this time around some of the new goodies are limited to specific devices. For example, the "Ok Google" functionality has been improved, but in this case Nexus 5 users have the real perk. The Ok Google command works without touch, provided you are on the home screen or in Google Now. Some of the other Kit Kat goodies touched on style and general usability.
For example, the lockscreen now shows full-screen album or movie art when you are listening to music or watching a video. This works even when sending those to a Chromecast and the lockscreen also allows the user to control the playback, which includes play, pause and seek back and forward. This is essentially a smaller change, but nonetheless a welcome addition.
Apps can also go full screen with Android 4.4. This is another item that sounds somewhat insignificant, but when put in practice, the user experience seems much improved. If nothing else, you have a little bit less in terms of distractions. This setup will vary by app, by is available for everything from games, to videos, to reading. Basically, everything automatically hides.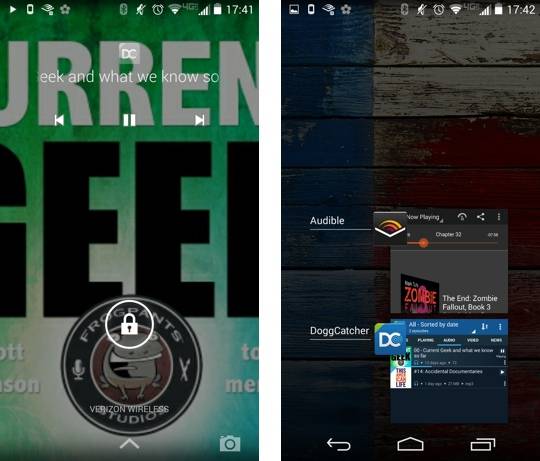 Google also did a bit of improving around multitasking with Kit Kat. This one may or may not be as obvious, however the official line is that "Android 4.4 takes system performance to an all-time high by optimizing memory and improving your touchscreen so that it responds faster and more accurately than ever before."
Some of the other additions circled around calling. Yes, regular old voice calling — something we tend to use our 'phones' for less and less often these days. But in this case Google updated the phone app to better prioritize contacts based on use, and also added the ability to search for nearby places and businesses. The other voice calling addition was Caller ID. In short, Google now looks up numbers — even for those not in your address book.
While this next bit has brought some mixed opinions, Google integrated SMS messaging with Hangouts this time around. This actually rolled out for all users through Google Play, but those with Kit Kat will have it by default. Hangouts also received support for animated GIFs.
Some final, but still notable changes include emoji in the Google keyboard, the ability to print, and improved file integration across services and apps. Lastly, for another change that arrived for all users, Google improved Quickoffice which offers the ability to create and edit everything from documents, spreadsheets and presentations.
Now, if we can just get the carriers and manufacturers get everyone updated sooner rather than later.