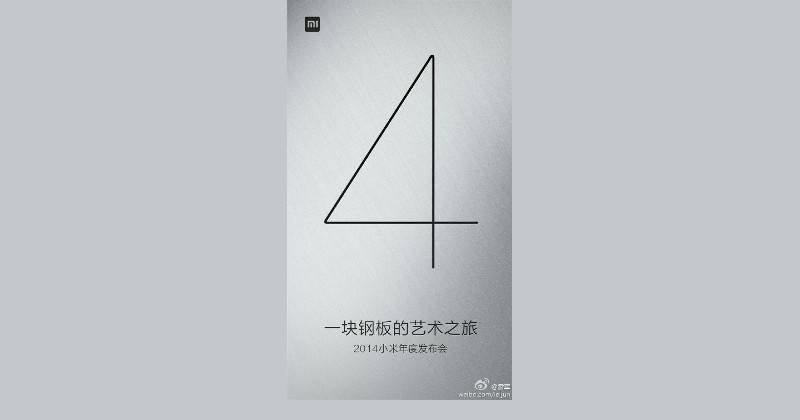 Those curious about Xiaomi's next big move need not wait much longer. The Chinese manufacturer will be holding its annual conference on the afternoon of July 22 and the invitation it sent out is clearly giving hints not only of the Xiaomi Mi4 but also of a non-plastic material.
The invitation has a large number 4 emblazoned over what looks like a brushed metal surface, once again hinting that the Xiaomi Mi4 will be ditching plastic. The text of the invitation also talks about "The journey of a piece of steel metal", adding more weight to that theory. The Xiaomi Mi4 was already leaked to be going with a metal frame, but it is the first time that there was any official hint about it. Curiously, this suggests that the manufacturer might have gone with steel, which is a rather odd choice over the usual lightweight aluminum.
The Xiaomi Mi4 might then turn up to be a rather interesting device. Rumored specs include a 5-inch 1080p screen and what may be either a Qualcomm chip or an NVIDIA. The latter is somewhat debatable because even if Xiaomi went with the Tegra K1 in its first MiPad tablet, NVIDIA has announced its disinterest in the consumer smartphone race. Still, either of the two will make for a better choice compared to cheaper brands. Previous leaked photos revealed very thin bezels but also suggested a return to rounded corners.
Xiaomi itself is an interesting company to watch in the Android world, especially after it managed to bag ex-Googler Hugo Barra. The company's smartphones are one of the fastest selling devices in China, selling thousands in just minutes, and it is expanding to more countries, first in Singapore and now in India. Xiaomi will be holding its annual company conference at the Beijing National Convention Center on July 22. The event starts at 2 p.m., or around 7 a.m. London (6 a.m. UTC) and 2 a.m. Eastern.