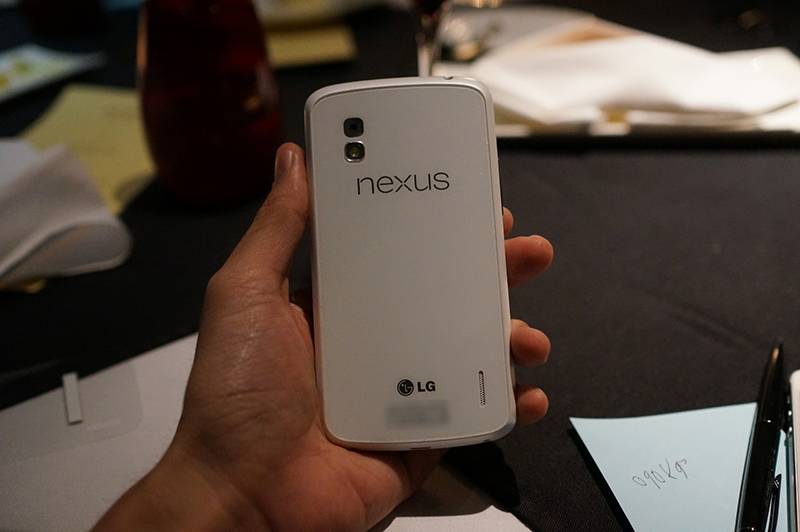 A single image of a white Nexus 4 arrived yesterday serving a a bit of a teaser. And well, that single image has since been followed up by additional images. This time though, the images offer a complete look at the handset including the front, back and sides. The pics have arrived by way of the Vietnamese language Tinhte website and even show off the sparkly back.
The interesting part about the white Nexus 4, if one were to look straight at the display — it would appear to be the regular black colored Nexus 4. While the previous white Nexus example was courtesy of Samsung, the white Nexus 4 seems to have taken some styling from the white Galaxy Nexus.
Aside from being able to get a better look at the white Nexus 4, we are still unsure as to when (or if) LG and Google plan to make it available for sale. Assuming the device does arrive for sale, we may even see a case of it landing only in select markets. In other words, if you are planning on a Nexus 4 purchase, we wouldn't suggest that anyone waits in hopes of getting the white model.
That being said, aside from seeing this white model and maybe dreaming a bit, now is actually a really good time to buy a Nexus 4 — especially for those in the US market. We have recently seen the handset come available with T-Mobile and Best Buy as well as with the Google Play Store. Of course, given the pricing, we would suggest going the Google Play route and avoiding the two-year commitment.
[device id=3766]
[via SlashGear]