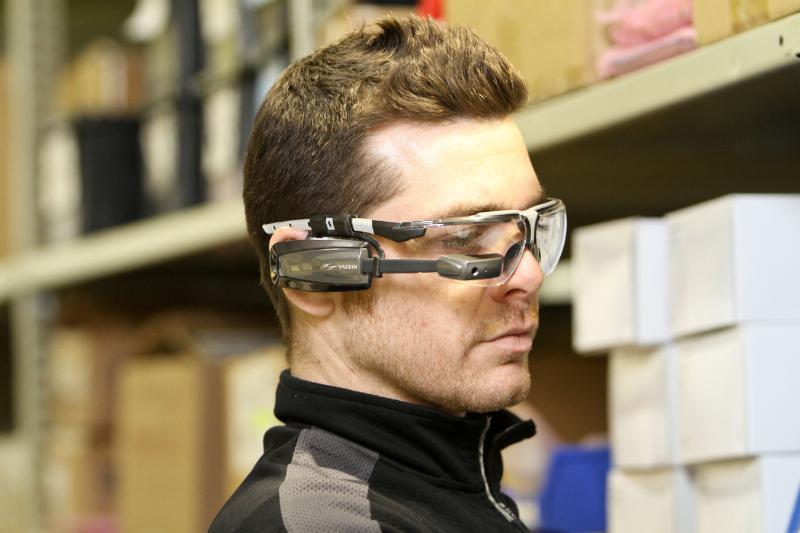 We saw talk of the Vuzix M100 smart glasses all the way back to 2012 when they were said to be arriving as a challenger to Google Glass. We did spend a bit of hands-on time with the glasses in January during CES, however there wasn't much chatter otherwise. We did see Vuzix begin shipping the M100 smart glasses to gold-level developers earlier in the year, however as of today we have a bit of good news for non-developers.
Vuzix has announced they have "completed all production tooling and regulatory testing and has begun shipments of its award winning M100 Smart Glasses." To that point, Vuzix will first ship any existing backorders and at the same time, continue shipping to registered developers. But otherwise, non-developer pre-orders are available by way of the Vuzix website.
The M100 smart glasses are available in gray and white and currently priced at $999.99. Details coming from Vuzix show that any new orders should allow for a 2-4 week shipping timeframe. That said, Vuzix is touting the M100 smart glasses as being "well suited for a variety of industrial, medical, retail and prosumer applications." They will ship with some pre-installed apps and are also compatible with "thousands" of existing Android apps.
Similar to Google Glass, the Vuzix M100 smart glasses are a hands-free wearable. These glasses connect with your smartphone using a Bluetooth connection. They can also be connected wirelessly using WiFi. The Bluetooth is 4.0 and the WiFi is 802.11 b/g/n. The M100 glasses are powered by a 1GHz OMAP4430 processor with 1GB of RAM and 4GB of storage. There is also a microSD card slot, 4 control buttons and a complete array of sensors to include ambient light, proximity, gyro and accelerometer.
These also have an ear speaker, noise canceling microphone, 600 mAh battery, 5 megapixel camera (with 1080p video recording) and can be worn over the head, with safety glasses and setup for the left or right eye. Aside from the specs, we did spend a bit of hands-on time with the M100 smart glasses during CES and the video below shows that experience.