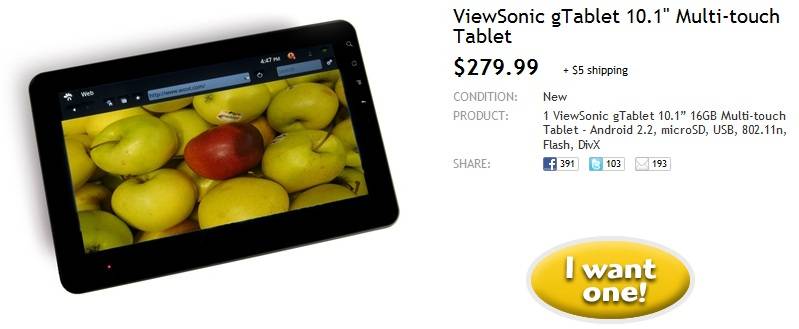 Look what I just found, how exciting. This is the Vewisonic G-Tablet. it is an Android 2.2 tablet with a 10.1″ LCD Display, front facing camera, and the highly popular Dual Core Tegra 2 Processor inside. It is extremely fast and runs very well. It has some custom user interface over android that is pretty crappy, but over at XDA there is tons and tons of development for this. It was the first Tegra 2 tablet released. This is a screaming deal for someone in need of a cheap tablet that isn't a china knockoff. For sale now at woot.com
Since the G-Tablet was the first Nvidia Tegra 2 Tablet ever released here in the states many have it and have developed ROM's for it. Check out the G-Tablet XDA section. There is stock Android 2.2 and 2.3 ROM's, as well as a very stable running Android 3.0 Honeycomb ROM. Have a 3.0 Honeycomb tablet for only $279, that is a deal. I used to have this device before getting the Xoom and overall it runs great and gaming works like a charm. It runs all the Tegra 2 games with no problem. My personal favorite ROM for the G-Tablet is the Vegan ROM.
Overall the ViewSonic G-Tablet has very solid build quality, stereo speakers on both sides, docks you can buy for HDMI out and I've played many many games to my 56″ HDTV with the G-Tablet. There is only really one con for the device in my opinion. That is the screen. The LCD display has very poor viewing angles, like the Archos 101 did. Other than that it is a great device and you will not get a Tegra 2 tablet for that price in a long, long time. Anyone that can't afford the pricey Xoom, or the upcoming Samsung Galaxy Tab's I suggest you jump on this before it's gone.
[via Woot.com]