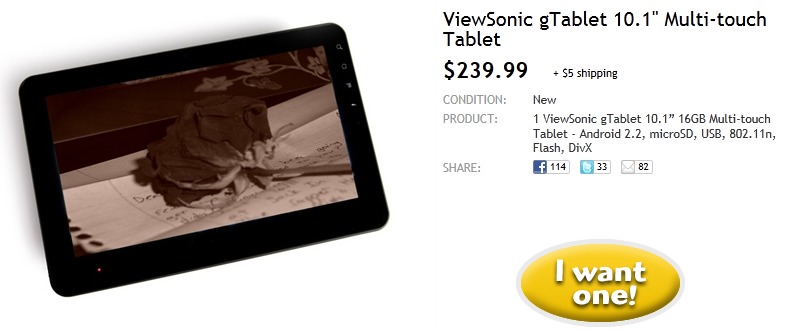 This isn't the first time we've seen the G-Tablet in the bargain bin, and most likely it wont be the last. For the price you actually get a pretty great device that has plenty of power to help keep things moving smooth. This is the ViewSonic G-Tablet and it was actually the first NVIDIA Tegra 2 dual-core tablet to hit the market here in the U.S. even though sadly it only runs Android 2.2 FroYo. Today it can be yours for just $239 at Woot.com
The last time we saw the G-Tablet on sale it was listed around $279 at most places, woot included. Even back in April it was $279 at Amazon and I'm sure a few snagged one to play with. It has huge developer support and even has been overclocked to 1.6 Ghz. It might not be a Touchpad for $99 dollars, or a Galaxy Tab 10.1 but for $239 it's hard to argue.
For those that might not know this is a 10.1″ Android 2.2 Tablet although the screen resolution is only 1024×600 vs the 1280×800 seen on most Honeycomb slates. It does however come with the powerful NVIDIA Tegra 2 dual-core 1 Ghz processor, 512MB ram, 16GB internal storage, USB and micro SD support. You also get a front facing camera but no camera around back. The G-Tablet has plenty of developer support at XDA and many users run CM7 or the VegaN rom as those are most popular. Woot.com deals are one day at a time so you better hurry if you decide to buy.
[via Woot]