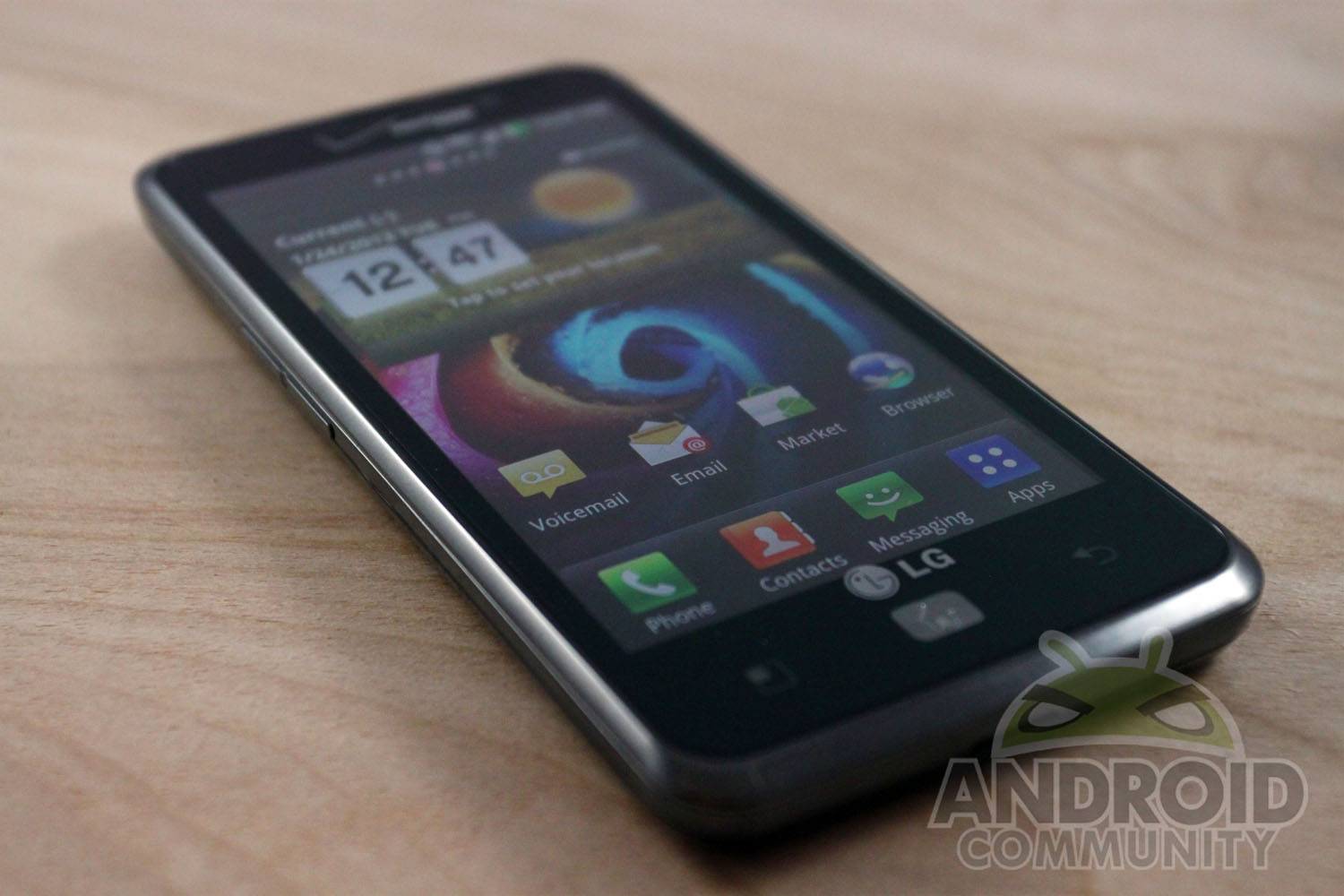 What goes around comes around, and was goes for AT&T has come to Verizon in the form of the "Spectrum by LG". This is yet another variant of the LG Optimus LTE, as it's know internationally. The bright spots for this phone are its 720p IPS screen and Verizon's 4G LTE connection… but if you've been following Android for the last few months, you know that's not enough to carry a phone these days. Our initial impressions of the Spectrum follow.
Comparisons to the LG Nitro HD on AT&T are unfortunately inevitable, as this is essentially the same hardware. The changes are stylistic when it comes to the hardware: instead of a textured, rubberized back plate, you get a glossy plastic one with a faint checker pattern. The rear is unfortunately almost as fingerprint-prone as a glass screen. That said, the glossy look combines with a metal ring around the edge to make an elegant, if not overly thin, package. Spun metal touches on the camera and home button are snazzy, and compliment the black color scheme well.
Physical layout is typical of LG: on top is your power button, headphone jack and USB port hidden behind a tiny door. The left side gets the volume rocker, while the right is bare, and the microphone hides just under the nook that allows you to remove the battery cover. Inside you'll find a generous 1830mAh battery and an even more generous 16GB MicroSD card filling the slot, combining with the internal 4GB to make 20GB of total storage – call it 18, after formatting and included apps.
The front is dominated by the HD 4.5-inch screen and LG's standard three navigation buttons, Menu, Home and Back. A Search button would have been nice, but these days most of the major apps make accommodations for this. The phone definitely feels big and heavy – it's almost exactly the same size as my Galaxy Nexus, and considerably thicker and heavier. For all that heft, it does feel pleasingly solid, and more so than previous LG phones I've tried.
Specs are impressive, but not head and shoulders above the pack: a dual-core 1.5Ghz processor and full gigabyte of RAM should handle Gingerbread (and eventually Ice Cream Sandwich) with ease. An 8MP rear camera shoots 1080P video, and of course the phone has access to Verizon's LTE speeds. On the software side of things, the phone runs LG's custom "I can't believe it's not TouchWiz" interface, which seems to chug even on this high-end hardware. There's a considerable amount of pack-in apps from Verizon, LG, and their partners, and it looks like none of them can be removed.
The Verizon Spectrum by LG is available now for $199.99 on a two-year contract. You can see our hands-on unboxing video below, and stay tuned for a full review later in the week.
[device id=2112]