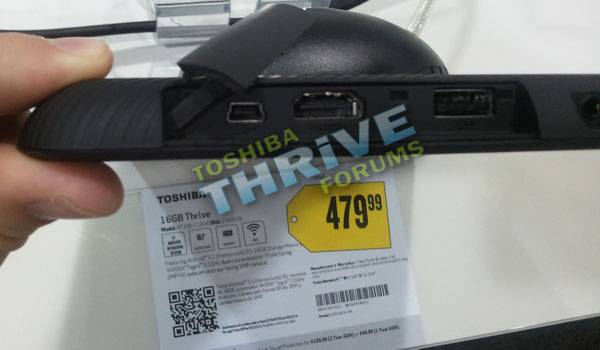 There are many Android tablet fans out there waiting with anticipation for the Toshiba Thrive to land in stores so they can go in and pick one up. The Thrive hit pre-order with Best Buy last month. The ship date on those pre-orders wasn't offered, but the rumored launch date for the tablet has been July 10. Apparently, at least one Best Buy has the Thrive on hand and ready to sell already.
One of the admins over at the Thrive Forums happened into a Best Buy in Austin, Texas over the long holiday weekend. He noticed a working version of the Thrive sitting in a corner and spent some time fondling the little beast. The sales person claimed that the tablets were in fact in the back and could be purchased right then.
The catch is that the Thrive had a tag that said the 16GB version was $479.99, which is quite a bit more than Amazon is selling the tablet for on pre-order. There are also reports that other locations have a 32GB version of the tablet for $579. Anyone else run across this in Best buy recently or purchased one already?
[via Thrive Forums]