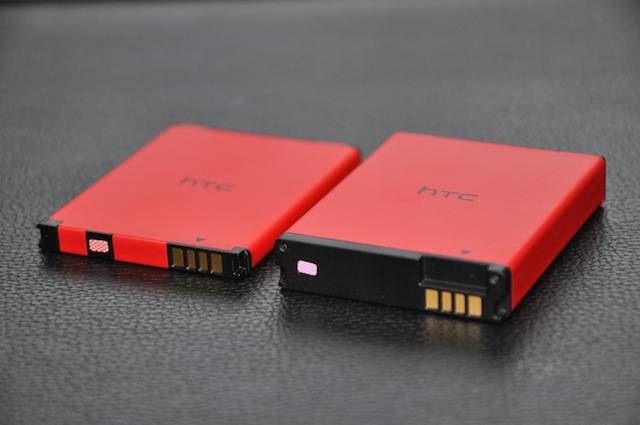 LTE uses a lot of juice – there's just no way around that at present. So it's always nice to see a manufacturer embrace that truth and offer a first-party battery for reliable and worry-free extended use. That said – wow. The extended battery for the brand-new HTC Rezound is gigantic. HTCpedia got their hands on one and took the following photo, next to the standard battery:
The extended battery has a 2750 mAh capacity, compared to the included battery's 1620 mAh. In the Android Community HTC Rezound review,  a torture test of Netflix over Verizon't LTE network had the Rezound lasting a mere five hours. More typical usage still had the Rezound gasping after just ten hours, with the LTE radio enabled. Based on that, the extended battery should be able to last for an addition 6-8 hours without recharging.
To accommodate the extra junk in the trunk, the battery comes with a replacement cover, molded with a gentle bump added to the back of the phone. Calipers weren't handy, but it looks like the battery cover adds another 5-6 millimeters to the Rezound's 13.7mm thickness. The battery is available for $59.99 at various retail locations if you're so inclined – be sure to check out our HTC Rezound review if you're still on the fence about the phone itself. And by the way, still no word on that inductive charging version that made it to the FCC.
[device id=1983]