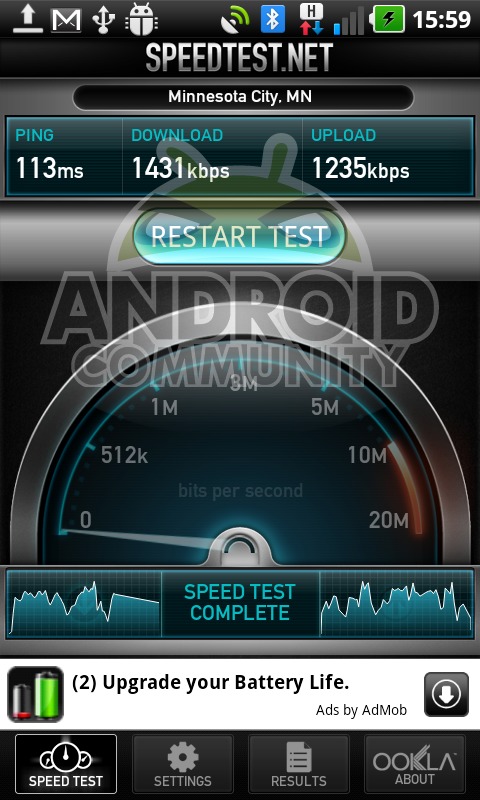 Today T-Mobile announces that their 4G network (aka HSPA+) will be boosted across 55 markets where the service is already available, this boost bringing up the theoretical download peak up to 42Mbps. This should also theoretically affect everyone holding a T-Mobile phone, but we shall see. For those Android users also carrying a notebook, they've decided to release a lovely T-Mobile Rocket 3.0 modem in several sassy colors including black, purple, and royal blue. *What you see below is a test we've run today to compare to tomorrow's roll-out.
This new rollout is starting tomorrow, so today we thought it'd be fun to test out the speed of the T-Mobile network from our very own brand new LG Optimus 3D. Why not, right? Only thing to note here is that this device is a developer's unit and therefor may have a different set of hardware/software at the release. I say to you now and repeat – this is ONLY A TEST FOR ENTERTAINMENT PURPOSES. Now – up until now we've been using SpeedTest.net but we've recently found them to be less than reputable. Thusly we've begun moving over to Xtremelabs Speedtest – but we're not entirely turned off quite yet. Time for another test. This is a pre-test to see how T-Mobile is doing right this moment. Have a look:
Now we've just got to test tomorrow if the hubbub is all a bub!
America's Largest 4G Network Now Twice as Fast in More Than 50 New Markets

T-Mobile Rocket 3.0, the company's first 42Mbps capable product, available starting tomorrow, delivers a lightning-fast mobile broadband experience

BELLEVUE, Wash. — May 24, 2011 — Today, T-Mobile USA, Inc. announced it is doubling the speed of its 4G network in more than 50 markets to achieve theoretical peak download speeds of up to 42 megabits per second (Mbps). T-Mobile customers in 55 markets will now have access to increased 4G network speed, capacity and reliability. These markets include Atlanta, Ga.; Chicago, Ill.; Denver, Colo.; Detroit, Mich.; Dallas and Houston, Texas; Los Angeles, Calif.; Miami, Fla.; New Orleans, La.; Phoenix, Ariz.; Pittsburgh, Pa.; Portland, Ore.; and San Francisco, Calif., among others.

In addition, T-Mobile's first 42 Mbps-capable 4G product, the T-Mobile Rocket® 3.0 laptop stick, will be available for purchase beginning tomorrow, May 25. The Rocket 3.0, manufactured by ZTE, is designed to take advantage of T-Mobile's faster 4G network speeds. Capable of speeds twice as fast as T-Mobile's previous 4G devices, customers in 42Mbps coverage are expected to experience more consistent 4G speeds when creating and sharing mobile content, streaming and connecting through mobile video, and participating in multiplayer gaming.

"We are continuing the aggressive expansion of America's Largest 4G Network™, and also doubling our speeds in more than 50 markets this month," said Neville Ray, chief technology officer, T-Mobile USA. "While customers with existing 3G and 4G devices will benefit from our continued network enhancements, new devices like the new Rocket 3.0 laptop stick will enable customers to reap the benefits of even faster 4G speeds."

Providing customers with a blazing fast Internet connection on almost any laptop while on the go, the T-Mobile Rocket 3.0 is equipped with a convenient rotating swivel USB form factor and three changeable faceplates in cobalt blue, dark violet and matte black. The Rocket 3.0 will be available at select T-Mobile retail stores and online at www.T-Mobile.com tomorrow for $99.99 after a $50 mail in rebate, with a qualifying mobile broadband plan on a two year service agreement1. Postpaid monthly plans start at $29.99, and customers with a qualifying voice line of service with T-Mobile receive a 20 percent discount. Customers can also purchase the T-Mobile Rocket 3.0 without an annual contract for $199.99. For more information about the T-Mobile Rocket 3.0, including pricing and plan details, visit www.t-mobile.com/broadbandgoesmobile.

As T-Mobile's 4G network continues to expand and get faster, the company's portfolio of 4G products is also growing. T-Mobile currently offers a dozen 4G-capable devices spanning smartphones, tablets and mobile broadband products that give customers access to America's Largest 4G Network. The company has announced plans to deliver a total of 25 4G-capable devices in 2011.

T-Mobile's 4G network already reaches more than 200 million Americans in 170 markets. By midyear, T-Mobile expects that more than 150 million Americans will have access to increased 4G speeds as T-Mobile upgrades its 4G network. A list of new markets where the new faster speeds are available can be found below.

T-Mobile 4G markets where 42Mbps service is launching today:
Albany, Ga.; Athens, Ga.; Atlanta, Ga.; Auburn, Ala.; Augusta, Ga.; Austin, Texas; Bentonville, Ark.; Boulder, Colo.; Chattanooga, Tenn.; Chicago, Ill.; Dallas, Texas; Deltona-Daytona Beach-Ormond Beach, Fla.; Denver, Colo.; Detroit, Mich.; Durham, N.C.; El Paso, Texas; Fort Collins, Colo.; Gainesville, Fla.; Gainesville, Ga.; Greeley, Colo.; Honolulu, Hawaii; Houston, Texas; Jacksonville, Fla.; Long Island, N.Y.; Los Angeles-Long Beach-Santa Ana, Calif.; Macon, Ga.; Mayaguez, Puerto Rico; Miami, Fla.; New Orleans, La.; Oklahoma City, Okla.; Olympia, Wash.; Omaha, Neb.; Oxnard-Thousand Oaks-Ventura, Calif.; Phoenix, Ariz.; Pittsburgh, Pa.; Ponce, Puerto Rico; Portland, Ore.; Salinas, Calif.; San Francisco-Oakland-Fremont, Calif.; San Jose-Sunnyvale-Santa Clara, Calif.; San Juan, Puerto Rico; Santa Cruz-Watsonville, Calif.; Santa Rosa-Petaluma, Calif.; Savannah, Ga.; Seattle, Wash.; Spokane, Wash.; Tampa, Fla.; Tulsa, Okla.; Valdosta, Ga.; Vallejo-Fairfield, Calif.; Warner Robins, Ga., and Wichita, Kan.

T-Mobile's HSPA+ 4G network is not available everywhere. See coverage details at T-Mobile.com.

1. Mail-in rebate card requires qualifying T-Mobile voice line and enrollment in EasyPay. Pricing and discount offers are subject to change.
BONUS UPDATE: Here's a Sidekick 4G speed test for you too.