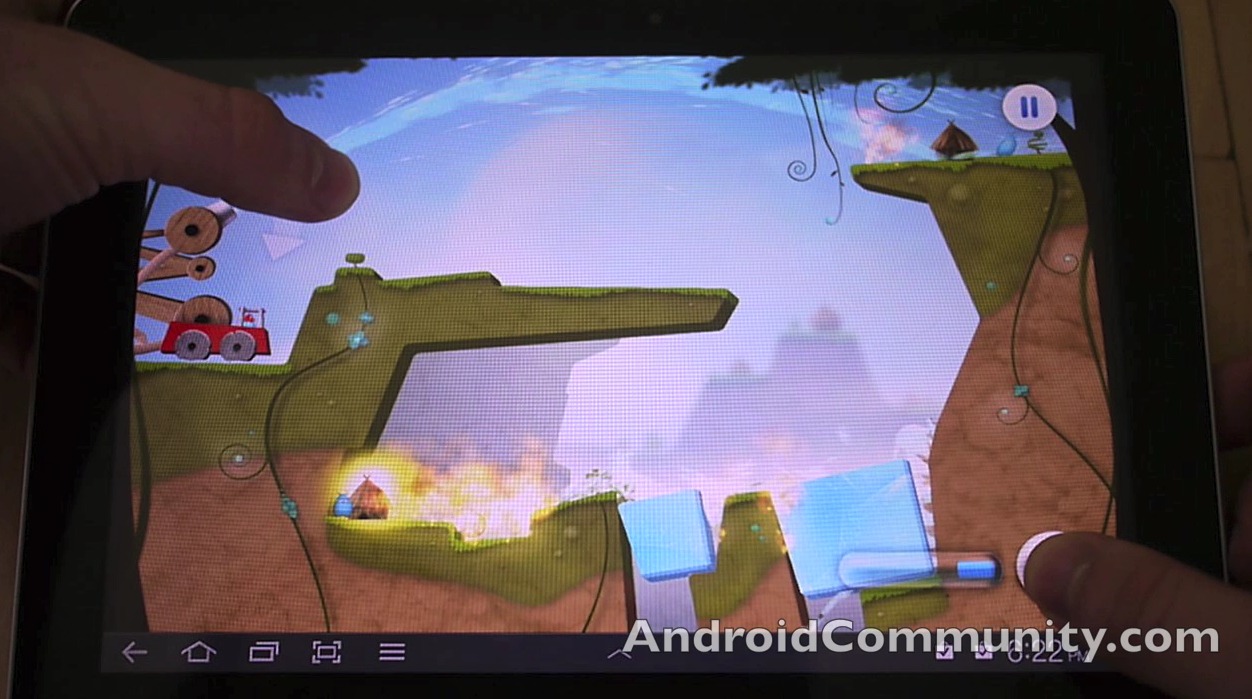 This is a game that's all about water. This means there's gonna HAVE to be a lot of awesome physics action involved if it's going to hold any salt against or right alongside the utterly sweet Tegra 2 optimized game Riptide GP, a game which we've addressed more than just once. Everyone knows that Riptide has taken water physics to a new level. Sprinkle takes those physics and throws em all around and makes em work even BETTER than before. Not only will you be tossing water around like a pro, there's a PUZZLE GAME in this too.
The storyline in this game is essentially that some space jerks have knocked free some rocks from an asteroid belt, these asteroids are now falling toward a planet where a bunch of water aliens are living in their huts. These huts are going to be set on fire by the rocks which of course have caught fire as they flew through the atmosphere. These little aliens happen to have a way to bust up the fires, but there's only one way for them to run the machines: your giant fingers. Make the water go!
Put out all the fires by finding out what pieces of rock, ice, and wood and metal gears go where so that you'll be able to splash the water at the fire and put the fire out! Because the game is simplistic, as simple as Angry Birds, if I might be so bold, I've gotta guess that this game is aimed at kids. On the other hand, just like Angry Birds, this game is going to latch on to the addicted fingers of many a folk across the land.
[vms fdf06a852adad277986c]
This game is going to be able to be purchased SOON, and it's optimized for Tegra 2 devices. NVIDIA-powered Samsung Galaxy Tab 10.1 (aka the device this review / hands-on is filmed on,) Asus Eee Pad Transformer, Asus Eee Pad Slider, Lenovo ThinkPad Tablet, Viewsonic G Tablet, Acer ICONIA Tab A500, Acer ICONIA A100, Lenovo IdeaPad K1, Dell Streak 7, Motorola XOOM, Toshiba Thrive, and the LG G-Slate – and that's not even the smartphones: Motorola ATRIX 4G, LG G2x, Motorola Photon 4G, or the Motorola DROID X2. Look at all those crazy options!
I'd link each one of those NVIDIA devices individually, but why would I do that when I could just link you to the most handy guide in the world: http://device.ac/nvidia/ — find everything you need there!