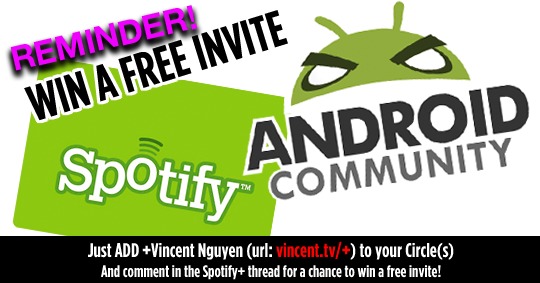 Update – we're still going! We've got a whole handful of Spotify invites we've still got to give away this week, and we want to give them to YOU! For those of you living under a digital rock for the past couple of weeks, the super popular streaming music service Spotify, one you've got the option of using for free, paying $4.99 for no ads, or $9.99 for mobile use, has come to the USA, and we're on the boat! You're not going to be able to get on this boat without an invite, mind you, so we've got the hookup. Check out how you can grab one now!
Spotify streaming music service is one that not only allows you to upload your own music to the cloud, it allows you to play music from the Spotify archives: thousands and thousands of tracks, old to very new, all for that one monthly price. Spotify launched in the U.S. by invite only just last week, feel free to read our Spotify App Review to get the lowdown. The contest we're running here is all on Google+ be sure to check out our Google+ 101 Guide, and don't forget the Android App for that as well.
Now for the rules! All you've got to do is the following:
1. Add +Vincent Nguyen (url: vincent.tv/+) to your Circle(s) on Google+*
2. Comment in our Spotify+ thread [a new post each time the old post fills up!] with some witty banter
July 18 URL: https://plus.google.com/103911183408644149411/posts/aYUYXLFYYw7
3. You're entered into the contest!

*if you don't already have access to Google+, send your name and email to giveaway @ slashgear.com
You're already well on your way to getting Spotify for yourself – hours and days of magical musical entertainment for all!
Once we've picked you, the following will happen:
1. Vincent Nguyen, Chris Burns or Cory Gunther will ping you on Google+ to let you know you're a winner.
2. You respond to that post.
3. We give you your invite code!
That's it! Get to it!