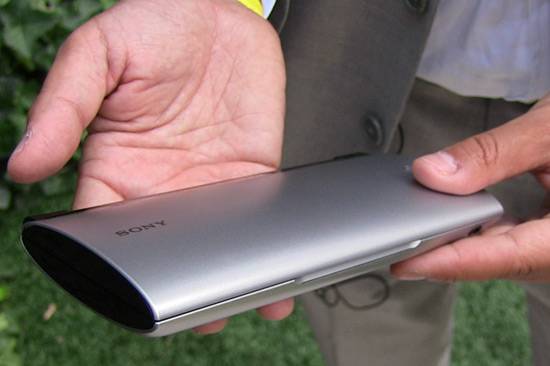 Over the past few days we have been hearing more and more regarding these tablets. Last week we saw the S2 in a few videos and now we have another today to show you yet again. In case you don't know we are talking about the Sony S1 and S2 Honeycomb tablets. You can see them both in this commercial here.
Pictured above is the unique Sony S2 with dual 5.5″ screens and its clamshell design. It may not be the thinnest device but it will be ultra portable that is for sure. We got a pretty large picture gallery of both tablets again yesterday and you can read about that by clicking here.
The pictures and video today come from our friends DDAY and they make a few interesting notes about the Sony S1 Tablet. It is a 9.7″ with a 1280×800 resolution. Another unique design here and the back folds under like a magazine. According to the source the battery was placed around the joint on top to move the center of gravity toward the support arm. Holding the device in portrait mode around that bend or "joint" is to actually feel less fatigue than with a tablet weight evenly distributed. It makes sense but I also see cases being an issue especially if the device is really that top heavy.
Latest reports are showing some people reporting the Sony S1 will cost 599 euros, while the departure of Sony S2 will retail for 649 euros. Those translated to USD are pretty high prices over $800 and $900 but those are not confirmed and pricing is always different in the U.S. so we will take those with a grain of salt for now. Check out the video and source below for all the information.
[via DDAY]