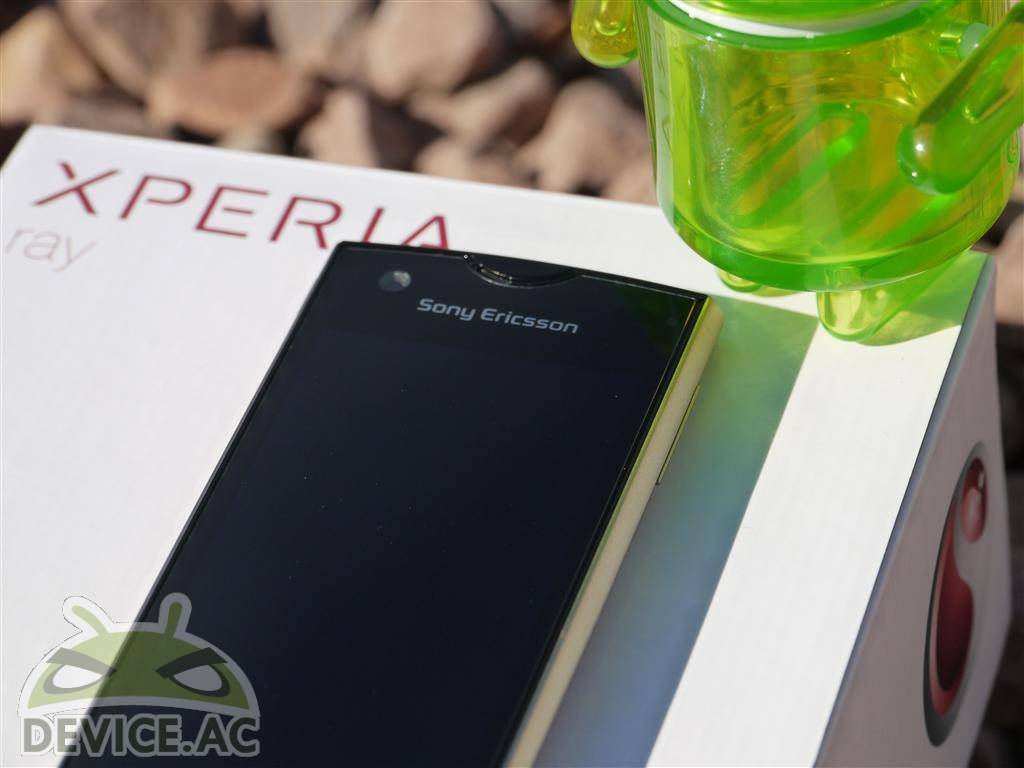 One of the tiniest Android smartphones I've ever had the pleasure of working with has been in my pocket for the past few days, and that is the Sony Ericsson Xperia ray. This device is extremely small, sleek, and lightweight but that isn't all it offers. We also have an amazing screen, albeit a bit small, and the camera on the rear takes some pretty solid photos for such a small package. We have plenty of thoughts regarding this new Android 2.3 Gingerbread powered smartphone as well as plenty of photos so enjoy it all after the break.
The Xperia ray is one unique phone. Sony has gone ahead and put some very decent higher mid-range specs into an extremely small phone, slipped an awesome screen on it and wrapped it in a slim piece of aluminum and hard plastic. This may not be the biggest, fastest, or the best but it has plenty to offer although it might be best for those with smaller hands and fingers — or for kids.
Hardware
For hardware we have a single-core 1.0 GHz Snapdragon chip, a 3.3-inch display with a 480 x 854 pixel resolution, an 8 megapixel camera on the back that will rival most, and then a 1.3 front for video chatting. We have 512MB of RAM, with a 4GB micro-SD included out of the box all inside an extremely small device that measuring around 4.3″ tall and only 9.2mm thick. It's barely twice the size of the charger that was included and not much larger than a credit card.
Before I get into software or the amazing camera feel free to glance at our hands-on post, then enjoy the unboxing video below.
Sony Ericsson Xperia ray hands-on
[vms 359ade15d5f163166738]
Now that we've got a bit more acquainted lets look over the rest of the device with some up close and personal pictures. Sony was nice enough to send me this goldish white wine colored device. They also offer red, black, and white for some variety. Like I said, it's like really small guys, I'm still having a hard time wrapping my brain around it — I love it but hate it.
Around top we have the usual 3.5mm headphone jack and smack dab in the middle is our power and wake button. The top and bottom are a black hard plastic but everything else is surrounded in gold.
Then around to the right side we have the tiny little teeny volume up/down rockers, and the micro-USB port around to the left side and that is all. Very simple, very plain but in a good way. Nothing too crazy and the design is actually really nice. The build quality is quite exceptional too.
Regarding the hardware we have a 3.3″ display but it features a 480 x 854 resolution like mentioned above. Most devices under 3.5″ have a lower resolution and this is both a good thing and a bad thing. The slightly higher res on this small screen gives us one of the best screen viewing experiences on an Android phone, but everything is tiny. Icons and even the on-screen keyboard are almost too small. For this reason alone the high resolution is one of my favorite, and least favorite aspects of the Xperia ray. I'm not sure I could use it daily with my medium to larger sized hands as typing on the small screen is difficult with this small and thin screen.
Software
We have Android 2.3.4 Gingerbread covered with Sony's Timescape UI, which is actually really nice and smooth. It has a few nifty animations for moving icons and stuff of that nature but everything is smooth and performs great. A few custom UI's *cough* Motorola *cough* aren't nearly as smooth, and not as pretty. We also have built-in screen capture, something I wish ALL Android phones had stock. Long press the power button up top and you have a screenshot option anywhere, anytime.
We have almost zero bloatware so that is nice. Other than a few awesome things like Sony's Music and Video Unlimited we have Facebook, Track ID for caller ID, McAfee Security, Office Suite Pro and that is all. Everything else is Sony bundled apps and games. This being the first Sony Ericsson device I've used in a while I'm extremely pleased with performance of the software and overall user experience. The UI changes slow nothing down and really enhance Android in a good way. This is one of a few UI's I'd actually consider keeping and not replacing with a custom ROM.
Performance
We wont take too much time here as we have your average 1.0 GHz Qualcomm Snapdragon processor and 512 MB of RAM here so there shouldn't be any surprises on performance. We scored a very decent 1869 in Quadrant and the Vellamo benchmark results were actually what impressed me. Beating almost all single and dual-core phones to date. Not sure if this was a fluke or Sony just does it right, as I had the same results on three tests. Take the results as you will, the performance on this phone is great for the specs so I'm going to just go with it.
Camera


This teeny little phone packs an awesome 8.1 MP camera on the rear and just like most from Sony, it rocks. The auto focus and shutter speed are almost instant and is probably the fastest I've used to date on a smartphone. Seriously you can just click away and take pictures. I've snapped away a few of my puppy Chloe and of some plants around and the level of detail with or without natural lighting is extremely impressive. Motorola should definitely take notice and maybe even ask for some help from Sony Ericsson. Below is the gallery of pictures taken with the Xperia ray.
The camera records in 720p and while decent it was nothing to really write home about, the shutter speed and picture capabilities are the true performer here. The front facing camera is also 1.3 megapixels and was as to be expected, average at best. Until we get better 2MP or 3MP cameras on the front I still can't see myself using that often.
Battery Life
We have a 1500 Mah battery inside the ray and battery has also been stellar so far. Obviously the smaller 3.3″ display will help conserve battery but the Bravia engine tweaks may also help as I've experienced better than average battery. Lasting almost 6 days on stand-by with minimal usage — Yes I said 6 days. Then for daily usage of web browsing and gaming it actually lasted all day and all night on a single charge. This has some better battery life than most I've tested recently.
Wrap-Up
To wrap things up I'm going to have to finish by saying I love this phone, but I sort of hate it too. The hardware, camera, display, and even the amazingly loud and clear speakers all are excellent but overall it's just too small for me. The display was just too small and thin, the icons and on-screen keyboard were a real challenge and typing took far too long. I've posted a picture of on-screen keyboards from the ray next to the 4.3″ HTC Sensation for a comparison — it really is small.
Overall I must say this is a stellar phone. It performs great in every single area for what you pay for, except for the smaller screen. I just can't recommend it unless you have extremely small fingers, a younger person, or are a female wanting a small and compact smartphone. Sony has a great phone here that anyone will love it the size sits ok with them. If the size will not concern you then by all means, buy this phone as it truly is quite nice.
Feel free to enjoy the rest of the photos in the full size gallery below, as well as the full spec sheet near the bottom. If you like what you've seen the Xperia ray is available now from $379 from Newegg and other online retailers. Feel free to ask any questions below and I'll do my best to answer them.
[device id=1956]