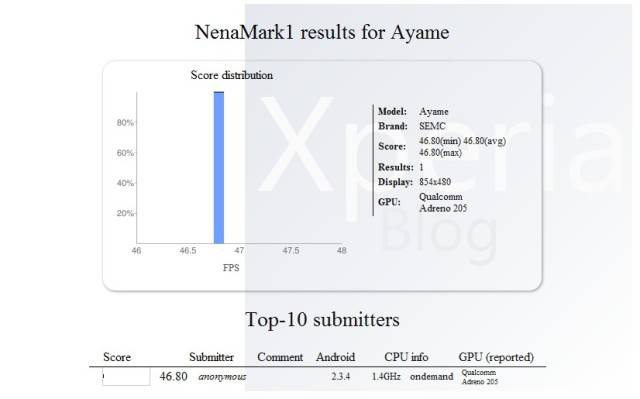 Earlier today we mentioned the recently leaked SE Nozomi with a 720p display and now we are seeing another leak hit the inbox. Just like the Nozomi the "Ayame" leak suggests the device will indeed be powered by a Qualcomm S2 Snapdragon processor speeding along at 1.4 Ghz. Sadly this device is listed with a standard 480×854 resolution and no 720p here.
While benchmarks can always be cheated or altered this shows another device coming from Sony Ericsson soon. If the benchmark is to be believed this phone sounds similar to the Xperia Arc but with a faster processor boosted up to 1.4 Ghz. The Ayame will also be running on Android and it shows 2.3.4 in the benchmark with a pretty impressive NenaMark score of 46.80 which is pretty high for a single-core device.
We recently saw the HTC Vigor dual-core leak on the same benchmark with much lower scores but then it has a 1280x720p display so it has a lot more work to dish out. Whether these leaked benchmarks are to be trusted or believed are up to you, the readers. According to our source the LT18i Ayame will see a global release but nothing has been confirmed.
[via xperia blog]